Marriott Bonvoy Bold Credit Card 2023 Review: Simple Hotel & Travel Rewards
Our review of the Marriott Bonvoy Bold Credit Card looks at the hotel rewards program, travel rewards, and other card benefits for no annual fee.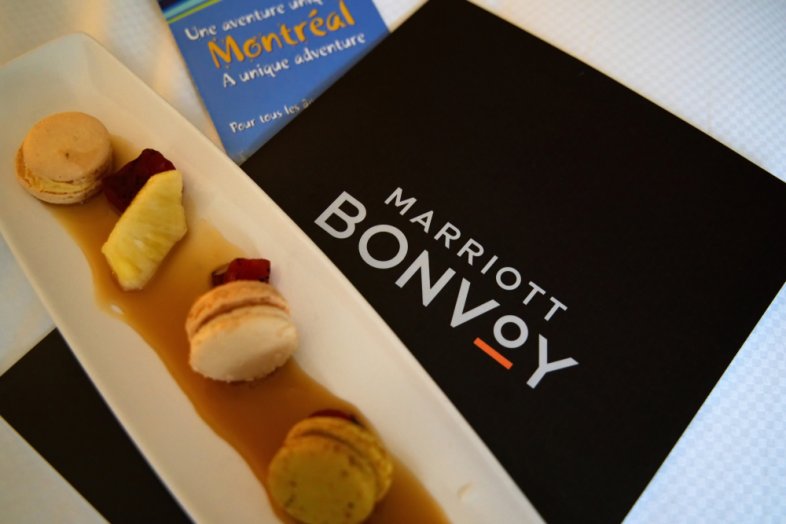 is one of several co-branded credit cards offered in partnership with Chase. 
Marriott Bonvoy is one of the largest hotel rewards programs, combining Marriott Rewards, Ritz-Carlton Rewards, and Starwood Preferred Guest.
Members can earn points toward free stays at Marriott hotels and other travel purchases. 
Designed for travelers who prefer Marriott to other hotel brands, this card offers three points per dollar on at Marriott Bonvoy properties. Members also earn two points per dollar on other travel purchases and one point per dollar everywhere else. 
This card could be a good fit for someone who wants to fast-track their way to Silver Elite status in the Marriott Bonvoy program.
It's also suited for travelers who want to earn rewards at hotels with minimal fees. 
Here's more on what this card has to offer.
Marriott Bonvoy Bold Credit Card Pros & Cons
Rewards Program is Focused on Travel
The Marriott Bonvoy Bold credit card is most rewarding when you book stays at Marriott Bonvoy properties. 
Earn 3X points for every $1 spent at Marriott Bonvoy hotels
Earn 2X points for every $1 spent on other travel purchases
Earn 1X point for every $1 spent on all other purchases
With over 7,000 participating properties, you have plenty of opportunities to rack up reward points. 
The "other travel purchases" category includes flights, train travel, cab fares and other travel expenses. 
While it's primarily a travel card, it's still good for everyday spending.
Plus:
There's no limit on the number of points you can earn.
This card also offers 15 Elite Night credits annually. That's enough to qualify you for Silver Elite status in the Marriott Bonvoy loyalty program. 
Redemption
Points earned with the Marriott Bonvoy Bold card can be redeemed for free nights at Marriott Bonvoy hotels.
The minimum number of points needed to redeem for a free night is 5,000. But you can find discounted PointSaver deals for just 4,000 points. 
You can also redeem Bonvoy points for travel packages, unique experiences, gift cards or even charitable donations. 
Remember:
Points will expire if you don't use your card to make a purchase at least every 24 months.
Transfer Marriott Bonvoy Points to Travel Partners
Typically, you'll get the most value from your Marriott Bonvoy Bold card when using points to book hotels. 
But you also have the option of transferring your points to more than 40 airline frequent flyer programs, including:
Alaska Airlines Mileage Plan
American Airlines AAdvantage
British Airways Executive Club
Delta SkyMiles
FRONTIER Miles
JetBlue TrueBlue
Southwest Rapid Rewards
United MileagePlus
Virgin Atlantic Flying Club
Most programs let you transfer points to miles at a 3:1 ratio, though some offer a higher ratio.
You can transfer between 3,000 and 240,000 Marriott Bonvoy points per day. 
If you're enrolled in RewardsPlus through Marriott Bonvoy, you can get even more miles. When you transfer points to United MileagePlus, you'll get a 10% bonus. 
There's more:
You can also redeem points earned with your card to travel in comfort. 
Marriott Bonvoy points can be applied to Priority Pass membership or TSA PreCheck. Both can make your time at the airport less stressful. 
Shopping and Travel Protections
The Marriott Bonvoy Bold card offers several benefits and features to enhance your shopping and travel experience. 
Shopping features
While other credit card companies have rolled back purchase protection, this is one benefit you still get with the Marriott Bonvoy Bold credit card. 
Purchase protection covers your new purchases against damage and theft for 120 days.
The limit per claim is $500 and you're covered up to $50,000 per account.
Travel features
This card also offers a handful of travel perks you might appreciate, including:
Concierge service
Baggage delay insurance
Luggage insurance
Trip delay reimbursement
There Visa concierge service is offered 24/7. That could be helpful if you need to make travel plans or book dinner reservations while you're on the road. 
You also get baggage delay insurance in case you arrive at your destination before your luggage does. This coverage applies when bags are delayed over six hours, up to $100 a day for five days. 
If your luggage is completely lost, you're also covered for that. You and your immediate family members are covered up to $3,000 per passenger for lost or damaged bags. 
Finally, you're covered against delays.
Trip delay reimbursement kicks in when you're delayed more than 12 hours or have to make an overnight stay. You can be reimbursed for related expenses, such as food or hotels, for up to $500 per ticket.
Mariott Bonvoy Bold Credit Card Fees
| Type | Fee |
| --- | --- |
| Annual Fee | None |
| Balance Transfers | Either $5 or 5% of the amount of each transfer, whichever is greater (minimum of $5). |
| Cash Advances | Either $10 or 5% of the amount of each transaction, whichever is greater |
| Foreign Transactions | None |
| Late Payment | Up to $40 |
| Return Payment | Up to $40 |
| Return Check | None |
Compared to Other Marriott Bonvoy Cards
Aside from the Marriott Bonvoy Bold credit card, Chase offers three other travel rewards cards that are worth a closer look. Here's how they compare:
Marriott Bonvoy Boundless
offers the chance to earn even more points at Marriott hotels. This card offers six points per dollar on Marriott Bonvoy hotel purchases. 
You also earn two points per dollar on all other purchases, with a $95 annual fee. In terms of perks, you get automatic Silver Elite status, plus a Free Award Night on your account anniversary each year. 
This card could be a solid pick if you're loyal to the Marriott Brand and you don't mind paying an annual fee to earn more rewards.
Read Marriott Bonvoy Boundless Credit Card Editor's Review
Chase Sapphire Preferred
offers a rewards program that is ideal for travel and dining purchases. 
Points transfer to travel partners on a 1:1 basis and you get a 25% reward bonus when you book through Ultimate Rewards. 
There is a $95 annual fee but if you travel often and you want the flexibility of earning points at hotels other than Marriott, Chase Sapphire Preferred is a good option. 
Read Chase Sapphire Preferred card Editor's Review.
Chase Sapphire Reserve
 is Chase's premium travel rewards card. 
With this card, you earn three points per dollar on travel and dining, along with one point per dollar on all other purchases. 
Available travel perks include a fee credit toward Global Entry or TSA PreCheck, a $300 annual travel statement credit and complimentary airport lounge access. Those come at a price, however. 
The Chase Sapphire Reserve card comes with a $550 annual fee. For that reason, it may be best suited to frequent travelers who want to enjoy every trip in maximum comfort.
Read Chase Sapphire Reserve Editor's Review
What's the Verdict?
is a good choice if you want to earn points toward free hotel stays, with no annual fee. 
Compared to the Marriott Bonvoy Boundless card, you won't earn as many points on Marriott hotel stays. But you won't be sacrificing any rewards for the sake of an annual fee. 
Now:
If you don't stay exclusively at Marriott hotels when you travel, then the or could be a better fit.
But you should weigh what you could earn in rewards and the value of any included travel perks against their respective annual fees. 
And, of course:
Remember that unless you pay in full each month you'll be paying interest on purchases with any travel card you choose.