Nordstrom Store Credit Card 2023 Review
Love to shop? You'll be interested in the Nordstrom Visa Card, which offers rewards & special deals for shopping.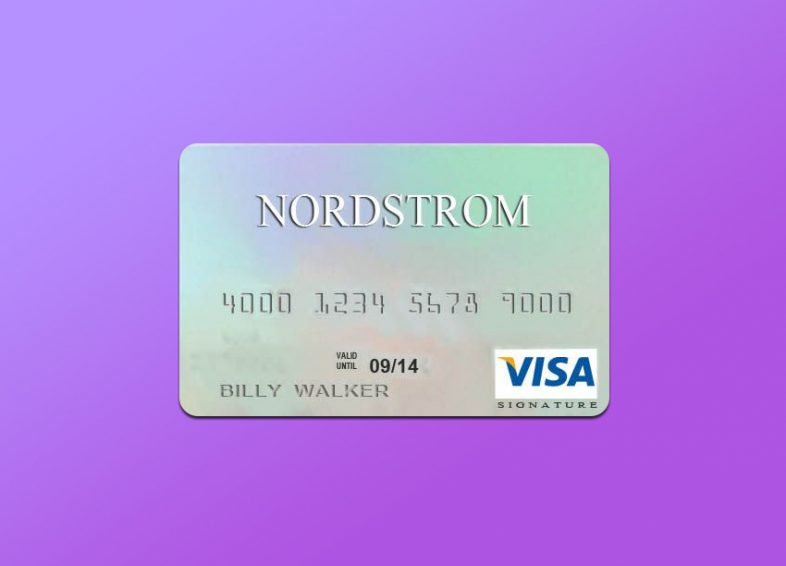 Opening a store credit card can lead to big savings if you have a favorite place to shop. Is Nordstrom your favorite store? If so, you're in luck.
Nordstrom offers two options for its loyal customers: the Nordstrom retail card, which is good at Nordstrom stores, and the Nordstrom Visa Signature credit card, which can be used anywhere Visa is accepted.
Both cards come with all the benefits of the Nordstrom Rewards program, with no annual fee and a competitive interest rate.
In this review, let's dive into a Nordstrom Credit Card review to figure out which card may be right for you.
Nordstrom Credit Card Features
Both Nordstrom credit card options have certain features in common, but there are a few things that set the Visa Signature card apart. Here's a look at the benefits members enjoy with each card:
Nordstrom Retail Card Benefits
Rewards
The Nordstrom store card pays 2 points per $1 on purchases made at Nordstrom stores and online, at Nordstrom Rack, and at HauteLook.
Points are redeemable for Nordstrom Notes, which we'll explain in detail a little later.
New account bonus
If you spend $100 or more on your first purchase, you'll get a $20 Nordstrom reward as a thank you. Just keep in mind that you have to make the purchase the same day you apply in order to qualify.
No annual fee
Some store cards charge an annual fee - but not Nordstrom. It doesn't cost you anything extra to be a Nordstrom retail credit card member.
Exclusive access to Nordstrom sales and events
The early bird gets the worm: Nordstrom credit card users get advance notice for special sales and events, including the annual anniversary sale.
You can also get VIP treatment with private shopping parties and dining experiences at Nordstrom restaurants.
Where can you use your Nordstrom credit card
Nordstrom stores, at Nordstrom Rack, and at HauteLook.
Nordstrom Visa Signature Card Benefits
The Nordstrom Visa Signature credit card comes with all of the benefits outlined above but members also enjoy these perks:
Rewards on Visa purchases
Aside from earning 2 points per $1 at Nordstrom, Visa Signature members also get 1 point per $1 on all other purchases.
There's no cap on how many points you can earn and points don't expire if your account is open and in good standing.
Visa Signature benefits
Nordstrom Visa Signature members get plenty of extras that make the card even more appealing.
These extras include 24/7 concierge service, 24-hour roadside assistance, travel accident insurance, luggage reimbursement, and purchase security - just to name a few.
Nordstrom Card Rates and Fees
One benefit of the Nordstrom Credit Card is no annual fee, which is a huge plus if you don't want to pay a premium to earn rewards.
There's also no foreign transaction fee, so if you use the Nordstrom Visa Signature card when traveling internationally, you won't have to rack up fees to do so.
Neither card allows for balance transfers but you can take out a cash advance. The fee for a cash advance is either $10 or 5% of the advance amount, whichever equates to a larger fee.
The annual percentage rate for cash advances is a variable rate, which is on the high end compared to what other rewards cards charge.
Your APR for purchases is based on your creditworthiness and where you're using the card. These variable rates are something to keep in mind if you normally carry a balance. 
fact, it's best to pay the balance off if you are carrying one of these cards and if you're able to do so.
The penalty APR is a variable rate that is extra high, so you definitely don't want to miss any payments. Late payments will cost you up to $38 and the fee.
NORDSTROM CREDIT CARD Interest Rates and Interest Charges
| Nordstrom Credit card | Fees |
| --- | --- |
| Annual Percentage Rate (APR) for Nordstrom Purchases | 11.15% - 23.15% |
| APR for Non-Nordstrom Purchases | 15.15% - 23.15% |
| APR for Cash Advances | 27.15% |
| Penalty APR and When It Applies | 30.15% |
| Paying Interest | Your due date is at least 25 days after the close of each billing cycle. We will not charge you interest on purchases if you pay your entire balance by the due date each month. We will begin charging interest on cash advances on the transaction date. |
| Minimum Interest Charge | If you are charged interest, the charge will be no less than $0.50. |
| Annual Fee | None |
| Cash Advance Transaction Fees | Either $10 or 5% of the amount of each cash advance, whichever is greater. |
| Late Payment Fees | Up to $37 |
| Returned Payment Fees | Up to $25 |
Nordstrom Card Benefits: Rewards Program
Whether you choose the Nordstrom retail card or the Visa Signature version, the Nordstrom Rewards Program is hands-down the highlight of both.
With the Nordstrom Rewards Program, you earn a $20 Nordstrom Note for every 2,000 points you earn.
What is Nordstrom Note?
The Nordstrom Note is a rewards coupon that you can apply as a discount on Nordstrom purchases.
For example, if you're making a $100 purchase and you have $40 in Nordstrom Notes, you only have to spend $60 out of pocket. The more Notes you earn, the more you save.
Members are assigned to one of four levels, depending on how much they spend. The levels are numbered 1-4 and they correspond to the following spending amounts:
Level 1: Shoppers who spend up to $1,999 annually
Level 2: Shoppers who spend $2,000 to $4,999 annually
Level 3: Shoppers who spend $5,000 to $9,999 annually
Level 4: Shoppers who spend $10,000 or more annually
These tiers determine the other benefits associated with the Nordstrom Rewards program.
For example, Tier 1 members get up to $100 in Nordstrom Notes to use towards alterations. Tier 4 members receive unlimited complimentary alterations in the form of a statement credit.
Members can also up their points earning potential throughout the year using Personal Triple Points Days.
Your tier corresponds to the number of days you get so Tier 1 members get one Triple Points day, Tier 2 members get two days and so on.
Those benefits, combined with VIP events, early access to the Nordstrom Anniversary Sale and special Nordstrom experiences make the card even more valuable to Nordstrom frequent shoppers.
Nordstrom Credit Card vs. Other Rewards Cards: Which is Better?
Citi Double Cash Card
The Citi Double Cash Card pays you cash back on purchases two different ways.
First, you get 1% back when you spend, then you get another 1% back when you make a payment.
There's no annual fee and you can earn as little or as much cash back as you like, depending on how often you use the card.
This card gives you more flexibility than the Nordstrom store card since you can use it anywhere - but it has fewer rewards than the Nordstrom Visa Signature.
There is one positive, however, this card offers a promotional APR on purchases and balance transfers.
Blue Cash Everyday Card from American Express 
The Blue Cash Everyday Card from American Express is designed for shoppers who want cash back rewards everywhere they go.
This card gives you cash back when shopping at supermarkets as well as department stores and gas stations, with no annual fee.
Like the Citi Double Cash card, you also get a break on interest charges.
See Rates & Fees. Terms apply.
U.S. Bank Cash+ Visa Signature Card
While the Nordstrom Visa card pays you back the equivalent of 2% on Nordstrom purchases and 1% on everything else, the U.S. Bank Cash+ Visa Signature Card is even more rewarding.
With this card, you can earn 5% cash back on the first $2,000 in purchases each quarter for the spending category of your choice. If you choose department stores and spend the $2,000 max each quarter, that's $400 you'll earn back.
Not only that but you also get unlimited 2% cash back on another everyday spending category, like gas stations or grocery stores.
For all other purchases, you'll earn 1% back. This card is great for someone who spends a lot of time shopping in department stores and wants to earn maximum cash back with no annual fee.
Getting Approved for a Nordstrom Credit Card
Interested in trying for the Nordstrom Credit Card, but afraid you won't be approved? There's good news: of all the types of credit cards there are, store cards are some of the easiest to be approved for.
If you're wondering why this is, the answer is simple: retailers can offer credit cards with a lower credit limit and higher than average interest rates.
Combine that with the fact that these cards also come with enticing discounts (which will tempt you to shop more at their stores), and the risk for the retailer is pretty low.
Here's the thing, if you use the card properly, the risk can be pretty low for you as well.
Simply make a practice of paying your balance off before the end of every billing cycle and you'll get to take advantage of the discounts that come with your card without losing the money you saved to high interest rates.
Even better, you could make a purchase on your store card and immediately pay it off with your debit card at the counter.
That way you'll know for sure that you won't go into debt because you've paid off your purchase before even leaving the building.
And the best news of all? If your credit score is something you're worried about, you can use store cards like the Nordstrom credit card to improve your credit.
All you have to do is make every payment on time and carry as low of a balance if possible (preferably no balance at all).
After six months to one year of this behavior, you'll start seeing significant improvement in your credit score.
Final Verdict: Who Should Apply for a Nordstrom Credit Card?
The Nordstrom retail card is recommended for regular Nordstrom shoppers who want to save on future purchases.
If you want to be able to earn Nordstrom rewards everywhere you go, the Visa Signature card may be your perfect match.
We wouldn't, however, advise you to consider either card if you normally carry a balance. The interest rates for both cards can easily wipe out any rewards you're earning.
If you want to shop Nordstrom's and earn rewards without getting gouged by interest, you're better off checking out one of the other rewards or cash back credit cards mentioned above.
See the rates & fees for the mentioned American Express cards: Blue Cash Everyday from American Express (Rates & Fees; terms apply).