Three Free and Easy Credit Monitoring Apps Made Just For You
Credit may not be as romantic as love, but bad credit can bring your world to a screeching halt. Credit has become about far more than buying a car or having a wallet full of credit cards. Credit quite literally keeps your world going 'round. What's in your credit report and the status of your credit can have an impact on where you work and live. That's why it is so important to keep your credit and credit report free of errors and fraud. I compare three do-it-yourself credit monitoring apps and show you which one is best for your needs.
Credit Reports Matter
Many people think their credit report must be fine, if they still have credit. However, a study by the Federal Trade Commission points out that 1 person in 5 people had at least one error on their credit report. The errors range from the benign, such as a misspelled middle name of the most serious fraudulent accounts.
There is a better way to discover credit report errors than being passed over for a job or not being able to rent the perfect apartment. Credit monitoring can alert you to fraud and errors before they affect your life.
Credit Monitoring The Expensive Way
Fee-based credit monitoring services can be expensive. The three most popular services Life Lock, Identity Guard and Identity Force cost on average $22 per month or as much as $360 a year. Each of the three major credit bureaus, Experian, TransUnion and Equifax offer monitoring services. They will alert you to activity on your credit report.
Credit card companies are also jumping into the fray. They have offers that run from free notification of suspicious charges to fee based monitoring.
Protecting yourself from identity theft and credit fraud and errors doesn't have to be a costly endeavor. In just a few minutes a month you can do it yourself using resources that won't cost you a dime. Let me explain.
Monitoring With No Strings Attached
The only way to find mistakes and fraud on your credit report is to check your credit reports. Federal law requires each of the three credit bureaus to give you a free copy of your credit report once a year. There is only one place where you can get your free credit reports with no strings attached -- AnnualCreditReport.com.
Rather than review all three reports only once a year, you should stagger them and order a different report every four months. Chances are if you find fraud or an error on one report, it will turn up on the others as well.
Thanks to online banking and credit card statements you can quickly and easily monitor all of your accounts on a weekly or monthly basis for suspicious activity. The process is simple, just scan your debit and checking account transactions online when you have a few minutes. If you spot something odd, including small deposits, notify the bank immediately. The same technique works perfectly for credit cards.
Check Your Credit For "Free"
Free has always been a dangerous word when marketers use it because, NOTHING is ever free. When it comes to free credit monitoring apps there are two kinds of free that aren't scams. The first is free for a limited time or with limited functionality. The other kind of free requires that you are subjected to ads or agreeing to be contacted by partners. The apps we talk about here fall into one of these two categories.
1. Credit Karma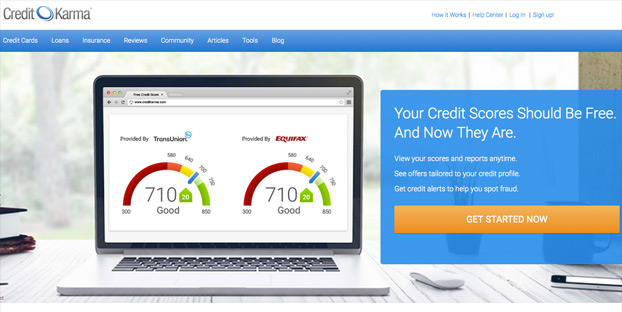 Credit Karma is being honest when they say they will never ask you for a credit card. The app uses information from TransUnion and Equifax to estimate your FICO score. Users report that Credit Karma's scores are very close to their actual FICO scores.
The app reports factors that affect your credit score, including credit card utilization and payment history. They provide an overview with some detail of information contained in your TransUnion and Equifax credit reports. Other useful features are the ability to link your credit card accounts to the app and track your spending in one place.
2. Credit Sesame
There is no charge to subscribe to Credit Sesame. They make their money through strategic partnerships that include on-site advertising and promotional offers. They also offer upgraded services that cost $9.95 per month for advanced credit monitoring and $14.95 per month for their Platinum Protection plan.
The free basic service provides you with free monthly credit score updates, credit monitoring and analysis. It even provides self service tools to restore your identity and correct errors and fraud. They even include $50,000 in identity theft insurance. The insurance does not cover losses to fraud but does cover costs such documents and legal fees.
3. BillGuard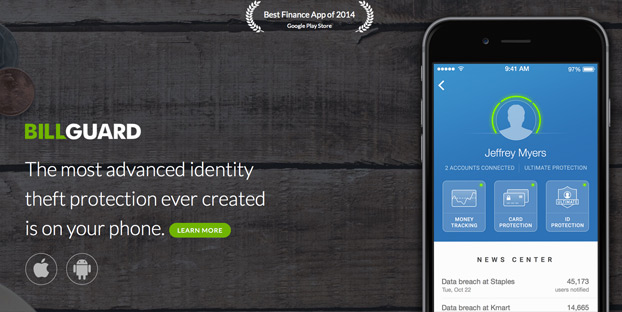 Like Credit Sesame BillGuard makes its money from both strategic partnerships and service upgrades. Their upgraded services are reasonably priced at just $2.99 per month and $6.99 per month. Both plans offer a 10 percent discount if you pay annually.
Unlike Credit Karma and Credit Sesame, BillGuard basic does not connect with any of the credit bureaus. Rather, it allows you to link your credit card accounts to the app. BillGuard then tracks your account activity and alerts you to suspicious transactions. The app is particularly helpful in identifying rogue recurring charges that are usually the result of free trials that required a credit card number to activate.
Final Standings and Overall Winner
Comparing DIY Credit Monitoring
| Features | Credit Karma | Credit Sesame | BillGuard |
| --- | --- | --- | --- |
| Entry cost | $0 | $0 | $0 |
| Upgrade costs | No upgrades | $9.95 - $15.95 mo | $2.99 - $6.99 mo |
| Credit scores | Yes (estimated) | Yes (estimated) | No |
| Tracks spending | Yes | No | Yes |
| Credit utilization | Yes | Yes | No |
| Bureaus reported | 2 | 1 | 0 |
When it comes to the most features and greater functionality for the free product, Credit Karma is the winner.
However, the fact that they are completely supported by ad revenue may turn out to be a hassle over time, especially if internal pressures to increase revenue start to generate a lot of spam. But so far so good, I've been a member for about a month and my inbox is still clean.
In fairness to BillGuard, they are somewhat different than Credit Karma and Credit Sesame. They are in a lot of ways a more robust fraud protection system because they ask you to link your cards to the app, and they are able to track your usage in real time and provide suspicious activity alerts.
I would consider BillGuard to be more of a supplement to the other two apps. It is especially valuable if you have several cards that you use in a variety of locations and don't want to spend a bunch of time looking over monthly statements.