The Best Credit Cards for Travel to the Republic of Georgia
Learn which credit cards are best when you travel to the Republic of Georgia and find out how to use cards wisely during your trip.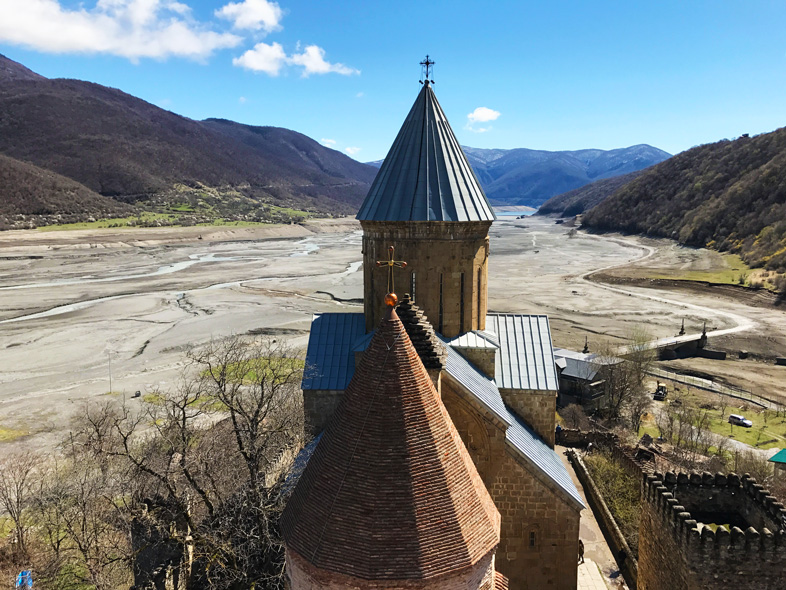 The Republic of Georgia is a hidden gem among travel destinations.
It boasts outstanding natural beauty, remarkable cultural attractions, and some incredible culinary traditions.
In fact, it claims to be the first country to make wine. It's also a very inexpensive country to visit, compared to other destinations in North America and Europe.
But if you're looking to travel to Georgia with frequent flyer miles, you're going to have to use points transfers to make it work.
The county's primary airport in Georgia's capital of Tbilisi isn't served by any American carrier.
Normally, that wouldn't be a problem, as you would just take a foreign carrier, or connect to one of their partners overseas.
However, Tbilisi has few flights by carriers that belong to any of the three major international airline alliances: OneWorld, SkyTeam, and the Star Alliance.
Learn how credit cards work in Georgia and how you can use them to earn travel to visit the country.
Airlines That Get You to Tbilisi With Miles
There are lots of carriers that serve Tbilisi, but you probably haven't heard of most of them. You'll have to maneuver various airline partnerships and transfer programs to use miles toward your trip. Here's what's left:
Star Alliance: Aegean, LOT Polish, Lufthansa, Turkish
OneWorld: Qatar, S7
SkyTeam: Aeroflot, China Southern
But where is Tbilisi?
One of the interesting things about the Republic of Georgia is that it lies at the crossroads of Europe, Asia, and the Middle East.
This makes planning an award trip there pretty confusing.
Airlines seem to have different opinions as to which region to place the country in for the purpose of booking award travel. About half consider it to be part of Europe, while the other half place it in the Middle East.
Airline Region Classification of Georgia
| Airline | Which Region is Georgia? |
| --- | --- |
| United Airlines | Middle East |
| Singapore Airlines | Middle East |
| American Airlines | Europe |
| Air Canada | Europe |
And since Europe is much closer to the U.S. than the Middle East, you'll need much fewer miles for an award flight if Georgia is considered part of Europe.
Therefore, you are better off using Air Canada miles than United miles to fly to Georgia. American miles are also very useful as are miles from Korean Airlines, which is a SkyTeam partner.
Best Credit Cards to Earn Miles for Trips to Georgia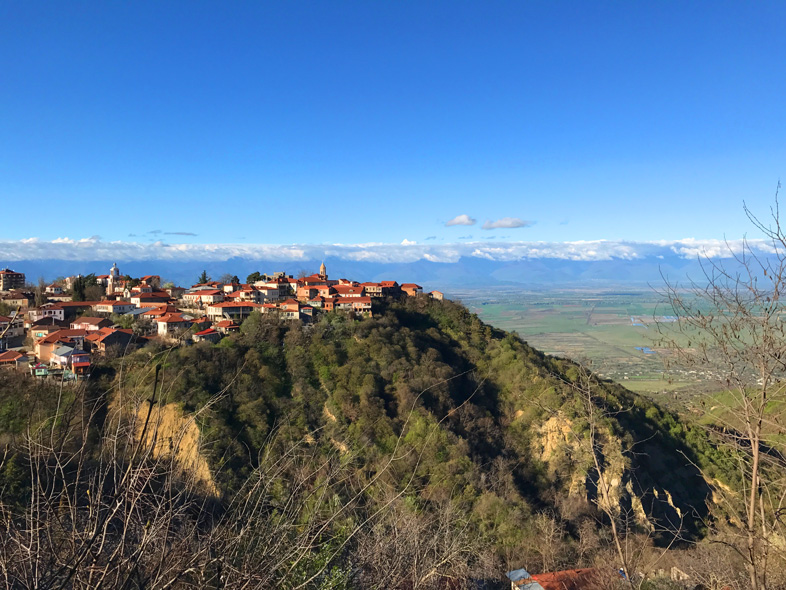 Amex EveryDay Preferred
This card offers you one of the best ways to earn American Express Membership Rewards points, which can be transferred to miles with 17 different airlines.
But what's impressive about this card is that it offers you 3x points at US supermarkets (on up to $6,000 spent each calendar year), 2x points at US gas stations, and 1x elsewhere.
In addition, you also get a 50% points bonus each billing period that you make 30 or more transactions, which allows you earn 4.5x, 3x and 1.5x respectively.
To use these points to get to Georgia, you can transfer them to Air Canada's Aeroplan program.
Then you can use those miles to fly to Georgia for 75,000 miles round-trip in economy and 115,000 in business class.
Since Air Canada is part of the Star Alliance, you can use it or any combination of airlines to get to Europe including United, Swiss, Scandinavian, and Brussels.
In addition, Star Alliance partners LOT Polish, Turkish, and Lufthansa will get you all the way from the United States to Tbilisi.
ANA (Al Nippon Airlines of Japan) is also a Membership Rewards transfer partner and a member of the Star Alliance.
It also considers Georgia to be a part of Europe and it offers round-trip awards to Europe for 55,000 miles in economy and 88,000 miles in business class.
Another Membership Rewards transfer partner is Air France/KLM's Flying Blue program, which you can redeem for partner award flights on Delta Airlines and Aeroflot on the way to Tbilisi.
Unfortunately, Flying Blue considers Georgia to be a part of the Middle East, so it will cost you a bit more miles than other options. There's a $95 annual fee for this card, but it does have a 2.7% foreign transaction fees.
Chase Sapphire Preferred
This card is rewarding for consumers who travel and dine out regularly.
You earn rewards in the form of Chase Ultimate Rewards points, which can be transferred to miles with seven different frequent flyer programs, and three hotel programs.
To get to Georgia, one option is Korean Airlines, which is a member of the SkyTeam alliance which includes Delta, Air France, Alitalia and KLM.
However, the only SkyTeam partner that flies to Tbilisi is the Russian carrier Aeroflot.
However, flights to Europe are a downright bargain at 50,000 miles round-trip in economy and a mere 80,000 in business class.
Note: Korean Air only allows you to book awards in the name of yourself or an immediate family member, including spouses, parents, grandparents, grandchildren children, and siblings. No friends or cousins allowed, and they even ask you for documentation of your relationship.
United Airlines is a slightly more expensive option, as it charges 60,000 miles round-trip in economy class and 140,000 in business for flights on its Star Alliance partners.
And if you are planning on visiting Georgia in the off-season, it's worth considering that you can redeem points directly for airfare using the Chase Ultimate Rewards travel center.
Points from the Sapphire Preferred are worth 1.25 cents each, so a $1,000 trip to Georgia would be only 80,000 points. You can also use these points to book hotels, car rentals and activities in Georgia.
There is a $95 annual fee for this card, and no foreign transaction fees.
Capital One Venture Rewards Credit Card
Another way to book an award to Georgia is to look past airline miles and earn general credit card miles instead. The  offers 2x miles per dollar spent.
Miles are worth one cent each as statement credits towards any travel reservations, so your sign-up bonus alone is worth hundreds of dollars in travel statement credits. And since Georgia is not an expensive destination, these miles could go further than traditional airline miles.
There's an $95 annual fee for this card and no foreign transaction fees.
Which Credit Card to Use in Georgia
While it's not too difficult to use your credit card to earn a trip to Georgia, you might find it difficult to use credit cards once you get there.
Georgia still has a rather traditional economy, and most transactions still occur in cash. Where credit cards are taken, you're most likely to find Visa and Mastercard accepted more than American Express.
Discover credit cards are not accepted in the Republic of Georgia.
And no matter which card you use, make sure it doesn't impose foreign transaction fees.
Many cards still add a 3% foreign transaction fee on all charges processed outside of the United States.
But thankfully, most of the top travel rewards cards no longer have this unnecessary fee.
By carefully considering which cards are the best ones to earn miles for your trip to Georgia, you can get there sooner than you might have thought.