Best TSA Mobile Apps to Check In on Airport Security Line Wait Times
You could be waiting for a long time in line for the TSA security lines. Check out the best mobile apps to see the wait times for TSA security.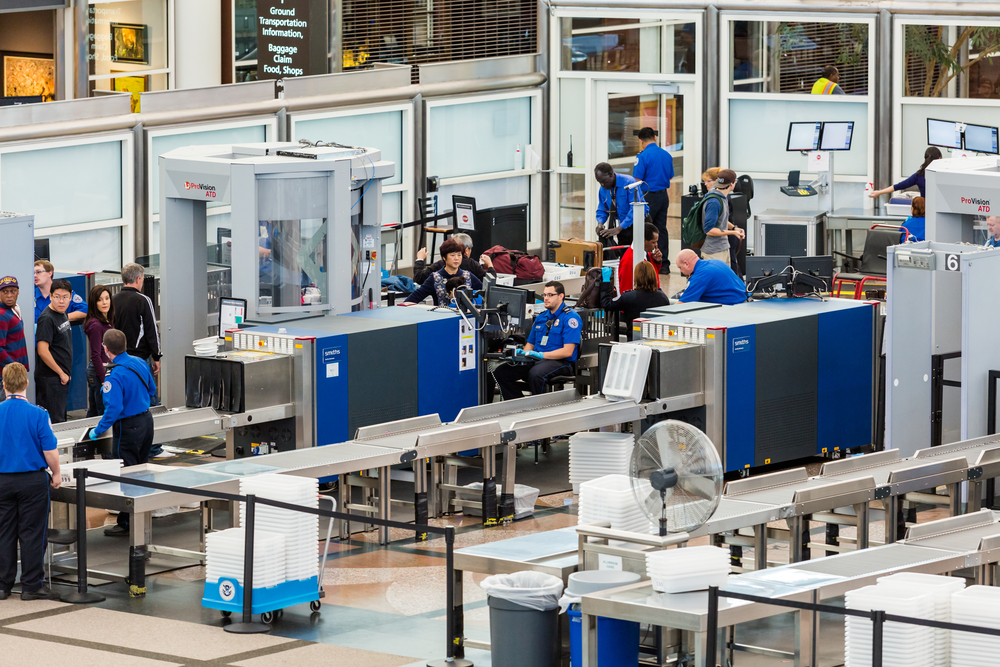 Whenever you see a report on the news about the lines at TSA checkpoints, it will probably show some footage from my home airport, Denver International.
It's not that the lines there are any longer than those at other major airports. It's that it's laid out in such a way that news crews can get overhead shots of an entire checkpoint, lines and all.
And when it comes to predicting lines for airport security, there are also some mobile apps available to help you predict how long the wait will be. These apps will even show you the checkpoint with the shortest lines.
Trips to the Airport Can Be More Efficient
You may use a traffic app to know when you can leave to drive to your destination on-time, and which route to take.
But when it comes to going to the airport, you often need to leave an hour or two early, just in case there is a long line at security.
Rather than spending that hour sitting in a crowded gate area, you can regain some of that productive time at home or in your office.
Best TSA Mobile Apps to Track Security Lines
MiFlight (iOS)
This app uses crowdsourced data to check the waiting times for different security checkpoints at over 150 airports around the world.
It also includes terminal maps of these airports and it has the ability to save and reference your favorite airport. There is no charge for this app, and it gets an average of 4.5 star in customer reviews.
Fleet (iOS)
The Fleet Air Travel Guide & Airport Directory is an app that offers real-time, crowdsourced information on several aspects of the air travel system, including TSA security delays.
Other resources include information on check-in lines, flight delays and airport crowds.
It's latest feature allows you to order food for pickup at certain restaurants. There is no charge for this app, which currently receives 3.5 stars from customer ratings.
My TSA (Android and iOS)
If you would rather get your information from an official source, try the My TSA, the official app from the Transportation Security Administration.
This app offers you crowdsourced data on the length of the lines at security, as information well weather and airport delays.
It's available for free on both Android and iOS platforms and currently receives 3 stars at the iTunes store.
TSA Mobile Apps Compared
| App | Cost | Notable features | Mobile platforms |
| --- | --- | --- | --- |
| MiFlight | Free | - Checks security line wait times at over 150 airports - Access airport terminal maps - Ability to select favorite airports for convenience | iOS |
| Fleet | Free | - Real-time info on airport travel system, including TSA line delays - See check-in lines, flight delays, and an airport crowd traffic | iOS |
| My TSA | Free | - Official mobile of the TSA - Shows length of TSA lines, flight delays, and weather delays | iOS and Android |
0
Other Ways to Speed Through Airport Security
While an app can provide you with the best information about delays at security checkpoints, it can take you so. When it comes to minimizing the time you have to spend in line before your flight, there are other ways.
Priority lines for regular security
There are actually separate lines for first class passengers and those with elite status with an airline. And while you might not purchase a first class ticket just to speed through security, you can sometimes buy an upgrade to first class for as little as $50.
Also, I've found that the people who guard the priority line at the airport aren't terribly strict about what you need to show to get into this line.
In the past, I've been able to use this line just by showing proof of my elite status with any airline. This can work, even if it isn't the one that you happen to be flying that day.
But even if you don't have elite status, and can't splurge for a first class ticket, there are two credit cards that offer you access to the priority line.
One of the perks offered by the United Club Infinite Card from Chase is Premier Access travel services.
This includes access to the priority security screening line printed on your boarding pass when you are a cardholder.
Other benefits include priority check-in, and baggage handling as well as early boarding. You also receive unlimited access to the United Club airport lounges. There's a $525 annual fee for this card.
The other card that offers access to the priory security line is the Citi / AAdvantage Executive World Elite MasterCard.
It features an enhanced airport experience including priority security, check-in and boarding.
You also get a membership to the American Airlines Admiral's Club airport lounges, even for authorized cardholders. This card also has a $450 annual fee.
TSA PreCheck
While elite status or the right credit card could offer you access to the front of the standard security line, there's a different line that's even faster.
TSA's PreCheck program offers an expedited screening line that has several advantages. With PreCheck, you can leave your jacket and shoes on, and you liquids and laptops in your carry on.
Also, you will not be scanned by one of the expensive and invasive nude-o-scopes, you simply walk through a plain old metal detector.
If you are old enough to remember, then you will recognize this as essentially pre-9/11 security.
There are two ways that you can get to use the TSA PreCheck lines. The first is to join the Global Entry program operated by the US Customs and Border Patrol.
This program offers expedited entry to the United States when flying in from another country, and also includes TSA PreCheck access.
There is a $100 fee to apply to this program, and your membership is good for five years. At just $20 a year, this is a bargain for those who take even just a few trips each year.
The other way is to apply for PreCheck alone, which costs $85 for a five year membership. In my opinion, the extra $15 for Global Entry is a small price to pay for membership in both programs.
However, the Global Entry application and enrollment process is longer and more complex than the PreCheck program. If you don't plan on ever flying outside the United States, you may want to choose the easier PreCheck application.
Getting PreCheck for free
Some of the best travel credit cards will reimburse you for the fee for either program, once every five years.
The previously mentioned Citi / AAdvantage Executive World Elite MasterCard is one of them. Another is The Platinum Card® from American Express.
It offers the $100 statement credit towards the application fee for either Global Entry or the TSA PreCheck program. It also features airport lounge access. There's a $695 annual fee (see Rates & Fees; terms apply) for this card.
The new Chase Sapphire Reserve also offers a $100 statement credit towards the application fee for either Global Entry or the TSA PreCheck program.
It too features airport lounge access, and boasts a $300 annual statement credit towards any travel expense. The card also has a $550 annual fee.
The Citi Prestige card also offers a $100 statement credit towards the application fee for either Global Entry or the TSA PreCheck program.
You can use this card to earn 3x points for spending on air travel and hotels. 2x rewards are earned for dining and entertainment purchases, and 1x elsewhere.
This card also offers airport business lounge access and has an annual fee of $495.
Using the Clear program
For the ultimate in fast, convenient passage through airport security, you can enroll in the Clear program. Clear doesn't perform airport security, it just has its own system to verify your identity before going through the TSA security checkpoints.
It uses fingerprints and eye scans to quickly authenticate you without the need to present a photo ID. And best of all, once pass through this process, you will be at the front of the line for either the standard security screen or the PreCheck line.
When you combine Clear and PreCheck, you can regularly sail through airport security in seconds.
Clear only has two downsides. First, it costs $179 per year, although additional family members are just $50 more.
However, Delta elites receive it for only $79. Anyone who joins Delta's SkyMiles program can enroll for $99 a year.
Also, it's currently available in just 16 major airports. Therefore, this might not be a good choice for you if it's not yet at your home airport or the destinations you frequent.
Bottom Line
I used to be paranoid about lines at airport security, and I'd always arrive at the airport two hours early.
By using both TSA PreCheck and Clear, I can comfortably arrive a mere 45 minutes before my flight time when I'm not checking bags.
Whether you use one of these programs, or just download one of these apps, taking a few minutes to plan your way through an airport can save you hours of your life each year.
More: MyBankTracker's Best Travel Credit Cards
See the rates & fees for the mentioned American Express cards: The Platinum Card from American Express (Rates & Fees; terms apply).