Survey: Taylor Swift Gives Presidential Candidates a Run for Their Money
The U.S. population is more influenced by the biggest celebrities than the 2016 presidential candidates, especially if it came to branded financial products.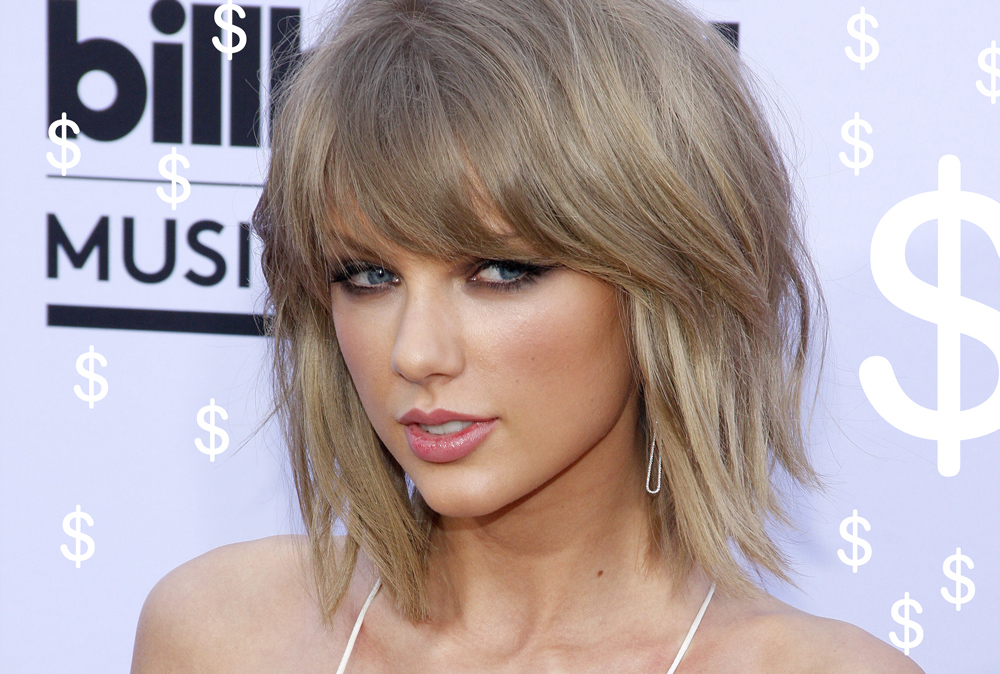 Celebrities have the power to influence the different products Americans use, including credit cards. MyBankTracker recently polled its audience to determine which celebrity-branded credit card would be most popular if it actually existed.
Readers were given six high-profile public figures to choose from, and the results revealed a lot about who Americans are willing to put their trust in when it comes to their finances. MyBankTracker has the scoop on which celebrities fared the best, and we've also got some useful tips for picking out your next credit card.
Key survey findings
Our survey offered some interesting insights about which celebrities are deemed the most financially trustworthy. We've highlighted some of the thought-provoking insights below.
Taylor Swift proves more popular than politicos, including Trump
25% of the people polled in our survey said they'd choose a Taylor Swift credit card if it were available
24% said they'd go with a credit card backed by Donald Trump
22% of readers chose Bernie Sanders
10% of picked Hillary
Kim Kardashian and Ted Cruz split the difference with 9% of the vote each
Considering that the Donald is running for President, and his net worth tops $4 billion compared to the estimated $240 million Taylor Swift boasts, you have to wonder: what gives the pop princess the edge?
One of the things that's helped Taylor Swift to grow her fan base over the years is her willingness to give back. She topped DoSomething.org's Most Charitable Celebrities list in 2015, and she's constantly in the news for making donations and other kind gestures to fans in need. That could be a great platform if she ever decided to create a credit card of her own.
The Discover it card, for example, allows you to donate some or all of the cash back you earn to a participating charity. A Taylor Swift credit card that operates along those same lines may turn out to be a huge hit with her fans.
Women most likely to choose a Taylor Swift card while men rally for Trump
29% of women said they preferred a Taylor Swift card
31% of men were Team Trump
Hillary Clinton only got 13% of the female vote
21% of women said they'd use a Bernie Sanders-branded credit card
Kim K. and Ted Cruz both got 10% of the female vote
In terms of who chose Taylor over Trump, it's interesting where the lines are drawn. The fact that more men chose the Donald more or less aligns with what demographic data shows about Trump voters--they're overwhelmingly male. It's also interesting that Hillary Clinton wasn't more popular with our female readers. Her poor showing overall may be a sign that Americans have some doubts about the former First Lady's proposed economic policies.
Older Americans would rather have Trump in their wallet
33% of 55 to 64-year-olds and 28% of 65-year-olds gave a Trump card the thumbs up
28% of 35 to 44-year-olds chose Taylor as their top pick, followed by 27% of those in the 18 to 24-year-old crowd
33% of 25 to 24-year-olds picked Bernie, which reflects his popularity with older millennials
Only 2% of readers aged 65 and older said they'd use a Kim Kardashian credit card
Overall, Donald Trump was the favorite with seniors while Taylor Swift caters to a younger age group. It was interesting that Gen Xers were more likely to choose her hypothetical card over younger millennials.
Swift is favored by high income earners
47% of people earning between $100,000 and $149,999 and 33% of those in the $150,000 and up range said they'd pick Taylor Swift's card
25% of people making between $50,000 and $74,999 annually said the same
26% of people bringing in $75,000 to $99,999 chose Trump
28% of respondents in that same income range picked Bernie Sanders, which reflects who his biggest backers are
It's remarkable that middle class Americans are more likely to identify with a 20-something pop singer than an established businessman and billionaire. Even though Trump has virtually locked the Republican presidential nomination, our survey suggests that there's still a disconnect in terms of how relatable he is to the broader population.
Rich voters, in particular, won't be flocking to a Trump credit card any time soon. He earned 0% of the vote from people making over $150,000 a year, as did Ted Cruz.
No one wants a Kim Kardashian credit card
Among MyBankTracker readers, the idea of a credit card issued by Kim K. garnered just 9% of the votes
19% of the people who were in her corner were between 18 and 24 years old while 11% were in the 25 to 34-year-old range
33% of people making $150,000 or year said they'd choose her card
Kim Kardashian has already made one ill-fated venture into the finance world. In 2010, she, along with her sisters launched the Kardashian Kard, a prepaid debit card aimed at younger consumers. The card was quickly taken off the market after receiving some major criticism that the fees amounted to predatory lending.
Despite earning $52.5 million in 2015, that doesn't seem to be enough to convince the majority of Americans to use a credit card with her face on it. One thing worth noting was the income range of the people who supported a Kim K. card. It seems she still has some cred with the richer crowd.
How to choose the right credit card
Until these celebrity-branded credit cards become a reality, you'll have to settle for choosing from one of the hundreds of other cards that are already on the market. With so many different options, pinning down the one that's right for you can be tough but MyBankTracker has some advice on how to pick the best one.
Start with the rewards
Earning cash back, miles or points on your purchases can add up to some valuable savings but the key is using a card that matches how you spend. As you're comparing credit cards, the first thing to zero in on is the rewards structure.
Specifically, you should be looking at what kind of rewards the card offers, how they're earned and whether there are any restrictions on how you can use them. The Fidelity Rewards Visa Signature Card and the American Express Blue Cash Everyday card, for example, both offer cash back but in very different ways. They also differ when it comes to how rewards are redeemed.
Tip: The card you choose should offer you the most rewards with the fewest hassles. Head over to MyBankTracker's credit card comparison portal to see how different card options stack up.
Check the interest rates
It's easy to be wowed by great rewards but you shouldn't commit to a card without looking at the interest rates and fees first. The annual percentage rate or APR, for example, tells you how much the card will cost you over the course of a year if you carry a balance. The higher the APR is, the more interest you'll pay.
Aside from the APR on purchases, you should also look at the rate for things like balance transfers and cash advances. Transferring your existing credit card debt to a card with a lower rate can save you money if you can find one that has a 0% promotional rate. Just be sure that you're aware of when the promotional period ends to avoid any interest charges.
Don't forget about fees
As far as the fees go, you want to look at whether the card has an annual fee and if so, how much it is. If you're earning $200 in cash back per year but paying a $95 annual fee, you're not really coming out that far ahead. The foreign transaction fee is another fee to keep in mind if you travel. This fee is typically between 2% and 3%, which can really add up if you take a lot of international trips.
Consider the card extras
If you need more incentive to choose one rewards card over another, take a look at the perks each card comes with. For example, if you're a frequent flyer, you might want to consider an airline-branded card that comes with premium travel benefits, such as complimentary lounge access or free companion tickets.
Whether or not a card offers a sign-on bonus may also make a difference in how valuable it proves to be. If you can get 40,000 or 50,000 travel miles or a few hundred dollars in cash back just by meeting a minimum spending requirement, that's an easy way to add to the rewards you're earning.
Just remember that the more benefits a card comes with, the higher the annual fee is likely to be. Running the numbers on how much value those benefits add and how much you stand to earn in rewards can help you decide if paying a pricey annual fee is worth it in the long run.
---
Methodology
This nationwide, online survey was conducted by Google Consumer Surveys on behalf of MyBankTracker. The survey received 1,004 responses and all participants were age 18 or older. 52% of respondents were male and 48% were female.