Barclays Online Savings Account 2023 Review
Learn if the Barclays Savings Accounts offers one of the best savings APY. Compare online savings accounts rates, fees and services to the other top national banks and online banks.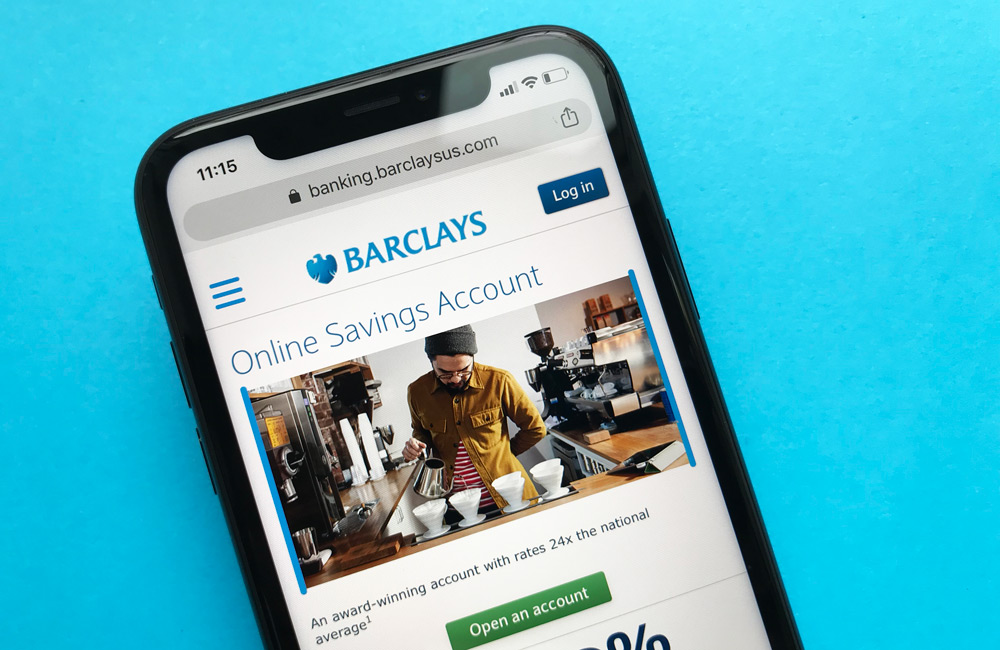 Barclays Bank Online Savings Account
Barclays Bank is a online bank that is less likely to be known by most people. It is the banking counterpart to the Barclaycard division that issues many popular credit cards.
It offers savings accounts and certificates of deposit (CDs). The online savings account is one of its best accounts with a generous interest rate.
The Barclays Online Savings Account includes access to the bank's extensive online banking tools.
In this Barclays Savings Account review we'll compare rates, fees and services to other national and online banks.
Compare Savings Options
Be sure to check out more savings accounts worth considering:
Savings Account Interest Rate Review
Barclays offers one of the highest savings rates available nationwide. The APY applies as long as you have at least $0.01 in your account.
Because of the account's competitive interest rate, the effects of compound interest are more apparent.
Minimum Balances and Monthly Fees
The Barclays online savings account has no monthly fee. Nor is there a minimum balance requirement. To open an account, your initial deposit can be as little as $1.
Barclays Savings Account Fees
| Type | Fee |
| --- | --- |
| Monthly Maintenance Fee | $0 |
| Excessive Transaction Charge | $5 |
| Stop Payment Fee | $0 |
| Official Check | $5 |
| Returned Deposit Items | $5 |
| Non-Sufficient Funds (NSF) Fee | $5 |
| Statement Copy | $0.50 |
| Express Mail/Rush Delivery Charge | $25 |
| Legal Documents | $0 |
| Account Research | $0 |
For savers who've had a savings account with a big bank, the costs will come as a major surprise.
You don't have to worry about your balance being dwindled (and APY canceled out) by high monthly fees.
Typical savings account from a large bank will charge a monthly service that requires a certain balance or activity to avoid.
Barclays doesn't include an ATM card, meaning there are no ATM fees. There are also no withdrawal fees for online withdrawals or transfers to other banks.
The only fee that you need to worry about is the excess withdrawal fee. As with most savings accounts, you are allow 6 withdrawals or external transfers per month. All withdrawals after 6 per month will cost $5 each.
Regularly exceeding the 6-per-month withdrawal limit could mean that your savings account will be closed.
Online Tools and Customer Service
Barclays website provides comprehensive tools to help customers plan their savings. Savings Assistant tool is available to non-customers as well.
Simply choose a savings goal among the available options: College, Car, House, Vacation, Children, Retirement, Boat, Hobbies, Wedding, Home Improvement, or Other.
Then enter the cost, how much you have saved up already, and how much you can afford to contribute monthly.
The calculator will then tell you how long it will take to reach your savings goal. Calculations are based on a constant APY and assumes interest is compounded daily and credited on a monthly basis.
Online customer service is available on the Barclays website 24/7, though phone customer service is limited to 8AM to 8PM Eastern time.
The company doesn't have a customer service email, but it does have a presence on Facebook and Twitter, allowing you to contact them through these platforms.
Remote and Online Deposits
Since Barclays is an online savings account, it has options for remote deposits through its website. At this time, U.S.-based Barclay customers cannot utilize the Barclays mobile app.
This means you won't be able to deposit a check by taking a photo like you can with banking apps provided by most other banks.
The online deposit process is simple and fast, though deposits made after 3PM Eastern won't be available until the next day.
Note that there are limits when using remote deposit capture:
Barclays Remote Deposit Capture Limits
| Limit rule | Limit amount |
| --- | --- |
| Maximum individual check amount | $5,000 |
| Maximum daily amount | $10,000 |
| Maximum daily number of checks permitted | 10 |
| Maximum 10-day amount | $50,000 |
| Maximum 10-day number of checks permitted | 20 |
Direct Deposit
Barclays online savings account do allow direct deposit. After logging in to your account, select Direct Deposit to view your routing and account number and print a direct deposit form for your employer.
You can also have your tax refund direct deposited into your Barclays savings account. There is no fee for direct deposit, and it's not required to avoid monthly fees.
Compared to Other Top Savings Accounts
Barclays Bank is among a big group on online banks that offer high savings APYs to customers nationwide. Before you pick a savings account, it is important to consider some of the alternatives.
Another popular choice is the Ally Online Savings account. It doesn't offer as high of a savings rate, but it is still very competitive.
Ally Bank offers a top-notch free interest-checking account and great CDs. The online savings accounts would be a great pairing with these other products.
Here are some more savings accounts with great APY rates and services.
Final Verdict: Great for Simple Savings
Barclays offers a straight-forward savings account with a strong APY. Consumers seeking a no-frills account focused on maximizing the financial rewards of saving will benefit from this account.
Other than a great interest rate, the account doesn't provide any other standout features.
Customers looking to link their savings, checking, and credit card accounts to gain rewards will be better off getting a savings account from their local brick-and-mortar bank.
The Barclays Online Savings Account is especially attractive to people with low balances. With only $1, you can open a Barclays online savings account.
Customers on the West coast need to be aware that all of Barclay's time limits are based on Eastern Standard Time, and deposits need to be made before noon in order to get credited to your account the same day. Customer service times are also based on EST.
The lack of a mobile app puts Barclays behind the technology curve, so customers seeking innovative tools and a diverse range of products will be better off with Chase, Bank of America, or Wells Fargo.
In general, the Barclays online savings account makes for a simple, low-key tool to reach your financial goals.