The Best Savings Accounts in Arkansas for 2023
See which local banks in Arkansas offer the best savings accounts to residents based on fees and other features - compared to popular online savings accounts.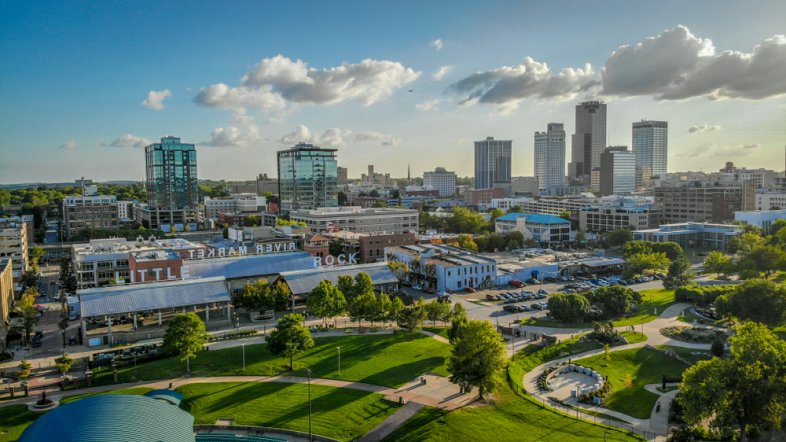 A savings account is an important part of your financial setup.
In Arkansas, you won't have the same access to big national banks as a metropolitan city. But, there are plenty of great local banks to choose for your savings.
We analyzed the 50 largest banks in Arkansas (based on deposit market share) to select the local banks that offer the best savings options based on their monthly fees, interest rates, and overall convenience.
Below, you'll see the best savings accounts from local Arkansas banks -- be sure to compare them to online savings accounts, which are available nationwide, some of which are found on our Best Savings Account list here.
The Best Savings Accounts in Arkansas
Regions Bank
The LifeGreen Savings Account offers a basic, low-cost savings experience to customers who already have a Regions checking account.
There is a $50 minimum deposit to open the account or a $5 minimum deposit to open the account if you open it in a branch. Once the account is open, there is no minimum balance requirement or monthly fee to pay.
One thing to pay attention to is that there is a 3 withdrawal limit per statement period. Withdrawals in excess of that amount will cost $3 each.
First National Bank of Fort Smith
The First National Bank of Fort Smith offers a no-frills savings account.
There is no minimum balance and no monthly fee to worry about, but there is a withdrawal fee that applies only to accounts with a balance under $100.
If you have less than $100 in the account you can make only six withdrawals each quarter. Additional withdrawals will cost $1.
First Community Bank
The First Community Bank Savings account is a standard savings account. There is a $25 minimum deposit to open the account and no monthly fee to keep the account open. Interest is paid quarterly rather than monthly.
One nice perk is that you get a free ATM card that you can use to make withdrawals from your account at any First Community Bank ATM.
How we picked
MyBankTracker applied a methodology when choosing the best savings accounts in Arkansas. Our top recommendations were selected based on a thorough analysis of savings accounts offered by the top 50 banks by deposit market share in Arkansas (based on FDIC June 2023 data)--with a physical presence in major cities including Little Rock, Fayetteville, Fort Smith, Springdale, and Jonesboro.
We focused our choices on savings accounts with low monthly maintenance fees, the least demanding requirements to waive these fees, the bank's ATM network, excess withdrawal fees, and any other convenience features.
Online Savings Accounts are Available Anywhere
Once you've taken time to compare local and online banks you should take the time to think about the third option: online savings account.
Online savings accounts are a great place to keep your money and they are available to everyone in the United States.
You can often open an online savings account right from your home or mobile device.
Take advantage of higher savings rates
Possibly the most significant perk of opening an online savings account is the interest that you'll earn.
The fact is:
You can often earn more than 100 times the interest that you'd earn from a brick and mortar bank's savings account.
Online banks are able to provide these higher interest rates for one simple reason. They cost less to run.
Brick and mortar banks have to pay for the expenses of maintaining a physical presence, including:
maintenance
property leases
branch staff
security
insurance
Online banks may just centralize their operations in one or two locations, saving a lot of money in the process.
Staying on track
Online banks are also great for people who can be tempted to spend money that they've saved.
If you work with a local or national bank, you'll inevitably walk or drive by an ATM or branch with your bank's branding.
This can get you thinking about the money that you've saved and how nice it would be to spend some of it.
So:
If you work with an online bank, you'll never walk past one of your bank's ATMs. This can keep your savings out of sight and out of mind, making it easier to avoid the temptation to spend.
Better technological experience
Online banks tend to offer the best tech experiences of any bank. Most large banks offer apps or access to your account through their website, but online banks sites and apps are streamlined and easy to use because they have to be.
If you want a good technological experience from your bank, an online bank is probably the way to go.
FDIC insurance
If you're worried about the safety of online banking, you don't have to be.
The Federal Deposit Insurance Corporation offers protection to banks in the United States, offering up to $250,000 in insurance, per account type, per depositor.
Online and physical banks are covered by the FDIC, making each as safe as the other.
National Banks Are Not Always the Best
When you're in the market for a new savings account, the first thing that you have to do is decide on the bank that you want to work with.
Usually, the first step in this process is selecting a few potential banks and looking at the pros and cons of each.
In general, working with larger national banks offers good, uniform service, regardless of where you are located. You'll always be able to find a branch or an ATM if you work with a national bank.
Don't forget the downside:
This national focus is that larger banks aren't able to provide personalized, localized service in the same way that smaller banks can.
Banks based in Arkansas know the unique needs of Arkansans and are able to provide services that specifically target those needs.
Pros and Cons of Local Banks
Like national banks, local and regional banks bring a unique set of benefits. Weighing the pros and cons of each is an important part of choosing the right bank account.
The advantage of local banks is that they can provide personalized, customized service in a way that larger banks can't.
When you visit your bank, you have a good chance of seeing someone you recognize and getting help from someone who is familiar with your situation.
The most notable shortcoming for local banks is that their branch and ATM networks are likely to be smaller -- providing less convenience compared to the widespread presence of national banks.
Advantages and Disadvantages of Savings Accounts from Local Banks
Benefits
Drawbacks

Lower fees than national banks (but not always)
Personal service for account management

Smaller branch and ATM networks
Interest rates are not the highest available
What Kind of Account is Right for You?
If you're still having trouble figuring out which type of account is right for you, these questions might help.
Are you good with technology? If you're a digital native, using an online bank won't be a problem for you. If you're a technophobe or simply struggle to adapt to new and changing technology, then you might not want to open an account at an online bank.
Are you a regular at your current bank? If you're visiting your bank multiple times a week for different errands, sticking with a brick and mortar bank might be a good idea. If you're already visiting an ATM for all of your banking needs, then adapting to an online bank won't be much of a stretch.
How important is meeting face-to-face with people when you need help? With an online bank, the only way that you can get support is through online chats and phone calls. If you like being able to get help from someone, in-person, when you need it, then you should use a traditional bank.
The Key Factors in Picking a Savings Account
After you've decided on the type of bank that you'll work with, you have to compare the different accounts that are available. When comparing savings accounts, you should look at these factors.
Interest
The interest rate of a savings account determines the amount of money that the bank will pay you each month for the privilege of holding on to your money for you.
Ideally, you want to find the account with the highest rate available, as that means you'll earn the most interest possible.
Fees
Is a savings account really safe if your money is constantly being eaten up by fees?
Look for a savings account that doesn't charge a monthly fee.
If you must choose an account that charges a monthly fee, look at the requirements to get that fee waived and make sure that you can meet them easily.
Also, you should consider other fees involved -- most notably, the excess withdrawal fee, which is charged when you take money out of the savings account too many times per month.
Ease of access
Eventually, you'll want to withdraw your money from a savings account.
Depending on the situation, you might need to do it quickly, so look for accounts that offer things like ATM cards or easy transfers to other banks.