The Best Savings Accounts in Georgia for 2023
See which local banks in Georgia will offer good savings accounts to residents and compare them to savings options from online banks.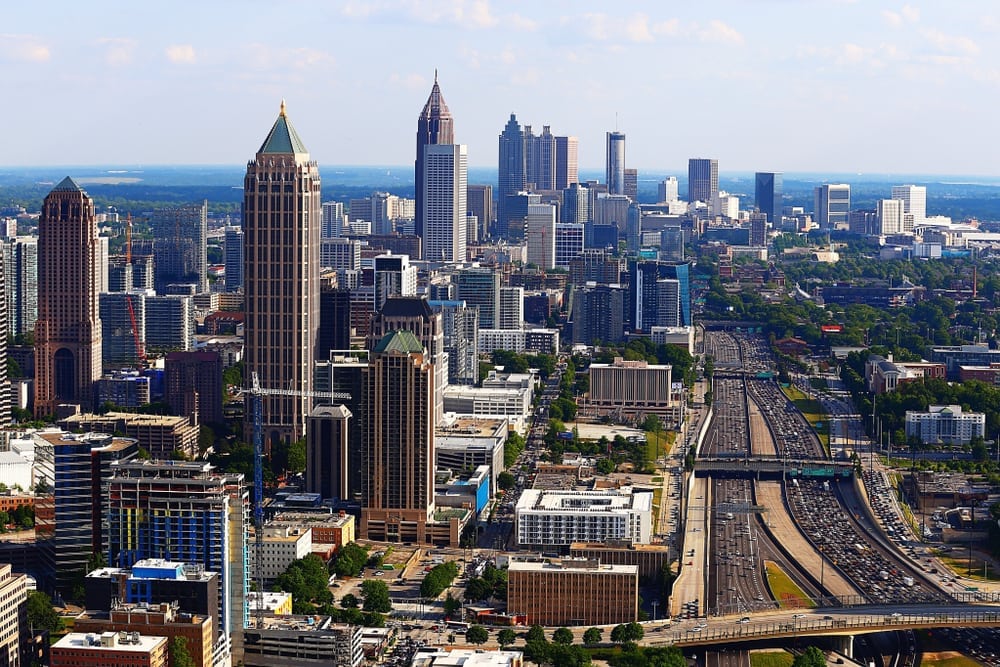 Georgia is home to more than 10 million Americans and a number of the largest banks in the United States work to serve Georgians by providing for their banking needs.
One of the most common bank accounts in the U.S. is the savings account.
If you have an account at a bank, it's likely that you have at least one savings account. Because they're so popular, nearly every bank offers one and many offer multiple different savings accounts.
If you live in Georgia and need to open a savings account, see the options available from your local banks and compare them to online banks, which are accessible nationwide.
The Best Savings Accounts in Georgia
First Citizens Bank e.Savings Account
The First Citizens Bank e.Savings account lets you combine the benefits of an online bank account with the benefits of working with a local bank. You can easily open the account online with a deposit as small as $25.
Once you open the account, there's no minimum balance to maintain and no maintenance fees to worry about. This makes it a good account for people who are just starting out with savings.
You can manage your account at a local branch or online. You'll also get an ATM card that you can use to deposit money from any First Citizens Bank ATM.
One downside of the account is that it can be costly to make a withdrawal. The first two withdrawals in a statement are free. The next four withdrawals cost $3. For each withdrawal after that, you'll pay a $15 fee. If you expect to need to access your savings regularly, you should choose another account.
Bank OZK Personal Savings Account
The Bank OZK personal savings account offers easy access to the account with an easy to avoid monthly fee.
Once you open the account, you'll face a $3 monthly fee. To avoid this fee, all you have to do is keep your balance above $100 for the whole month. So long as your balance doesn't fall below that amount, you won't pay a fee.
If you need access to your savings, you can visit any Bank OZK ATM to make a withdrawal using the free ATM card that comes with the account.
Bank OZK checking customers can accelerate their savings using the My Change Keeper service. This service automatically transfers money to your savings account each time you make a debit card purchase.
You can choose to round up your purchases to the nearest dollar or to simply deposit a flat amount each time you use your debit card. This can help you build your savings without even thinking about it.
United Community Bank United Savings Account
The United Community Bank United Savings account is designed to help you build your savings. Where it falls short is in providing easy access to your savings.
The account requires a $100 deposit to open. Once the account is open you'll have to maintain that balance to avoid a quarterly service fee. If you let your balance fall below $100, you'll pay $5 per quarter until you get your balance back above the threshold.
You're also limited in the number of withdrawals you may make each quarter. The first six withdrawals each quarter are free. After that, you'll pay a $2 fee for each withdrawal.
This account can work for people who want to let their savings grow and who don't expect to make regular withdrawals.
State Bank & Trust Personal Savings Account
Much like the United savings account, the State Bank & Trust Personal savings account is good for people who want to let their savings grow, but less so for people who need easy access to their cash.
To open the account, you'll need to make an initial deposit of $100. $100 is also the minimum balance to earn interest and the minimum balance required to avoid fees. If you let your balance fall below that amount, you'll stop earning interest and have to pay a $2 quarterly fee.
You'll also pay a $2 fee for each withdrawal in excess of three per quarter. This means the account is best for people who don't need to access their savings very often.
How we picked
MyBankTracker applied a methodology when choosing the best saving accounts in Georgia. Our top recommendations were selected based on a thorough analysis of savings accounts offered by the top 50 banks by deposit market share in Georgia (based on FDIC June 2021 data)--serving consumers in major cities including Atlanta, Columbus, Augusta, Macon, and Savannah.
We focused our choices on savings accounts with low monthly maintenance fees, the least demanding requirements to waive these fees, the bank's ATM network, excess withdrawal fees, and any other convenience features.
Online Banks Serve All States
Once you've looked at the local banks and credit unions, you should take the time to look at online banks. Online banks have become more popular in recent years as people's lives have become increasingly digital. It's not hard to see why.
Traditional banks have consistently reduced the interest they pay on deposits. They've also started charging higher fees, especially maintenance fees. Now, you have to pay a monthly fee just for the privilege of giving your money to the bank.
Online banks cost much less to run than traditional banks do. They don't have to operate branches, pay for utilities, security, and salaries for tellers. They can also centralize their operations.
Online banks use that savings to offer more interest to customers and to charge fewer fees.
The importance of high rates and low fees
The power of compounding will help your money grow faster and faster.
When you start off with a strong savings rate, your money will earn interest faster. Year after year, you're earning more interest on the interest earned previously.
The exponential growth of your balance will be noticeable, especially if you keep a large balance.
Now consider the effect of monthly fees on both accounts. Even a $1 monthly fee on the first account would result in you losing money over the course of five years, even with the interest you earned.
Finding a good savings account with no fees and high interest can be worth hundreds of dollars over the course of a few years.
Low minimum balances
Another benefit of online savings accounts is that they have incredibly low minimum deposits. In fact, many online banks have no minimum deposit requirement at all.
Many traditional banks won't even let you open an account until you have $50 or $100 to commit to an account. They'll also start charging you significant fees if you let your balance fall below that amount.
For this reason, online banks are ideal for people who want to get started with saving.
FDIC insurance still applies
If your worry about opening an online savings account is because you don't trust them, remember that online banks are insured by the Federal Deposit Insurance Corporation.
FDIC insurance covers up to $250,000 per savings account. If your online bank closes and can't give your money back, the FDIC will reimburse you up to the covered limits.
ATM access
ATM access is something that bank customers may prefer in a brick-and-mortar bank.
Many online banks also offer ATM access, usually through an ATM card.
And, they may offer ATM-fee refunds. This means that you can use any ATM, not just one operated by a particular bank, for free.
The Best Savings Account in Georgia
One benefit of opening a savings account at a local Georgia bank is that the bank will have a better idea of how to tailor the account features to your needs.
National banks offer the same accounts with the same features to everyone in the country. That means someone in Georgia will have the same account as someone in Michigan or Washington.
Local banks can tailor their services to meet local needs. Often, they can also provide more personalized service and higher interest rates than national bank chains can.
Advantages and Disadvantages of Savings Accounts from Local Banks
Benefits
Drawbacks

Lower fees than national banks (but not always)
Personal service for account management

Smaller branch and ATM networks
Interest rates are not the highest available