The Best Savings Accounts in Maine for 2023
Find out which local banks in Maine offer the best savings accounts to residents. Then, compare them to interest rates and fees on online savings accounts.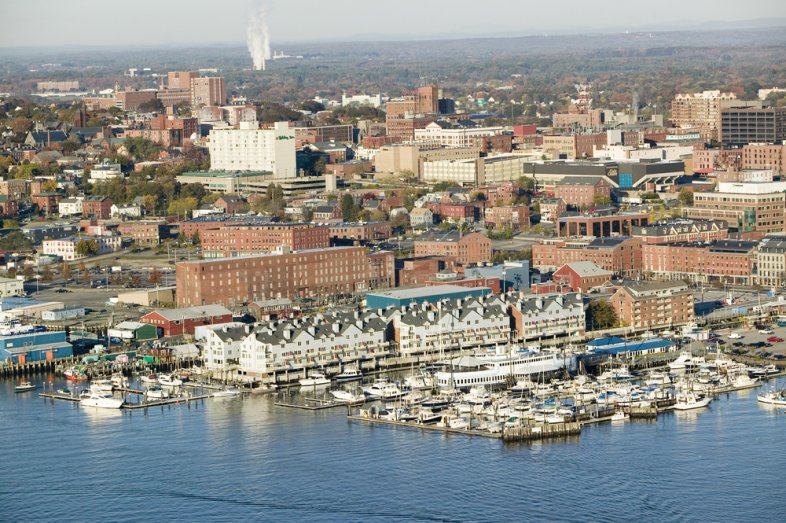 A savings account is an important part of anyone's financial toolkit.
Whether you're building an emergency fund or setting money aside for a specific purchase, a savings account can help you accomplish your goal.
In Maine, there are plenty of local banks that provide savings accounts -- some are definitely better than others.
We analyzed the 50 largest banks in Maine (by deposit market share) to pick out the best savings options available to residents in the state.
If you live in Maine, you have a variety of options when it comes to opening a new savings account.
These are some of the best options available for Mainers who want to open a new savings account. (Be sure to compare savings rates and fees to the competitive options offered by online banks.)
The Best Savings Accounts in Maine
The Camden National Bank
The Camden National Bank offers the Select Savings account, which is a relatively basic savings account experience.
There is a $25 minimum deposit required to open the account, which is reasonable for a brick and mortar bank. Once the account is open, there are no monthly fees to worry about.
You do have to worry about a $5 minimum balance, which is required to earn interest, though the rate that you'll earn is quite low.
Bangor Savings Bank
The Bangor Savings Bank Statement Savings Account is another basic savings account experience.
It requires a $25 minimum deposit to open and has no monthly fees. To earn interest, you must maintain a $25 minimum balance, though your account won't be automatically closed if your balance falls below that amount.
The interest rate that you earn is tiered, with rates increasing when your balance exceeds $1,000, $5,000, and $25,000.
People's United Bank
The People's United Bank Plus Savings Account offers current People's United Bank customers the option to open a savings account.
You must have an existing Plus, ePlus, Interest Plus, or Student Plus checking account, as well as a $50 minimum deposit, to open the account.
Once the account is open, there is no minimum balance or monthly fee.
How we picked
MyBankTracker applied a methodology when choosing the best saving accounts in Maine. Our top recommendations were selected based on a thorough analysis of savings accounts offered by the top 50 banks by deposit market share in Maine (based on FDIC June 2023 data)--serving major cities including Portland, Lewiston, Bangor, South Portland, Auburn, and Augusta.
We focused our choices on savings accounts with low monthly maintenance fees, easy-to-meet requirements to waive these fees, the bank's physical branch and ATM network, excess withdrawal fees, and any other convenience features.
Online Savings Accounts are Available Anywhere
If you've taken the time to consider both local and national banks but haven't found anything that has caught your eye, you should consider the third option: online savings accounts.
The best part:
You can open from anywhere -- as long as you have a U.S. mailing address.
Better savings rates
One of the most important benefits of online savings accounts is that they pay far higher interest rates than their competition.
You can often find rates that are 10 to 100 times higher than the rates that brick and mortar banks pay.
Online banks are able to pay so much in interest for one reason:
They cost less to run.
Online banks don't have to pay for the expenses of operating ATMs or branches.
Instead, they operate out of one or two central offices, which costs far less. Then, they pass the savings on to their customers.
Less likely to spend
Another perk of working with an online bank is that you'll be less tempted to spend the money that you save.
If you keep your savings at a local bank, you'll constantly be walking past ATMs or branches of that bank, thinking about how much money you have in the account.
Thinking about the money that you have saved can cause it to burn a hole in your pocket. Keeping the money out of sight and out of mind can help you avoid the temptation to spend it.
A refined digital experience
While every bank these days has a website and smartphone app, online banks tend to have the best tech experiences in the banking world.
It's not hard to figure out why.
Online banks don't give customers any way to do their banking except through an app or website.
When the only way that you can do business is through the internet, you'll make sure to consider the website design and mobile app experience.
FDIC deposit insurance
The FDIC offers up to $250,000 in protection per depositor, per account type at covered banks.
Online banks are covered just the same as brick and mortar institutions.
That means that you can deposit your money to an online savings account and feel just as secure as if you'd put it in your local brick and mortar bank.
The Best Savings Accounts in Maine
When you're looking to open a new savings account, the first thing to do is figure out which bank you want to work with.
When deciding on a bank, you have to weigh the pros and cons of each institution.
Working with a large, national bank brings a variety of benefits. Most obviously, national banks have national networks of branches and ATMs.
That makes it easy if you ever travel or move. You're more likely to a branch or ATM that you can use to access your money for free.
Of course, this national focus is also the greatest downside of national banks.
Local banks are better equipped to know the unique situations that their customers face due to where they live. Smaller, local banks tend to provide personalized, customized service.
Pros and Cons of Local Banks
Local banks have a unique set of benefits, which might make it tempting to open an account without considering all of your options.
You should still take the time to weigh all of the pros and cons.
Local banks are able to provide customized, personalized service in a way that many other banks can't.
You have a good chance of being able to visit your bank, see a friendly face, and get help from someone who knows your situation well.
With that said:
The downside of local banks is that their physical network may be significantly smaller.
This can have an impact on your banking experience if you value convenience.
Advantages of Big Banks vs. Local Banks
| Big Banks | Local Banks |
| --- | --- |
| Widespread ATM and branch access | More intimate, personal service |
| Better and faster technology and adoption | Community-oriented products and services |
| Uniform service standard across branch network | More willing to negotiate and work with customers |
What Kind of Account is Right for You?
If you can't decide whether an online savings account is right for you, ask yourself these factors.
Totally-digital banking
If you enjoy playing with gadgets and had no trouble setting up your new TV or game system, you'll probably have little trouble with getting used to an online bank.
Technophobes or people who struggle with no technology might want to stick to a traditional bank.
How often you visit a branch
If you like to do all your banking in-person, stick with a brick and mortar bank.
If you already do all your banking by ATM, adapting to an online bank won't be hard.
Lack of the personal touch
With an online bank, the only way that you can get support is through online chats and phone calls.
If you like being able to get help from someone, in-person, when you need it, then you should use a traditional bank.
Most Important Features of a Savings Account
After you've decided on the type of bank that you'll work with, you have to compare the different accounts that are available.
When comparing savings accounts, you should look at these factors.
Interest rate
The interest rate on a savings account affects how much money the bank pays you each month.
The higher the interest rate, the more money the bank will give you.
What that means is that you want to go for the account with the highest rate available, assuming all else is equal.
Fees
Can you really call a savings account safe if you have to pay fees to keep your money in it?
Look for a savings account that doesn't charge a monthly fee.
If you must choose an account that charges a monthly fee, look at the requirements to get that fee waived and make sure that you can meet them easily.
Ways to access your money
Savings accounts are commonly used for emergency funds, but regardless of what you're using the account for, you want to be able to withdraw your money when you need it.
Look for a savings account that offers features, such as an ATM card, that make it easy to access your cash.