The Best Savings Accounts in Tennessee for 2023
Find out which local banks in Tennessee are the best of the bunch for savings accounts while you also compare them to options offered by online banks.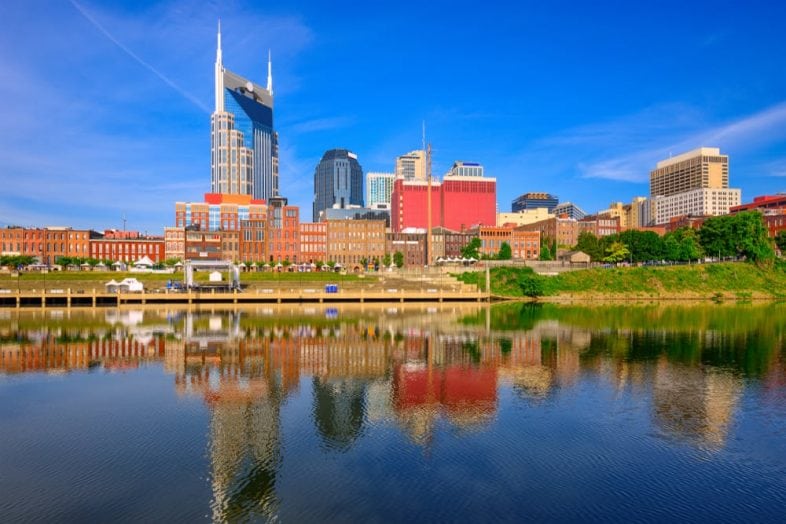 Tennessee is home to more nearly 6 million Americans, and nearly every one of those people needs some form of banking service.
Though the checking account is the most common type of bank account, savings accounts are a close second.
Their popularity means that banks need to compete to draw customers to their savings accounts. Because there are so many potential customers in Tennessee, many banks operate in the state.
Savings accounts are intended to give consumers a safe place to store their extra cash. They also let savers earn some interest on the balance of their account. That makes them well-suited for storing money you need quick access to in an emergency, but still want to let grow.
If you live in Tennessee, find out about the options available to you if you're in the market for a new savings account.
The Best Savings Accounts in Tennessee
SunTrust Bank Essential Savings
The SunTrust Bank Essential Savings Account aims to be easy to open and easy to use.
You can open the account with any amount of money. You could even make your opening deposit one penny. Once the account is open, the only requirement you have to meet to keep it open is to maintain a balance of $.01 or more. If you let your balance sit at $0, the account may be closed.
The account does charge a $3 monthly paper statement fee, but this can be easily avoided. All you have to do is sign up for electronic statements and the account will not have any monthly fees.
If you want to automate your savings, you can sign up for automatic transfers from your SunTrust checking account.
You can also use the balance alert feature to keep track of your goals. This feature will alert you when your balance reaches a pre-determined level so you can know when you reach your goal.
First Horizon Bank Traditional Savings
The First Horizon Bank Traditional Savings Account is a low-frills savings account that gives you access to online banking and ATM withdrawals.
To open the account, you must make a $50 opening deposit. Once the account is open, you'll be charged a $5 quarterly maintenance fee unless you can maintain a daily balance of $250 or more. If you are able to maintain that balance there will be no monthly fees.
If you link your First Horizon checking account, you get access to two additional features. The first is that you can use your checking account's debit card to make ATM withdrawals from your savings account. That can help you get quick access to cash when you need it.
You can also sign up for overdraft transfers. If your checking account would be overdrawn, money will instead be moved from your savings account. This can help you avoid overdraft fees or having your debit card declined.
Wilson Bank & Trust Free Kasasa Saver
The Wilson Bank & Trust Free Kasasa Saver account is exactly what it sounds like. The account is free to open and maintain.
The only requirement is that you have a $100 minimum deposit to open the account. There are no fees to pay once the account is open.
Kasasa savings accounts require that you jump through some hoops to earn the highest available interest rate. You can earn the maximum rate on your first $10,000 in savings if you meet all of the following requirements:
Receive 1 direct deposit or 1 ACH credit
Make at least 12 debit card purchases with your linked checking account
Enroll in e-Statements
Log in to online banking in the statement period
Amounts above $10,000 will earn a reduced interest rate. If you fail to meet any of the above requirements, you'll earn a low rate of interest on your full balance.
How we picked
MyBankTracker applied a methodology when choosing the best saving accounts in Tennessee. Our top recommendations were selected based on a thorough analysis of savings accounts offered by the top 50 banks by deposit market share in Tennessee (based on FDIC June 2021 data)--serving major cities including Nashville, Memphis, Knoxville, Chattanooga, and Clarksville.
We focused our choices on savings accounts with low monthly maintenance fees, easy-to-meet requirements to waive these fees, the bank's physical branch and ATM network, excess withdrawal fees, and any other convenience features.
Consider Online Banks for Higher Interest Rates
After you've looked at the accounts offered by local banks and credit unions, take the time to look at online savings accounts.
These accounts have become far more popular in recent years due to their convenience, low fees, and great interest rates.
Many traditional banks have high account fees and low-interest rates. This has resulted in consumers paying the bank for the privilege of letting the bank hold their money.
Online banks are much cheaper to operate, so they can afford to pay their customers reasonable interest rates and charge lower fees.
Better rates, lower fees
Fees and interest can have a massive effect on your savings account's balance. Over the course of years, your balance could be hundreds or thousands of dollars lower if you use a traditional bank account.
Don't forget that traditional banks often charge monthly maintenance fees.
If the brick and mortar bank charges just $1 per month in fees, you'll have less money than you started with, even after the earned interest is accounted for.
Okay for low balances
One other thing that online banks excel at is allowing customers to open accounts with a low balance.
Brick and mortar banks often require minimum deposits of $50 or $100.
This can make it hard for people who are just starting to save to open an account.
An online savings account can be opened by anyone with a penny and an internet connection.
As safe as other banks
One common concern about online savings accounts is their safety. Giving your money to a bank you can't see is admittedly scary, but online banks are completely safe.
The Federal Deposit Insurance Corporation insures bank accounts at banks in the U.S.
The FDIC will insure up to $250,000 per account type, per depositor, and insured banks. So, if you have two savings accounts each with $125,000, your full $250,000 will be safe.
If you have $150,000 in each account, the first $250,000 will be safe. If you split your $300,000 total balance between a personal account and a joint account, then you could get the full amount insured.
Because online savings accounts are FDIC insured, you cannot lose money by making a deposit, so long as you don't exceed the insurance limit.
Stay focus on saving
One downside of online banks is that they make using cash more difficult.
Online banks don't operate ATM networks, so you'll be at the mercy of fees charged by ATM owners. Some, but not all, online banks will reimburse these fees. Still, many online banks also limit you to only withdrawing $500 or $1,000 each day. This can make it hard to get a lot of cash if you need it.
Online banks also don't give you a way to deposit cash. If you get cash, you'll need to deposit it to an account at another bank and transfer it or spend it.
The Best Savings Accounts in Tennessee
Local banks offer customers to primary advantages.
A personal touch
The first is personalized service. As you stay with a local bank and visit your branch regularly, the staff will get to know you and your financial needs.
This familiarity will allow them to offer services that are tailored to your needs and help them provide the assistance that you need.
This can be especially helpful if you ever find yourself in a complicated financial situation.
What the locals need
Local banks are also in touch with the needs of the local community. What use is an ATM fee refund offer if all of the ATMs in the area are on the same ATM network?
Local banks can tailor their features to local needs, while national banks have to serve the needs of everyone.
National banks do have one advantage. Customers can leverage their national networks of branches and ATMs. If you travel a lot, knowing that you can still find a branch or ATM to visit can take a burden off your mind.
Advantages and Disadvantages of Savings Accounts from Local Banks
Benefits
Drawbacks

Lower fees than national banks (but not always)
Personal service for account management

Smaller branch and ATM networks
Interest rates are not the highest available