BMO Harris Statement Savings Account 2023 Review
We review the basic savings account from BMO Harris Bank to see if is worth opening. Compare the Statement Savings account to the top online savings accounts.
/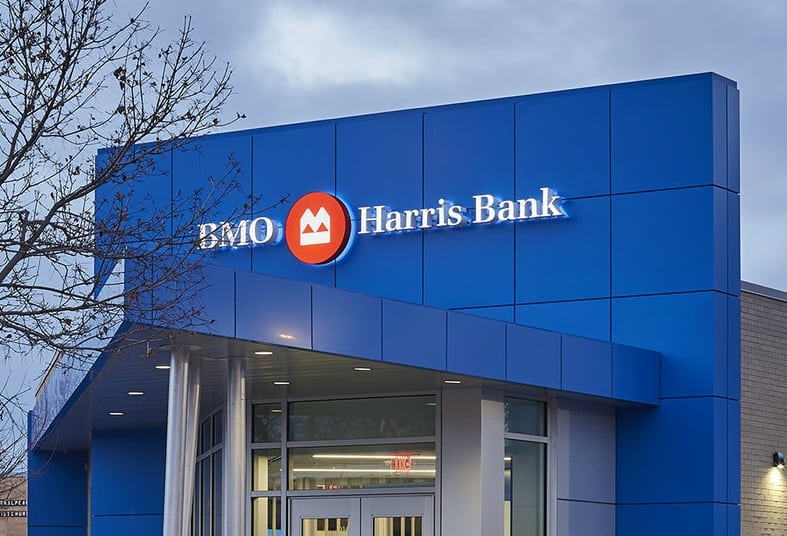 BMO Harris Bank
BMO Harris, a bank based in Chicago, Illinois, is one of the largest banks in the U.S.
It operates more than 600 branches and 1,300 ATMs across Illinois, Indiana, Missouri, Minnesota, Wisconsin, Florida, Kansas, and Arizona.
The basic checking account offered by the bank is the Statement Savings account.
If you're in the Midwest, you're likely to come across a BMO Harris branch and consider this savings account for yourself.
In this review, learn about this account's fees and features and compare it to the top savings account options before you pick a savings account.
Compare Savings Options
Be sure to check out more savings accounts worth considering:
Interest Rate is Lacking
The two main reasons to open a savings account are to keep your money safe and to help your money grow.
The BMO Harris Statement savings account offers that safety thanks to protection from the Federal Deposit Insurance Corporation.
The FDIC offers insurance that protects each account holder's deposits at insured banks, up to a limit of $250,000 per account ownership type.
Another reason to open a savings account is to earn interest, helping your savings grow. The BMO Harris Statement Savings account offers one rate of interest, regardless of how much you've deposited to the account.
Unfortunately, the BMO Harris Statement Savings account does not offer a high rate of interest. You are unlike to beat the inflation rate by saving your money in this account.
Multiple Ways to Waive Monthly Fee
Most banks have begun to charge monthly fees for the checking and savings accounts.
Avoiding maintenance fees on your savings accounts is very important. It's easy for these fees to eat away at the balance of your account over time, and it's nearly impossible to earn enough interest to offset the fees.
The BMO Harris Statement Savings account charges a $5 monthly fee, but it is not too hard to avoid. You can get the fee waived if you meet any of the following requirements:
Maintain a minimum balance of $500
Make a $25 monthly Auto Save transfer to the account
Link the account to a BMO Harris Portfolio Checking, Select Checking, or Wealth Checking account
If you do most of your banking at BMO Harris, or have a small balance to keep in the account, avoiding the fee is easy.
Other Fees
Maintenance fees are the most common fee you'll face with the Statement Savings account, but there are some others to consider, including:
BMO Harris Statement Savings Account Fees
| Type of Fee | Fee |
| --- | --- |
| Monthly Maintenance | $5 |
| Excess Withdrawal | Not allowed |
| Stop Payment Fee | $32 |
| Returned Item Fee | $12 |
| Non-Sufficient Funds Fee | $36 |
| Domestic Incoming Wire Transfer | $0 |
| Domestic Outgoing Wire Transfer | $30 |
It's very important to note that there is no excess withdrawal fee because it is not allowed.
Most other banks will charge this fee when you withdraw from your savings account more than 6 times per month.
BMO Harris will not process a withdrawal after 6th per month.
Generally, this shouldn't be a major concern as you might have bigger issues if you're accessing your savings account more than 6 times per month.
Automate Your Savings with Auto Save
If you've opened a savings account, you clearly want to try to build up your savings.
Whether you're setting up an emergency fund, saving for a big purchase, or just want to set some money aside, actively saving can be difficult. You need to remember not to spend the amount you want to save, and manually transfer it to your savings account.
BMO Harris makes saving easy by offering the Auto Save feature. You can set up automatic transfers from your other BMO Harris accounts to your savings accounts. Each month, money will be moved between the accounts.
You just need to make the one-time effort to set up the recurring transaction.
As a bonus, setting up a $25 Auto Save will let you avoid the Statement Savings account's monthly fee.
Link to Your Checking Account to Avoid Overdrafts
Overdrafting your checking account can be a painful experience. BMO Harris tries to make it easier by offering overdraft transfers from your savings account.
Usually, if you try to spend more than you have in your checking account, the bank can decide to let you overdraft your account. This will push your balance into the negatives.
To make matters worse, most banks charge hefty overdraft fees.
BMO Harris lets you avoid those fees by automatically moving money from your savings account to your checking account. This will let you avoid overdrawing and incurring those fees.
Instead, you'll be charged a $10 overdraft transfer fee, which will cost you much less.
How to Compare to the Competition
You should always take the time to shop around when you're opening a new savings account. Putting in a bit of effort can help you find a great account that exactly fits your needs.
If you're having trouble comparing the accounts you find, start by looking at their fee structures. Look for an account that does not charge any kind of monthly fee. If you must choose an account that charges a maintenance fee, choose one with fee-waiver requirements that are easy for you to meet.
Next, compare the interest rates that each account offers. You want to choose the account that offers the highest rate of interest. Higher interest rates mean faster growth in your savings. Choosing the lower rate is like giving up free money.
Finally, consider the special features that each account offers. Some banks offer bonuses like access to financial management software or identity protection services. If you need those services, that can make one account truly stand out.
Also, take the time to consider alternatives like online banks or credit unions. Online banks tend to offer high rates and low fees. Credit unions are focused on local communities and can often offer personalized services.
The Final Verdict
The BMO Harris Statement savings account is a basic savings account that will work for people who already bank with BMO Harris.
If you don't already have an account with BMO Harris, there isn't much about this account that stands out.
Consider an alternative, such as an online savings account, that will help your savings grow more quickly.