PenFed Credit Union Savings Account 2023 Review
Find out whether the PenFed Credit Union Savings Account is worth your money after our experts break down the details of the account. Compare the account's fees and ATM access to the best savings accounts from the top online banks. Learn about the membership eligibility requirements for joining.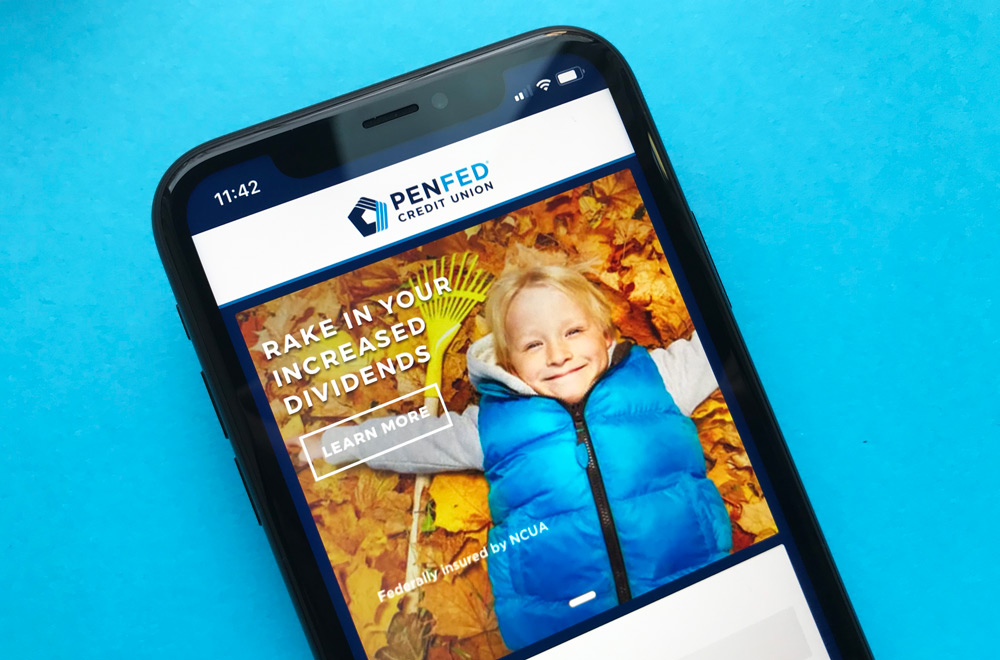 PenFed Credit Union iPhone App
The basic savings account from Pentagon Federal Credit Union is probably not the best choice if you're looking to grow your savings faster.
It's most redeeming feature is the available ATM card that offers extensive access to various surcharge-free ATM networks.
We've come to that conclusion after matching it up against 40+ savings accounts from the biggest traditional banks, online banks, and credit unions.
When you need a place to keep your savings, a credit union is an alternative to traditional banks.
Credit unions typically have a membership requirement to join, but if you're eligible, you could enjoy higher interest rates on deposit accounts.
PenFed Credit Union is the country's second-largest federal credit union.
Headquartered in McLean, Virginia, this credit union serves over 1.6 million members in all 50 states, with branches in more than a dozen states, the District of Columbia, Puerto Rico, Guam, and Okinawa.
In this review, learn more about how we reviewed the PenFed Credit Union Savings account and find out other options to boost your savings.
Compare Savings Options
Be sure to check out more savings accounts worth considering:
Account Highlights
PenFed's Regular Savings account is a basic savings account. In terms of features, here's what you can expect:
Low $5 minimum deposit to open an account
All balances earn interest
No monthly maintenance fee
ATM card access
Compared to other savings accounts, this one is very streamlined.
That means there aren't a lot of extras included.
You can get an ATM card, which is convenient for making cash withdrawals on the fly or checking your balance, but that's about it.
There's no relationship rate bonus or rewards incentives for saving with PenFed. But, you don't need a lot of money to start saving.
All it takes to open an account and establish membership is $5.
How Quickly Can Your Money Grow?
When you're shopping around for savings accounts, the first thing you might look at is the annual percentage yield and interest rate your savings will earn.
The PenFed Regular Savings account does earn interest. All savings accounts earn the same APY, regardless of balance.
So, how is the rate, compared to other banks or credit unions? In a word, low. It's slightly higher than what you'll find at most brick-and-mortar banks.
But when you put it alongside the rates you can get at online banks, there's no contest. In terms of offering the most competitive APY on savings, online banks have the edge.
If you want to get a higher rate, PenFed does have a money market savings account option.
The rates here are tiered, with the highest rates going to savers who maintain a minimum balance of $10,000 or more.
Although the rates are higher, you're still not going to get as much bang for your buck interest-wise as you would with an online bank.
ATM Access and Fees
Your PenFed Regular Savings account does come with an ATM card, which adds to the account's convenience factor. You can access your savings account via:
PenFed ATMs
Allpoint ATMs (of which there are 55,000+ nationwide)
CO-OP ATMs (which have more than 30,000 locations)
There's no fee or surcharge to access your savings account at PenFed or Allpoint ATM. If you make a withdrawal from an Allpoint or CO-OP ATM, PenFed charges a $1.50 fee. If you make a balance inquiry at either of those ATMs, you're charged a $1 service fee.
Those same fees apply when you make withdrawals or check your balance at non-Allpoint or CO-OP ATMs.
The owner of the ATM can also tack on a surcharge, which can add to the cost.
Your best bet to avoid the fees is to stick with PenFed ATMs only. But, there are far fewer PenFed ATMs than there are Allpoint or CO-OP ATMs.
So if you're using those machines, you may have to contend with extra fees to make withdrawals or check your balance.
At many online banks, you don't have to deal with those kinds of fees.
In fact, some online banks not only charge no ATM fees, they also reimburse you for fees charged by other ATMs.
That's something to keep in mind if you're fee-conscious and you're a frequent ATM user.
What Other Fees Do Savers Pay?
One good thing about credit unions is that they're usually lighter on fees than traditional banks.
With the Regular Savings account, you won't pay a monthly maintenance fee. At some banks, you might have to pay $5 or $10 just to maintain your savings each month.
There are, however, some other savings account fees to consider.
PenFed charges $5 for returned deposited checks and $20 for wire transfers. There's also a $10 fee for excessive transactions that violate federal Regulation D rules.
Regulation D limits you to six withdrawals from a savings account each month.
Transactions that count against the limit include automatic transfers, electronic transfers between accounts, telephone transfers and ATM withdrawals.
You want to be careful to avoid going over that limit. Otherwise, you'll trigger the fee.
And considering how low the interest rate is on this account, just one fee could easily wipe out the interest you've earned and then some.
PenFed Credit Union Savings Account Fees
| Type | Fee |
| --- | --- |
| Monthly maintenance Fee | $0 |
| Returned deposited check | $5 |
| Excess pre-authorized withdrawals, transfers or checks | $10 |
| Statements with check copies &/or deposit slips only | $1.50/Statement |
| Incoming wire transfer (domestic) | $20 |
| Outgoing wire transfer (domestic) | $20 |
| Stop payment fee | $15 |
Are Credit Union Savings Deposits Insured?
If you're saving money in a bank or credit union, you want to know that it's safe.
The FDIC provides insurance for deposit accounts at banks, but not credit unions.
Instead, your credit union savings accounts are federally insured by the National Credit Union Association, backed by the full faith and credit of the U.S. government.
The same limits on deposits apply as those under the FDIC. You're insured for up to $250,000 collectively across all savings accounts at a single institution.
Who Can Join PenFed Credit Union?
The name suggests that membership is exclusive but it's not. Membership is extended to:
Active duty, reserve and retired members of the armed forces or National Guard
Current and retired employees of federal agencies, including the Department of Defense, the Department of Homeland Security and the Pentagon
American Red Cross employees and volunteers
Members of military organizations, including Veterans of Foreign Wars, Vietnam Veterans of America and the National Military Family Association
Members of non-profit advocacy groups like Voices for America's Troops (military service isn't required to join)
Employees of an eligible company that contracts with or provides services for the government
PenFed employees and their family members
Individuals who work at or receive benefits from a defense organization or military institution
Family members of anyone who's eligible for membership
We know that PenFed is a popular credit union -- most likely because of its solid selection of credit cards.
While the eligibility criteria may appear to be rather stringent, the easiest way that anyone can join PenFed is by becoming members of the National Military Family Association or Voices for America's Troops. These two organizations require a one-time donation of $17 -- that's it.
The Competitors
PenFed Credit Union is just one of many options for savers.
You may find that another credit union is a better choice. Or an online bank has the features and benefits you're looking for.
We've included some competitors here to consider. As you're looking at different banks or credit unions, remember to focus on what's most important to you. That may include:
Savings APY
The APY is important because it determines how much growth you'll see on your savings.
As you compare APYs for different accounts, be sure that you understand what balance that APY applies to.
Some banks reserve the highest rates for savers who maintain higher balances. Also, take note of whether it compounds daily, monthly or quarterly.
Fees
Every penny you pay in fees diminishes the interest you're earning on your savings.
When looking at savings accounts, check to see if there's a monthly maintenance fee and if so, whether the bank gives you a way to avoid.
Also pay attention to the excess withdrawal fee, if there is one.
Access
Saving money does you no good if you're not able to access it when you need it.
Consider whether the bank gives you an ATM or debit card to access your savings.
If an ATM or debit card is an option, look closely at the fees you'll pay and how wide the bank or credit union's ATM network is.
Also, look into whether there are any limits on cash deposits or electronic transfers between accounts.
Some banks limit how much you can deposit or withdraw via ACH daily.
Account extras
Last but not least, consider whether the savings account you've got your eye comes with any added incentives.
For example, if you've got a checking account at the bank already, can you get a bump in your APY for opening a savings account?
Or, if you have a mortgage loan or you're planning to apply for one with a specific bank, would you get an interest rate reduction for also having a savings account at the same bank?
These might seem like small things but they can make a difference to your bottom line over time.
Better Savings Options Elsewhere
The PenFed Credit Union Regular Savings account keeps things extremely simple.
That might appeal to someone who's just starting out with saving or only needs a basic account for holding their cash and isn't overly concerned about earning a lot of interest.
On the other hand, if you want to squeeze the most value out of your savings, you're likely better off looking elsewhere.
Online banks, in particular, have the potential to yield much higher rates on deposits.
But, you shouldn't discount traditional banks or credit unions without first doing your research.