UFB Direct Bank Premium Savings Account 2023 Review
Learn more about the interest rates and fees associated with the UFB Direct Premium Savings Account and how you can use it to reach your savings goals faster.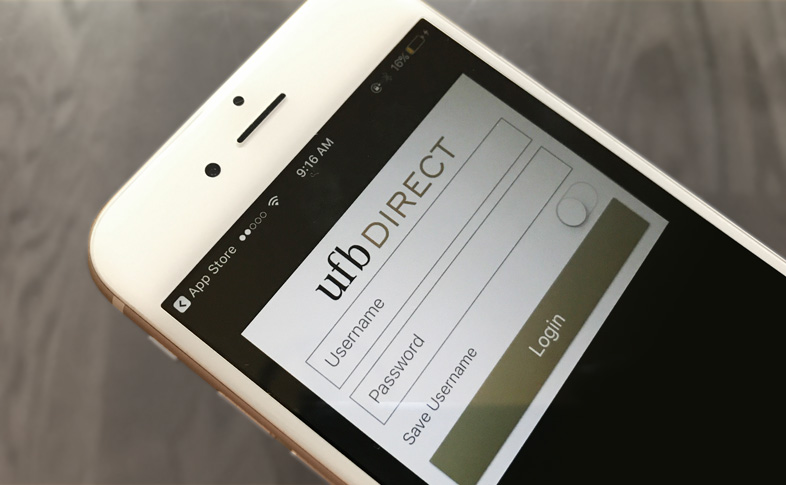 As an online bank, UFB Direct doesn't have branch locations but it does offer something else: market-leading rates on savings.
Earning a higher annual percentage yield on your deposits is a good thing if you're hoping to grow your savings faster.
The UFB Direct Savings features a tiered rate structure, making it better suited for someone who maintains a large savings balance.
It also has minimal fees, so you hang on to more of the interest you're earning.
Ready to step up your savings? In this review, find out whether UFB Direct can help you reach your goals.
Save More to Get a Better APY
One of the great things about online banks is that they don't have the same overhead costs as traditional brick-and-mortar banks.
That works in your favor as a saver, because lower costs mean the bank can afford to pay more interest on deposits.
UFB Direct's Premium Savings Account assigns your rate based on the amount you have in savings.
You can open an account with as little as $100 but to earn the best APY, you'll need to have $25,000 or more.
UFB Direct Premium Savings Account Pros & Cons
Pros
Cons

No monthly fee
Free ATM card
Mobile apps available

Requires a large balance to earn a great rate
Higher rates than everywhere else
Compared to other online banks, UFB Direct is likely to offer one of the best savings rates available.
If you're saving for something big, like a down payment on a home or you'd like to buy a car with cash, the higher rate could get you to the finish line faster.
Remember, though, you have to hit the $25,000 threshold to really watch your interest pile up.
If you have less than that in your account, you'll earn a much lower rate.
If you're worried about your balance dipping below $25,000 and triggering the lower APY, you can manage your account through mobile or online banking.
If you have a UFB checking account, you can easily transfer money over to bring your savings balance in line.
Minimum Balance and Monthly Fees
UFB Direct doesn't charge a monthly maintenance fee for savings accounts. In fact, there are very few fees at all. That's good news if you'd rather avoid bank fees at all costs.
There may be a penalty for closing your account. If you close your account mid-cycle, any interest that's accrued is forfeited.
Other Fees to Watch Out For
The UFB Premium Savings Account isn't completely fee-free. For example, there's a $5 fee for receiving paper statements.
Incoming wire transfers are free but outgoing domestic transfers trigger a $35 fee. The fee climbs to $45 for outgoing international transfers.
There's no fee for your initial ATM card but you'll pay $10 for a replacement card.
UFB Direct doesn't charge any ATM withdrawal fees, but keep in mind that you could pay a fee when you use another bank's ATM.
One last fee to be aware of is the excess withdrawal fee. Federal Regulation D allows you to make up to six withdrawals per month from a savings account.
If you go over that limit, UFB Direct charges a $10 excess withdrawal fee for each additional item.
UFB Direct Premium Savings Account Fees
| Type of Fee | Fee |
| --- | --- |
| Monthly Maintenance | $0 |
| Excess Withdrawal | $10 |
| Initial UFB Direct ATM Card | $0 |
| ATM Card Replacement with PIN | $10 |
| ATM Withdrawals | $0 (ATM operator may charge separate fee) |
| Paper Statement Fee | $5 |
| Incoming Wire Transfers | $0 |
| Domestic Outgoing Wire Transfer | $35 |
| International Outgoing Wire Transfer | $45 |
Enjoy Other Account Features While You're Earning Interest
The main highlight of the UFB Direct Premium Savings Account is the competitive APY. There are, however, some other reasons to consider opening one of these accounts.
For example, you can deposit checks from anywhere instantly with the MyDeposit app. That's a huge plus if you value convenience when managing your savings.
Built-in money management tool
You also have access to FinanceWorks a free cash management tool, powered by Quicken.
This tool allows you to see all of your accounts in one place, including your savings accounts, checking accounts, credit cards, loans, and investments from within your UFB Direct account.
You can set your budget, set up savings goals or just see at a glance where your money is going each month.
If keeping tabs on your dollars and cents is sometimes a struggle, this tool can take the hassle out of managing your finances.
Transfers are pain-free
If you have a UFB Direct checking account, it's free to transfer money back and forth to savings.
If you'd rather mail a deposit, UFB offer's free deposit slips and postage-aid envelopes.
You can make free transfers through online bank and mobile banking.
Email and text message alerts are other options for keeping track of your savings. If you need to speak to a live person, personal banking support is available by phone.
You can also get help through email, with responses usually taking one business day or less.
How UFB Direct Compares to Savings Accounts at Other Banks
Doing a little research can help you find the bank that fits your needs so you can get saving. Looking at the competitors below to help you narrow the field of options.
Goldman Sachs Bank USA Online Savings
The Goldman Sachs Bank USA Online Savings account offers a high savings rate without having to keep a high balance.
In fact, you only need to have $1 in your account to earn interest. There's no minimum deposit required at all, nor are there any transaction fees.
One potential drawback is the lack of an ATM card. If you need to access money in your account, you'll have to transfer funds electronically to an external bank or schedule a wire transfer.
One other thing to note are the limits on how much you can save.
Goldman Sachs limits deposits in savings accounts at $250,000 for accounts you hold individually, and $500,000 accounts you hold jointly with someone else.
If your savings surpass those limits, you'd have to spread some of your money out to a different bank.
Synchrony Bank High Yield Savings
Synchrony Bank is another online banking option with a strong savings rate.
There are no monthly service fees and no minimum amount required to open your account.
You do get an ATM card, and you can also access your account online or by phone.
Mobile banking gives you access 24/7, which is great if you're constantly on the go.
Synchrony Bank doesn't charge an excess withdrawal fee but they may close your account if you exceed the six withdrawal limit.
If you keep your account open for at least a year and maintaining a $10,000 minimum balance, you may qualify for Silver status.
This lets you earn discounts at Synchrony Bank's hotel partners. The longer you keep your account open and the higher your balance, the more rewards you may be eligible for.
Ally Online Savings
Ally Bank is a popular choice for savers who want to earn higher yields and don't mind banking online. The interest rates and fees are similar to what other online banks offer.
There are no monthly maintenance fees but you will pay a $10 fee for excess withdrawals.
One great feature is the ability to open multiple savings accounts with special nicknames to help you focus on your savings goals.
Is It Worth Opening a UFB Direct Premium Savings Account?
The answer really depends on how big your savings goals are.
If you're able to maintain a $25,000 minimum balance, you'll be hard pressed to find another bank that can beat UFB Direct's APY.
On the other hand, if you're saving less than that, other online banks may be better because they have high rates without the balance requirement.
You'd have to decide how important an ATM card is when making your final decision, since only some of them give you ATM access.
Bottom line:
The UFB Direct Savingscan put some serious interest in your pocket if you're able to keep pace with the higher balance requirement.
Compare Best Accounts Now