Announcing the MyBankTracker Bank Awards Q3 2016
We've combed through thousands of banks so you don't have to. Find top-rated national, regional, and mobile banks here. Your new bank could be around the corner!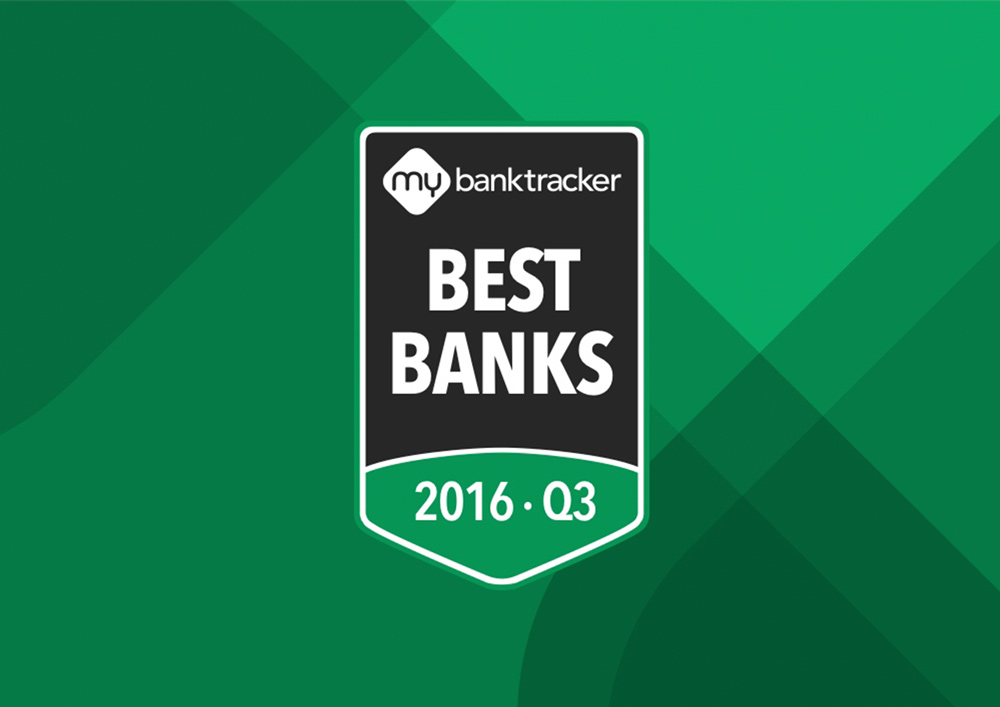 It's that time of year again. We've sifted through countless traditional banks, online banks, and credit unions to find out who's delivering the best products, services, and experience in the industry. Why?
So you can find the best bank to serve your individual needs.
Banking shouldn't be an afterthought or a decision made based on who has a branch closest to your home. When you take a few extra minutes to find the bank that will fit your lifestyle, you could end up with a decision that benefits you in more ways than one.
Convenience. Low fees. High yield interest rates. Rewards. Worldwide ATM access. Customer service that actually talks to you the way a person does. These are just a few of the benefits you can enjoy when you find the right bank for you. All you have to do now is figure out which of these services will be most impactful in your life.
If you already know your top priorities, scroll on down to find out which bank took top awards in that category. If you're not sure yet, peruse this list and you'll be sure to find the combination of features that matter the most to you.
And now… on to the results!
Best Online Banks

Winner: Ally Bank
For the fifth consecutive quarter, Ally Bank wins as the best online bank. As always, Ally continues to impress with low fees and high interest rates on deposit accounts. Ally's Online Savings Account is the most noteworthy with no monthly fees and a 1.00% APY. That's 100 times the interest rate found with a savings account from your typical major bank!
Honorable mention: Capital One 360
Capital One 360 stands out because it's an online bank connected to the physical branch network of Capital One. In addition to a decent list of deposit accounts and loans, Capital One 360 allows customers to bank through Capital One ATMs for free.
Honorable mention: Radius Bank
Radius Bank may be a relative newcomer to online banking, but it offers one of the best accounts available. The Radius Hybrid account acts as a no-monthly-fee checking account that also earns interest of up to 1.00% APY. Even better, Radius Bank refunds all ATM fees.
Best National Banks

Winner: Chase
Chase Bank reigns as the best national bank for the third straight quarter due to a combination of good financial health, an expansive branch network, and the early adoption of new banking technology. Among its large suite of products are some of the best credit cards out there, including Chase Sapphire Preferredfor travel rewards and Chase Slate for paying off debt.
Honorable mention: Wells Fargo
Wells Fargo has the largest network of bank branches and ATMs in the country with 6,000 branches and 13,000 ATMs. As one of the biggest U.S. banks, Wells Fargo offers a comprehensive mix of bank accounts, credit cards, loans, investment services, and insurance options.
Honorable mention: BB&T
For a national bank that's best positioned to handle an economic downturn, BB&T is worth mentioning. BB&T is in great financial health with a Texas Ratio of less than 6. (Banks tend to fail when they reach a Texas Ratio of 100).
Best Regional Banks

Best Regional Banks in the Northeast
Winner: Capital One
Capital One takes the prize for best regional bank with its focus on local communities and the growing demographic of digital banking consumers. You can utilize a high yield savings account and/or a low-cost checking account. Meanwhile, the online division (Capital One 360) is one of the top online banks. Capital One's mobile apps have convenient features that allow you to check your credit, access credit card rewards, and more.
Honorable mention: Susquehanna Bank
Recently acquired by BB&T, Susquehanna Bank offers a long list of products and services in addition to a large physical footprint of branches and ATMs. As a new part of BB&T, Susquehanna will also inherit BB&T's strong financial health.
Honorable mention: Bangor Savings Bank
Bangor Savings Bank offers a broad array of products with low fees. This includes deposit accounts, loans, and wealth management services. Bonus: thanks to ATM fee reimbursement, Bangor customers have worldwide ATM access.
Best Regional Banks in the South
Winner: Woodforest National Bank
Woodforest National Bank carries the physical branch presence of a big bank but serves customers with the personalized touch often found with a smaller bank. In addition to great financial health, Woodforest has a variety of financial products and services, including a financial literacy course to help people better manage their finances.
Honorable mention: Arvest Bank
Arvest Bank is a regional bank that goes above and beyond typical bank customer service practices. At the top of that service is the longer hours of Arvest branches. Customers can also enjoy a free checking account and, depending on the account type, free identity theft resolution and credit monitoring services.
Honorable mention: Comerica Bank
Comerica Bank boasts a large network of branches along with a wide assortment of financial products and services. One of the notable products includes a highly rewarding cash back credit card for people who spend frequently on gas and groceries. And for those trying to build or rebuild their credit, the Comerica secured credit card can help - with the added bonus of a high yield APY on the security deposit put down for the card.
Best Regional Banks in the West
Winner: BBVA Compass
For the third quarter, BBVA Compass wins for being a well-rounded bank with a large footprint through the West and the South. It's also one of the few large regional banks that provides a free checking account. And, for something truly unique, BBVA offers something called "schedule a call" - a feature that enables you to schedule a phone appointment with customer service.
Honorable mention: Rabobank
Rabobank is known for its many branches and extended hours, which includes an ATM partnership with Walgreens drugstores. Rabobank also rewards customers by eliminating monthly fees when they have more than one Rabobank account.
Honorable mention: Zions Bank
Zions Bank deserves a mention because of its low fees and quality online products. Some of its deposit accounts don't have monthly fees while some will even waive out-of-network ATM fees.
Best Regional Banks in the Midwest
Winner: Huntington Bank
Huntington Bank shines as the best regional bank in the Midwest as the result of strong financial health, great products, and longer branch hours. Among its strong products are the Asterisk-Free Checking account (which has no monthly fee) and the Voice Credit Card (which lets you customize your own credit card rewards).
Honorable mention: First Midwest Bank
First Midwest Bank is heavily focused on convenience, as seen with its partnership with the Allpoint ATM network (consisting of more than 50,000 ATMs). Additionally, First Midwest offers a simple, free checking account.
Honorable mention: Umpqua Bank
Umpqua Bank is another regional bank in the Midwest that keeps branches open for longer. Umpqua also has an extensive list of deposit accounts, loans, and investment services.
Best Credit Unions

Winner: Pentagon Federal Credit Union
Pentagon Federal Credit Union is the best credit union once again because of its easy membership qualification and highly-rated products and services. A high-interest checking account, one of the top gas rewards credit cards, and low borrowing rates are some of the attractive offerings from PenFed. Although it caters to military personnel, anyone can join with a single donation of $15 to an eligible military organization.
Honorable mention: Alliant Credit Union
Alliant Credit Union is noteworthy because it charges low fees on its attractive accounts and credit cards. The interest checking account, for example, offers $20 worth of ATM fee refunds per month and doesn't charge a monthly account maintenance fee. And if you're looking for debt consolidation, the 0% introductory period and lack of balance transfer fees makes Alliant Credit Union's credit cards a great option.
Honorable mention: Navy Federal Credit Union
As the largest credit union, Navy Federal Credit Union boasts a wide range of products with high deposit rates and low fees. Navy Federal Credit Union also partners with four ATM networks to make it easy for members to access in-network ATMs. However, membership is strictly limited to military personnel and their relatives.
Best Mobile Banks

Winner: Simple
Simple takes the cake for best mobile bank because it was designed for the mobile generation. Its mobile apps are intuitive and packed with features that simplify banking on the go. Customers have access to financial planning and tracking tools like "Safe-to-Spend," which help you with your financial goals and reports. You can enjoy all of this free of monthly fees or overdraft fees while also having access to 50,000 ATMs through the Allpoint network.
Honorable mention: Capital One
Capital One has beautifully designed and customizable mobile apps. Not only are the apps easy to navigate, they're filled with features that enable you to manage all your Capital One accounts in one place. Additionally, access to credit card rewards and Capital One's credit-tracking tool (CreditWise) is available through the mobile app.
Honorable mention: BBVA Compass
With the mobile apps from BBVA Compass, it's all about more convenience for you with apps designed to understand what you'll need to do next. For example, if you're reviewing your transaction history, the app will ask you if you want to set an account alert for next time. Adding even more to the convenience, you can schedule a call directly through the app if you need to speak with customer service.
Deciding on the Best Bank for You
We've covered a lot of banks here with a lot of different features and rewards. The question is, how are you supposed to choose the best of these highest-rated banks for you?
It's all about maximizing rewards and minimizing fees. If growing savings is your first priority, then a high-yield savings account will work best for you. If you need convenience, then a large branch footprint, ATM network, and strong mobile banking could be best for you. There are also banks and products that help you pay off debt, manage and track your finances, and maintain all of your financial products in one place.
Get to know the benefits that most work for your lifestyle rather than trying to fit your lifestyle with your current bank. Then you'll be able to enter into a banking relationship that benefits you for many years to come. And if you're still not sure how to find the best bank for you? Take our quiz to help you decide!