How to Fly to Paris for Free Using Miles and Points
Learn how to fly to Paris and France for free using miles and points earned from credit cards and airline frequent flyer programs.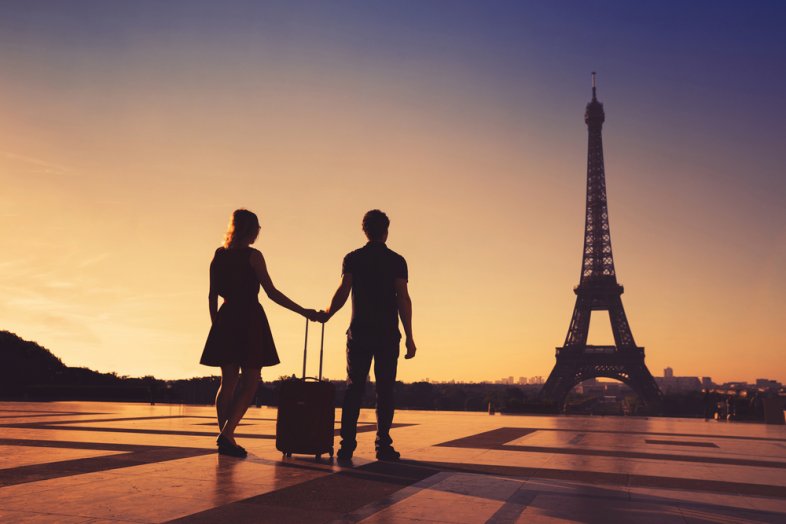 Ahhh the City of Light - truly one of the most added spots to many traveler's bucket lists.
France can be great for romantics, foodies or anyone interested in European history.
Paris can also be an expensive city in which to eat, stay and visit, so it makes sense to save as much as possible on your flights.
Thankfully, there are many ways to fly to Paris for free using miles and points. 
Whether you're interested in the Louvre, the Eiffel Tower, the Arc d'Triomphe or one of Paris's amazing restaurants, we will run through some of the options in this article.
After reading this article, the next thing you'll be saying is "bon appétit!"
Delta SkyMiles
The first option we'll look at is using Delta SkyMiles. Delta is a member of the SkyTeam airline alliance.
SkyTeam also includes Air France / KLM. Air France's hub in Paris's Charles De Gaulle airport (CDG) means that you have many options to fly to Paris from many cities in the United States.
Delta flies directly into Charles de Gaulle from: 
Atlanta
Boston
Cincinnati
Detroit
Indianapolis
Los Angeles
Minneapolis/St. Paul
New York–JFK
Raleigh/Durham
Salt Lake City
Seattle/Tacoma
Air France additionally flies from:
Chicago O'Hare
Dallas
Los Angeles
Miami
San Francisco
Washington/Dulles
Additionally, Air France flies directly from New York-JFK into Paris's Orly Airport (ORY), which is a smaller airport located more centrally in Paris.
Delta now prices SkyMiles flights dynamically.
This means:
There is not a fixed cost for award flights from the U.S. to Paris.
Instead, mileage costs will vary depending on the route, dates and timing of the flights. In Delta's case more so than with any other airline, it truly does pay to be as flexible with your plans.
A good rule of thumb is that it could cost you 30,000 to 60,000 Delta SkyMiles for a one-way ticket to Paris, plus taxes and fees.
If you find that you need a few more SkyMiles for your flight to Paris, you can top off your balance by transferring points over from American Express.
Delta is a 1:1 transfer partner of American Express Membership Rewards, so that can be an attractive option if you don't have quite as many SkyMiles as you need.
United MileagePlus
Another option to fly to Paris France is using United's MileagePlus award miles.
United is part of the Star Alliance, and has direct flights to Paris from their hubs in:
Chicago–O'Hare,
Newark,
San Francisco and
Washington–Dulles
You can also fly to Paris with connections from many other U.S. cities via United or their Star Alliance partners such as Lufthansa, SAS Airlines, Austrian Airlines or LOT Polish.
It costs 30,000 United MileagePlus miles for a one-way economy ticket from the U.S. to Paris. If you're looking to fly business class on United, it will cost you 60,000 MileagePlus miles.
For a business class flight on a Star Alliance partner, it will cost 70,000 MileagePlus miles.
All mileage costs are exclusive of taxes and fees, and you can double the amount for roundtrip flights.
If you need a few extra United MileagePlus miles, you can transfer them from Chase Ultimate Rewards. United is a 1:1 partner with Chase, so that can be another way to get you enough miles for your ticket.
American Airlines AAdvantage
Another option to consider to fly to Paris for free using miles and points is using American Airlines miles.
American flies directly to Paris from:
Charlotte
Chicago/O'Hare
Dallas/Fort Worth
Miami
New York–JFK
Philadelphia
With American's domestic route map, you're also only a connection away from most other U.S. cities.
American is also a member of the oneworld airline alliance, which means that you have additional options to use American AAdvantage miles to fly to Paris on oneworld partners such as British Airways, Finnair or Iberia.
If your dates and routes have sAAver availability (what American calls its low-level award availability), a one way flight from the U.S. to Paris in economy will cost 30,000 American AAdvantage miles during peak times.
If you are flying during their off-peak dates for travel to Europe (from January 10 - March 14 and from November 1 - December 14), then an economy flight costs as few as 22,500 AAdvantage miles.
Premium Economy costs 40,000 miles, while Business Class is 57,500 miles one-way.
Other Options to Fly to Paris With Miles and Points
There are a few other airline programs that you can use to fly to Paris for free using miles and points. 
Air France/KLM/Flying Blue 
The Air France / KLM / Flying Blue program offers monthly promo awards, where you can book flights for 25% or 50% off regular price.
Economy tickets can cost as low as 12,000 Flying Blue miles one way.
While it's tricky for US flyers to get a ton of Flying Blue points through credit card spending or flying, there are other options.
Flying Blue is a transfer partner of American Express Membership Rewards, Capital One Venture miles, Marriott Bonvoy, Chase Ultimate Rewards and Citi ThankYou points
Alaska Airlines
Alaska Airlines does not fly directly to Paris itself, but is a partner of airlines like American Airlines, British Airways and IcelandAir.
That means that you can use your Alaska miles to fly to Paris on one of those airlines, with one way award tickets costing as few as 22,500 Alaska MileagePlan miles.
Virgin Atlantic
Another hidden partner is Virgin Atlantic Flying Club.
Virgin Atlantic is a partner of Delta and so you can use your Flying Club miles to book flights operated by Delta.
You can find flights from some cities to Paris as low as 12,000 Flying Club miles, even when Delta is charging twice as many miles for the exact same flights!
Virgin Atlantic is a transfer partner of Chase Ultimate Rewards, Citi ThankYou points, Marriott Bonvoy and American Express Membership Rewards.
Using Cash or Fixed-Value Points to Fly to Paris
So far in this article, we have talked about using miles issued by specific airlines.
While using airline miles like this can be an attractive way to fly business class to Paris, if you're okay flying economy, there's another option.
Cash fares from the U.S. to Europe can often be under $400 for a round trip flight. 
If you live in a larger city with a bigger airport (especially on the East Coast) and/or have some flexibility with your dates, it's easier to find cheaper fares.
But it is not impossible to find cheap fares even from smaller airports or during popular times of the year.
Here's an example of a random flight on Air France from New York to Paris for only $286!
Remember too that just because you've found a great cash fare doesn't mean that you actually have to PAY in cash.
Some types of miles and points are what we call "fixed value" points.
Fixed value points means that your points are always worth a fixed amount of cash, no matter how you spend them. 
Chase Ultimate Rewards
You can use your Chase Ultimate Rewards as fixed value points by spending them through the Chase Ultimate Rewards travel portal.
If you have a Chase Sapphire Reserve card, then you can always spend your Ultimate Rewards and get 1.5 cents per Ultimate Reward point. In this case, if you wanted to book that Air France flight to Paris, it would cost you 19,067 Ultimate Rewards (28600 / 1.5).
Remember that's 19,067 points for a round trip flight! 
Compare that to transferring Chase Ultimate Rewards to an airline transfer partner like United - if you did that, it would instead cost 60,000 Ultimate Rewards for a round trip ticket from the US to Paris. That's over three times as many miles!
This is one example of why for economy tickets, you're almost always going to find it cheaper to book cash tickets in this manner than booking award tickets.
Other types of fixed value miles and points would be points earned by cards such as premium travel cards issued by Citi and Capital One.
American Express Membership Rewards
One slightly different way that you can use miles and points to book a cash ticket like this involves The Business Platinum Card® from American Express.
You can always use your American Express Membership Rewards points to book flights, with a value of 1 cent per point.
One of the special perks of the Business Platinum Card is that for economy flights on your chosen airline you receive a 35% rebate of your points after you use Pay with Points for all or part of a flight booked with Amex Travel (up to 500,000 points back per calendar year; terms apply). 
If we continue with our earlier example, you would pay 28,600 Membership Rewards points for the Air France flight to Paris, and if Air France were your chosen airline with American Express, you would get a rebate of 10,010 Membership Rewards points back.
This would leave you with a net cost of 18,590 Membership Rewards points for your round-trip flight.
Best Credit Card Options
The initial welcome offers and spending on credit cards are some of the best ways to quickly amass a ton of miles and points.
If you're looking to up your stash of miles and points, consider one of these cards that can directly give you airline miles:
Citi American Airlines Platinum Select
Delta SkyMiles® Gold American Express Card
Other cards give bank-issued points that can work either as fixed value points on a cash ticket or to transfer to airline partners. 
Chase Sapphire Reserve
As one of the most popular travel rewards credit cards,  has a long list of travel perks and you can earn 3x points on travel (after the first $300 spent annually on travel) and 3x point on dining.
Each point is worth 1.5x when you redeem for travel booked through Chase Ultimate Rewards. Furthermore, there's a decent list of airline and hotel transfer partners.
Read the Chase Sapphire Reserve Card editor's review.
Capital One Venture Rewards
The  is a simple travel rewards credit card with 2x miles on every dollar spent. And, there are transfer partners as well.
Read the Capital One Venture Rewards card editor's review.
American Express Business Platinum Card
The  is a solid choice due to the long list of premium travel rewards and redeemed points get much greater value.
Read the American Express Platinum Card editor's review.
Hopefully, these tips will help you as you look to plan your next trip to Paris for free with miles and points!