The Best Credit Cards For Wedding Expenses & Rewards Points of 2023
Getting married? You can earn more rewards for your honeymoon or a new home by using a rewards credit card to pay for wedding expenses.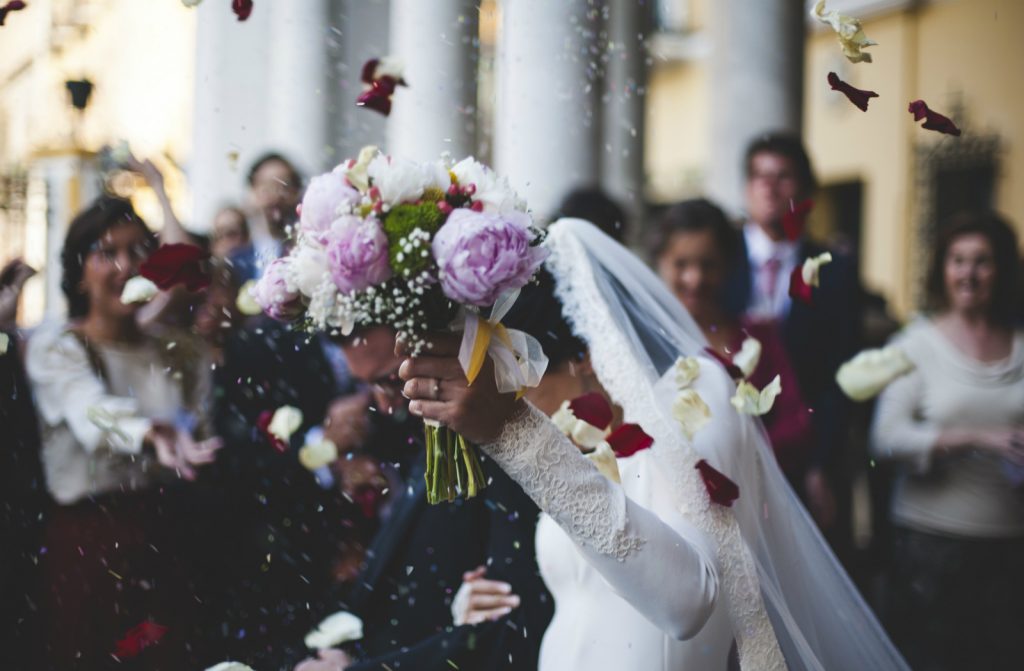 Getting married isn't cheap. Couples can spend tens of thousands of dollars on their weddings.
For financially responsible brides and grooms, the right credit card can provide generous rewards for everything from booking honeymoon hotels to ordering a wedding cake, paying for that dress, and signing up a catering service.
There are plenty of cards out there that offer great rewards as you get closer to your wedding day.
Here are our recommendations for the best rewards credit cards for couples planning their weddings:
Citi Double Cash Card
The Citi Double Cash Card stands out as a great wedding credit card because you have the potential to earn 2% cash back on all spending.
First, you'll earn 1 percent cash back on every dollar you charge on your card. You'll then earn another 1 percent cash back on the amount that you pay toward your credit card balance.
Because cash back is such a flexible reward, couples can turn their wedding spending into cash for anything that they want.
The cash back can be redeemed in the form of checks, statement credits, or gift cards.
It is not a good idea to redeem the cash back as statement credit because you'll pay less toward your balance. It will reduce the amount of cash back that you earn.
Read Citi Double Cash Card Editor's Review
Chase Sapphire Preferred Card
You're going to spend plenty while booking a venue for your reception, ordering food for your guests and hiring a wedding band. You might as well earn some hefty rewards points while doing so.
The Chase Sapphire Preferred Card card has a robust rewards program with an attractive sign-up bonus -- often enough to pay for hundreds of dollars worth of travel.
The introductory bonus can help a young married couple save hundreds on their honeymoon.
The bonus can be worth even more when you get 25 percent off when you redeem your rewards points for hotels, airfare, car rentals, and cruises through Chase's Ultimate Rewards program.
The Chase Sapphire Preferred Card comes with free personal concierge. The concierge agents can help perform crucial research in the planning stage of your wedding.
From flowers to venue bookings, the personal concierge can help you with some of the legwork.
Read Chase Sapphire Preferred Card Editor's Review
Blue Cash Preferred® Card from American Express
See Rates & Fees. Terms Apply.
Maybe you want to earn cash rather than rewards points when giving your credit card that wedding-planning workout. If so, the might be your best choice.
After your wedding, you'll need to start building a home. This card can help you earn significant cash-back bonuses while you do this.
You'll earn 6% cash back when you use your card at U.S. supermarkets on purchases up to $6,000 (1% thereafter). Additionally, earn 3% at U.S. gas stations, transit purchases, and 6% cash back on select U.S. streaming subscriptions.
You'll earn 1% cash back on other eligible purchases.
Cash back is awarded as reward dollars that you can redeem as a statement credit.
One cool trick is to use the to buy branded gift cards at supermarkets for 6% cash back.
Then, the gift cards can be used for purchases under those brands. This is another way to save some money on any spending during the wedding planning phase.
Read the Blue Cash Preferred Card from American Express editor's review.
Venture Rewards from Capital One
 comes with a simple travel rewards program that can turn your wedding expenses into a cheaper (or free) honeymoon.
Because you earn double miles on every purchase, you don't have to worry about using the card in the right categories.
Put all wedding spending on the card and then use the miles to redeem for statement credit toward the cost of airline flights, cruises, hotels, car rentals, and more. Each mile can be redeemed for one cent of value.
Read Venture Rewards from Capital One Card Editor's Review
Rapid Rewards Premier Credit Card
If you plan to fly Southwest during your honeymoon, the can help you earn plenty of miles.
First, there's the generous sign-up bonus. You'll also earn two rewards points for every dollar you charge on Southwest Airlines purchases made directly with the airline.
You'll earn an additional two rewards points for every dollar that you charge on partner hotel and car rental purchases.
If you're planning a big honeymoon, you can see just how quickly these rewards points can add up.
All other purchases made with this card will earn one rewards point for every dollar spent. And after you hit your anniversary with the card, Chase will provide you with 6,000 bonus points.
This card does charge an annual fee of $99. Again, you'll have to determine whether you'll fly Southwest often enough to make the fee a worthwhile investment.
Discover it Miles
Discover it Miles is another travel rewards credit card that offers a simple rewards program.
This card gives you 1.5 miles for every dollar that you charge on any kind of purchase. Unlike many travel credit cards on this list, there's no annual fee.
You can redeem your miles for a travel credit on your statement that covers your travel purchases, including flights, hotels, and car rentals.
You can also decide to redeem your miles for cash that you can apply to your statement.
Not all wedding expenses will earn rewards
In some instances, a wedding expense cannot be charged to a credit card because a merchant or vendor refuses to accept payment by credit card.
They may require that payment or deposits be placed via written checks. Vendor expenses for weddings tend to be very large, so these businesses would lose a significant amount of profits to credit card processing fees.
How to pick the right credit card for wedding spending
With several great credit cards to choose from, the best credit card for your wedding would require some forethought.
Once you have your wedding planned, you can look into which credit card will yield the most rewards based on your expected wedding expenses.
Your rewards don't necessarily have to help you save on the wedding itself. The rewards may also go towards your honeymoon or preparing your new home as a married couple.
And, there's always the option to use your rewards towards sensible financial goals such as building an emergency fund, saving for a home down payment, or growing your retirement funds.
Handle wedding credit card debt carefully
The high cost of weddings is likely to come with the risk of dangerous credit card debt. It is easy to allow an expensive wedding to turn into long-term debt.
A rewards credit card is ideal for couples who are already paying off their credit card bills in full on a monthly basis.
See the rates & fees for the mentioned American Express cards: Blue Cash Preferred from American Express (Rates & Fees; terms apply).