Barclays Arrival Premier Credit Card Review
Learn about the features of the Barclays Arrival Premier credit card, including its rewards program, redemption options/rates, miles transfer program, and card benefits. Find out whether the miles and travel perks are worth the card's annual fee. Compare it to the some of the best travel rewards credit cards.
Note: The Barclays Arrival Premier card is currently not available to new applicants.
---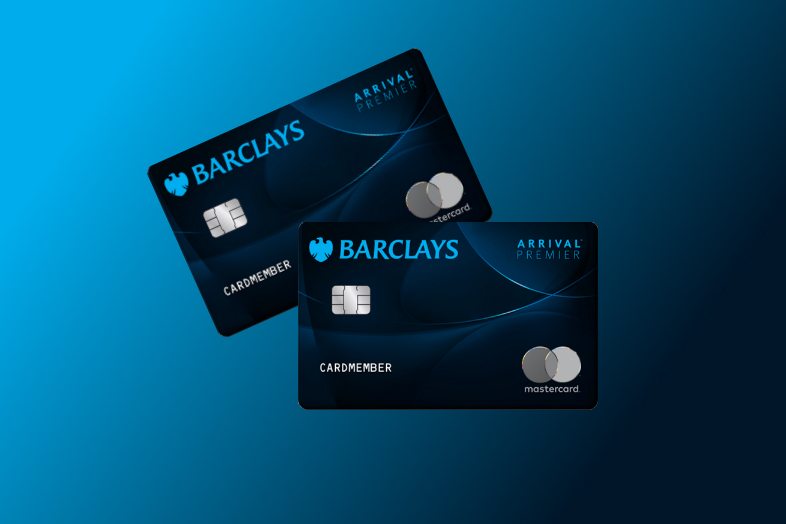 The Barclays Arrival Premier credit card is likely to be on the radar of jet-setters.
For those who tend to travel extensively using rewards, this card, like many other mid-tier travel rewards cards, has pretty much everything you'd expect.
There is one glaring omission, though — a substantial sign-up bonus. That notwithstanding, most people want to know if all the rewards, perks and benefits are worth the $150 annual fee.
At the end of the day, that's a shot you'll have to call. Before you make the decision to apply for this card, learn its ins and outs first.
Barclays Arrival Premier Card Pros & Cons
Earning Rewards
For everyday spending, you earn 2x miles on all purchases. But, the best rewards value of this card comes with additional spending.
You can earn up to 25,000 loyalty bonus miles each year with the Barclays Arrival Premier card.
To qualify, you'll need to spend $15,000 to get an additional 15,000 loyalty bonus miles.
Then, you'll get another 10,000 bonus miles each when you spend $10,000 in the same year, which brings you the 25,000 bonus miles.
If you can meet the annual spend of $25,000 a year, this can essentially turn your 2x earnings to 3x earnings on that $25,000 spent for a total of 75,000 in miles. Though your 2X miles earning don't have a limit, the bonus points stop at 25,000.
You can earn these rewards on both your purchases and purchases made by your authorized users also count towards earning both loyalty bonus miles and 2X miles.
If you have any credits, returns or adjustments, they are deducted from your rewards earnings.
For example, if you purchase a shirt for $150 and return it, you will not earn 2X miles or loyalty bonus miles related to that purchase.
Redeeming Rewards
Barclays Arrival Premier has several options when it's time to redeem your rewards. Cardmembers can redeem miles for:
The rewards redemption ratio is different for different categories and scenarios.
According to the Barclaycard Arrival Premier terms and conditions, "Redeeming miles for travel statement credits offers the best value."
Eligible travel purchases include airlines, hotels, motels, timeshares, campgrounds, car rental agencies, cruise lines, travel agencies, discount travel sites, trains, buses, taxis, limousines and ferries and your account annual fee.
Redemptions for travel statement credits start at 10,000 miles for $100 toward any qualifying travel purchases mentioned above.
Cash back statement credits
Redemptions for cash back statement credits start at 5,000 miles for $25. Each mile is worth $0.005 here -- not good at all when typical cash back credit cards return at least 1-cent back per rewards unit.
It takes 1-2 days for miles redeemed for a statement credit to post to your account. Your statement credit should appear within 1 billing cycle.
It's important to know that though statement credits reduce your account balance, they can't be applied toward your minimum payment requirement. So be sure to make regular payments on time as you redeem your miles for statement credits.
Gift card redemptions
Redemptions for gift cards start at 5,000 miles for $25. Again, each mile worth $0.005, which is not a great redemption rate.
The availability of gift cards and rewards redemptions ratios can change since the gift cards are not sold directly through Barclaycard.
These gift cards are not exchangeable, refundable, transferable or redeemable for cash and cannot be replaced if lost or stolen.
Merchandise redemptions
In addition to purchasing gift cards with your miles, you can also "purchase" merchandise. The rewards values will vary based on what you are redeeming them for.
The items are subject to availability and include a selection of merchandise geared for "travel convenience," according to the Barclaycard Arrival Premier website.
More likely than not, you will not get the best rewards value from merchandise redemptions.
Miles Transfer Program
You should also know that the Barclays Arrival Premier has a number of travel partners where you can redeem miles at a ratio of 1.4 to 1. (However, the ratio for Japan Airlines is 1.7 to 1.)
This means that for every 1.4 or 1.7 miles you've earned on the Barclays Arrival Premier card, you'll only get one mile for the travel partners listed below:
Aeromexico
Air France/KLM Flying Blue
China Eastern
Etihad
EVA Air
Japan Airlines
Jet Airways
Malaysia Airlines
Qantas
Also, the selection of transfer partners is subject to availability, plus miles that are transferred become subject to the terms and conditions of the travel loyalty program to which you've transferred your miles.
Upon first glance, you'll find that the partnered airlines are not big names, especially for Americans. Most of them are used for international travel.
Furthermore, your miles lose value when they're transferred.
As a result, the miles transfer program isn't too enticing as it won't be the best use of the rewards miles.
Annual Fee
Though the annual fee of $150 is comparable to other cards in the same space, the Barclaycard Arrival Premier Review card doesn't have comparable rewards or redemption structures.
Either way, when you are analyzing your rewards, keep the annual fee in mind to find out how much you are really earning in rewards.
If you'll spend the $25,000 each year and earning 75,000 miles, which could be worth up to $750, is further diminished by the $150 annual fee.
No Sign-Up Bonus
There is no sign-up bonus for the Barclaycard Arrival Premier card, though you can earn up to 75,000 miles by spending a minimum of $25,000 on the card each year.
This is a major drawback of the card as many competing travel rewards credit cards will provide a generous bonus that is usually worth a few hundred dollars in free travel.
Convenient Card Perks
If you really need a reason to sign up for this card, you may be interested in some of the card perks including discounted airport lounge access via (LoungeKey at $27 per person).
The lounge access if part of the MasterCard Airport Experience program that is available to all World Elite MasterCard customers.
Plus, cardholders get a $100 credit towards Global Entry membership, which also provides access to the TSA PreCheck program. Cardholders get a statement credit for the $100 application fee every five years.
There are no foreign transaction fees, which is useful for those who travel internationally often and will be using this card while abroad.
Also, you'll get complimentary access to your FICO score online.
If you plan to join the Barclays Travel Community, you could earn even more miles for sharing travel stories there.
The Competition
The cards competing at this mid-level tier for rewards card are many.
If you are looking for a card that is similar to the Barclaycard Arrival Premier in terms of annual fees and rewards structure, then two come to mind:
Chase Sapphire Preferred
The Chase Sapphire Preferred card is a great alternative for many reasons.
Like most of the credit cards in the Chase family, you'll get a decent sign-up bonus, more valuable redemption ratios, a wider variety of travel partners, and other benefits through the Ultimate Rewards portal.
It turns out that your points are actually worth 25% more when you redeem them for airfare, hotels, car rentals and cruises through Chase Ultimate Rewards.
You'll get all this for an annual fee of just $95.
Capital One Venture Rewards Credit Card
The card offers 2 miles per dollar spent on everything. 
It's a simpler card with flexibility for using rewards miles with any travel company, including any airline or hotel.
Should You Apply?
If you think you'll need for spending threshold of $25,000 a year, earning 3x miles on everything (essentially) could be valuable to you.
Though the bonus miles come through loyal spending, cards of similar caliber with other card issuers simply deliver more by including more attractive sign-up bonuses and better redemption ratios for travel partners.
The Barclaycard Arrival Premier card could work for if you tend to use one or more of the travel partners listed above.
However, how likely is it that you fly with Aeromexico or Malaysia Airlines regularly?
Even if you do, you'd get a much better redemption rate on your travel through a card like the Chase Sapphire Preferred or similar rewards travel card.