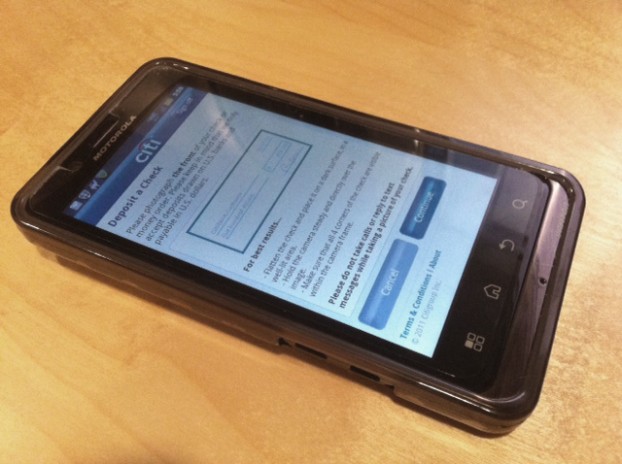 Mobile check deposit, which lets bank customers deposit checks by taking photos of them, has become one of the highly demanded features of mobile banking — consumers are willing to switch banks to get it. But, as MyBankTracker discovered, the deposit limits on this feature may sway the choice of the bank.
Unlike check deposits through a bank teller or ATM, mobile check deposits are subject to limits because of the heightened risk of check fraud. Since customers can still hold onto a check after it is deposited through a smartphone, it is possible that someone may attempt to deposit the same check at multiple banks.
Customers who have to deposit checks in excess of these limits will have to resort to visiting a branch or ATM.
See what the mobile check deposit limits are for the top 10 U.S. banks:
Bank of America
Customers with accounts opened for fewer than 3 months: $1,000 per month
Customers with accounts opened for 3 months or longer: $5,000 per month
Customers with Platinum Privileges: $10,000 per month
Wells Fargo
All customers: $2,500 per day and $5,000 over a 30-day period
Chase
All customers: $2,000 per day and $5,000 over a 30-day period
Citibank
Customers with accounts opened for fewer than 6 months: $500 per day and $1,500 per month
Customers with accounts opened for 6 months or longer: $1,000 per day and $3,000 per month
U.S. Bank
Personal accounts: $2,500 per day and $5,000 every five (5) business days
Capital One
360 Checking customers only: $3,000 per check, $5,000 or 20 checks per day
PNC Bank
Customers with accounts opened for fewer than 90 days: $500 per day and $1,000 per month
Customers with accounts opened for 90 days or longer: $2,500 per day and $5,000 per month
TD Bank
Customers with accounts for 3 to 6 months: $1,000 per day and $2,500 per 30-day period
Customers with accounts for 6 to 12 months: $2,500 per day and $3,500 per 30-day period
Customers with accounts for more than 1 year: $2,500 per day and $6,000 per 30-day period
SunTrust
Customers with accounts opened for 6 months or less: $1,000 per check and $3,000 per month
Customers with accounts opened for more than 6 months: $2,000 per check and $6,000 per month
Private clients: $5,000 per check and $15,000 per month
BB&T
Retail customers: $1,000 per day and $3,000 per 30-day period
Related Stories:
Mobile Check Deposit Takes Over the Top 10 Banks
The Time It Takes for a Check to Clear at Top 10 Banks
Chase Tests Quick Checkout Option for Online, Mobile Shopping