Bank Teller Fees: How Much It Costs to Talk to a Live Person
As banks try to head off rising costs many of them are introducing bank teller fees, which is bad news for customers who are already being nickel and dimed.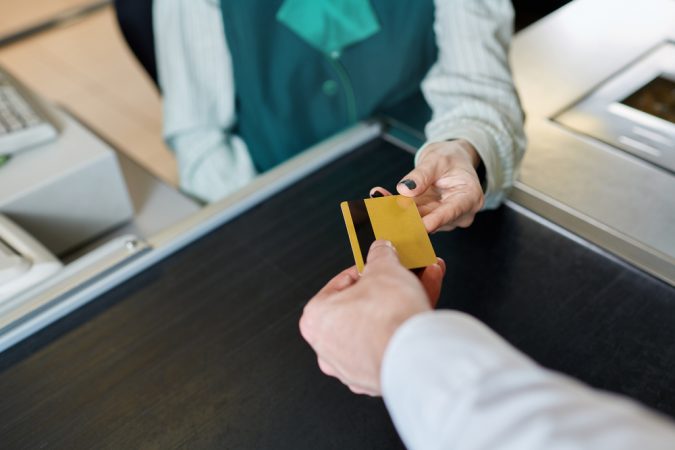 Waiting in line at the teller window can certainly be a drain on your time and at some banks, it can also suck some extra cash out of your wallet. MyBankTracker examines why banks are charging the fees and how much money they're costing customers.
Bank fees are nothing new, but some are more worrisome than others. One of the more frustrating ones is a teller fee that some financial institutions are charging.
The introduction of teller fees means more revenue for banks, but it's also designed to encourage customers to use online and mobile banking whenever possible. Some banks are taking things a step further and doing away with tellers altogether, opting instead for virtual tellers or self-service kiosks. If you're among the 84 percent of bank customers who still visit a branch and use a teller at least once a year, you need to decide whether to go self-serve only or cough up a fee.
Why Some Banks Are Charging Teller Fees
Cost is the primary factor that's motivating banks to charge a fee for using a teller. Between the expense of maintaining a physical branch and the payroll associated with keeping tellers on staff, it's simply cheaper for banks to push their mobile or online services. For example, it's estimated that banks could shave $1.5 billion off their overhead if customers choose to deposit checks through a mobile device instead of in-person.
At smaller banks, video tellers are becoming the norm in an effort to keep fees as low as possible. Tellers work remotely but they're able to interact with customers via a live video feed that's transmitted through a machine that looks and functions like an ATM. The only difference is that in addition to being able to make deposits and withdrawals through the machine, you can handle other banking functions that require a teller's help.
Among big banks, Bank of America and U.S. Bank were the first to roll out video tellers. Many smaller community banks have followed suit, installing the machines as a way to keep costs down. It's estimated that the per cost transaction is $2 using a video teller versus $4 to hand over your money to a teller in person. Aside from saving money, some banks have been able to offer extended hours by using the video machines, which makes banking more convenient for some customers.
While it hasn't made the move to video tellers yet, Chase has adopted self-service machines that let you do more than just the basics, like paying bills or getting withdrawals in denominations smaller than $20. The typical bank customer should be able to do 90 percent of their financial transactions by going this route, all without having to talk to a teller. The only downside is that if you need to open an account or apply for a loan, you'll still need to speak with a personal banking representative.
How much are banks charging?
We've created an easy-to-read table detailing which of the major banks charge a fee for using a live teller versus banking online or going mobile. We've also included a rundown of which banks charge a fee for using another bank's teller.
Bank Teller Fees
| Bank Name | Teller Transaction Fee | Video Teller/Self-Service Kiosks Available |
| --- | --- | --- |
| Bank of America | $5 or 3% of the transaction amount for making cash withdrawals at another bank | ATM Teller Assist video machines available in selected locations |
| BBVA Compass Bank | N/A | Self-service kiosks available in selected locations |
| Chase | N/A | Self-service kiosks located at approximately 400 branches nationwide |
| PNC Bank | $7 for Virtual Wallet account holders who don't use self-service options | Self-service kiosks available in selected locations |
| U.S. Bank | N/A | Video tellers available in selected locations |
| Wells Fargo | $3 for making cash withdrawals at another bank | Self-service ATMs available in selected locations |
How banks are applying the fee
At banks that impose a fee for using a teller, the charge is applied in different ways. Customers who signed up for the now-discontinued eBanking checking account from Bank of America, for instance, were charged a $8.95 per month unless they made all deposits or withdrawals at an ATM or using online and mobile banking services.
PNC Bank enforces a similar rule with its Virtual Wallet account. Ordinarily, the monthly service fee is $7 unless you do all of your banking using self-service options.
Some banks also charge a fee when you visit a teller at another financial institution. At Wells Fargo, for instance, you'll pay $3 per transaction if you use your debit card to withdraw cash over the counter. Bank of America charges $5 for this service that is performed at another bank or 3 percent of the total transaction amount, whichever is greater.
Some Transactions Must Be Made By A Teller
While the idea of paying a teller fee may seem ridiculous, there are a few situations where it's simply unavoidable. If you're making multiple wire transfers, for example, or converting foreign currency before you head out on vacation, those are things you wouldn't be able to do through a virtual teller or self-serve machine.
You'd also need to see a teller for things like cashier's checks and money orders if your bank doesn't offer self-service machines.
Getting around the fee shouldn't be too difficult if you rarely have complex transactions or you already do most of your banking online. If you're not comfortable talking to a machine, however, you need to be prepared to hand over some extra cash at the teller window as more banks jump on the teller fee bandwagon.