The Best Savings Accounts for Your New Year's Money Resolutions
Find out which savings accounts are the best if you're trying to achieve a financial resolution in the new year. Learn about what features to compare.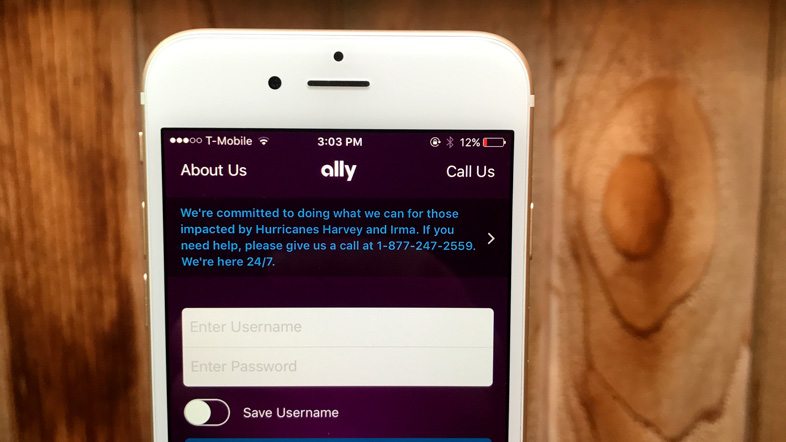 The best savings account to get you started on your savings goals for the new year is likely to be the Ally Online Savings Account.
It's a high-yield savings option that doesn't have any monthly fees and you can create multiple accounts with nicknames. Our analysis of 103 different savings accounts shows that it is the best choice for American savers with new year's financial resolutions.
Before we jump into the nitty-gritty details, we'd like to point out one thing.
The truth is:
Most savings accounts will do the trick as long as you're a diligent saver.
Even if a savings option came with extremely high interest rates and lucrative features, they mean nothing if you do not save consistently.
That's why we're recommending a couple specific savings accounts that our research reveals would be super helpful in keeping savers, like you, focused on hitting your goals.
These are the selections that many members of our team use for their own savings. If our picks seem to be a good fit for you, that's great.
The savings accounts that we've chosen are all available to Americans nationwide.
Our Pick: Ally Online Savings Account
The Ally Online Savings Account is one of the most popular online savings accounts -- with good reason.
It doesn't charge any monthly fees, which makes it easy to keep around without worry of losing money. It also provides a very high interest rate that will help grow your balance faster over time.
Most importantly:
For the emphasis of succeeding with your new year's resolutions, this savings account allows you to nickname your savings account for specific goals.
And, Ally Bank lets you open more than one of these accounts to separate goals. One shortcoming could be the lack of an ATM card, but we believe that is actually a good thing -- you're not tempted to withdraw the funds impulsively.
Ally Bank Online Savings Account Pros & Cons
Pros
Cons

Earn a consistently high interest rate
Great savings tools and features
No monthly fees
Also Great: Capital One 360 Performance Savings Account
The Capital One 360 Performance Savings Account is very similar to the Ally Online Savings Account. The account doesn't have monthly fees and the interest rate is decent (not as high as Ally, however).
It allows you to create "subaccounts" that can also be nicknamed for your savings goals.
Actually, like Ally, these subaccounts are actually just separate savings accounts -- we found that each subaccount had their own account numbers. Note that Capital One 360 only allows up to 25 subaccounts per customers -- not a big deal because you're probably not going to need that many subaccounts anyway.
Capital One 360 Performance Savings Account Pros & Cons
Pros
Cons

Subaccounts allowed
No monthly maintenance fee
No excess withdrawal fee
Mobile apps available

No ATM withdrawals (including from Capital One ATMs)
Compare Savings Options
Be sure to check out more savings accounts worth considering:
---
How We Picked
In this article, we point out two savings accounts that make the most sense for goal-setting savers. We're confident that one of them would be integral to achieving your savings goals this year.
Our philosophy: We aim to help as many people as possible by fostering better financial decisions. Sometimes, this doesn't mean highlighting the absolute best savings account in existence. Why? Because the average American won't be able to open or make use of this account -- likely to due to location or minimum balance requirements. We'd rather highlight the account that is best for 99% of the population than the account is best for just 1% of the people.
However, you may prefer a savings account that excels in an aspect that we do not value as much as you do. We acknowledge that everyone's financial situation is unique and that certain factors hold greater weight for different people, families, and circumstances. To help you navigate your decision process to identify an account that better suits your preferences, we'll cover the criteria that you should take into account.
How'd we decide on what makes a great savings account for your new year's resolutions? We reviewed 103 different savings accounts from:
We considered the customer reviews on these financial institutions that were written on MyBankTracker. Additionally, members of the MyBankTracker team, colleagues, friends, and family members with such any of these accounts were interviewed to get a detailed understanding of their savings accounts and their idea of the factors that were vital in helping them complete specific savings goals. I have also kept a close eye on the market of savings accounts and have opened many of them myself over the past 10 years.
A savings account is an essential unit of your financial system. We encourage you to do a little research on your own, such as walking into different banks to see their options. Even if they're not offering the best savings accounts, it helps you narrow down your choices.
The next section can identify the key factors to consider about any savings account that you're researching for new year's savings goals.
---
How to Choose a Goal-Based Savings Account
Use this section as a guide to identify your best savings account for your new year's savings goals.
We review each major factor in the rough order of its importance to your decision (goal-setting features, interest rates, fees, etc.).
They've been ranked based on the input from our interviewee pool and their thoughts what they'd like to see from such an account.
Goal-Planning
The key to hitting goals is that you make them specific. An account with a generic savings purpose may not grow as fast as one with a specific target.
What are you saving for? How much would mean that you've succeeded?
When you give a nickname to your savings account with what you're saving for and the target amount, you have a clear vision of what you're striving for. Some savings accounts allow accountholders to configure the names of their accounts.
Interest Rate
Earning interest is arguably the biggest incentive for saving. Through the power of compounding, you can grow your money quickly -- a higher interest rate helps with this. That said, the interest rate over the course of a year may not make a difference when you have a goal to hit by year's end. More importantly, you should be focused on making regular transfers to fund a goal-based savings account. This behavior will help you hit your goals faster than a high interest rate.
A 2016 study released by the Federal Reserve found that nearly half of Americans didn't have enough saved to cover a $400 emergency. An impressive savings rate would not have made a difference for them.
Traditional banks have to pay the expenses of running physical branches and ATMs. Online banks don't deal with these costs of operating brick and mortar locations. Therefore, they're more likely to offer amazing interest rates. We like online banks for this reason. It also means they charge lower fees, which cover next.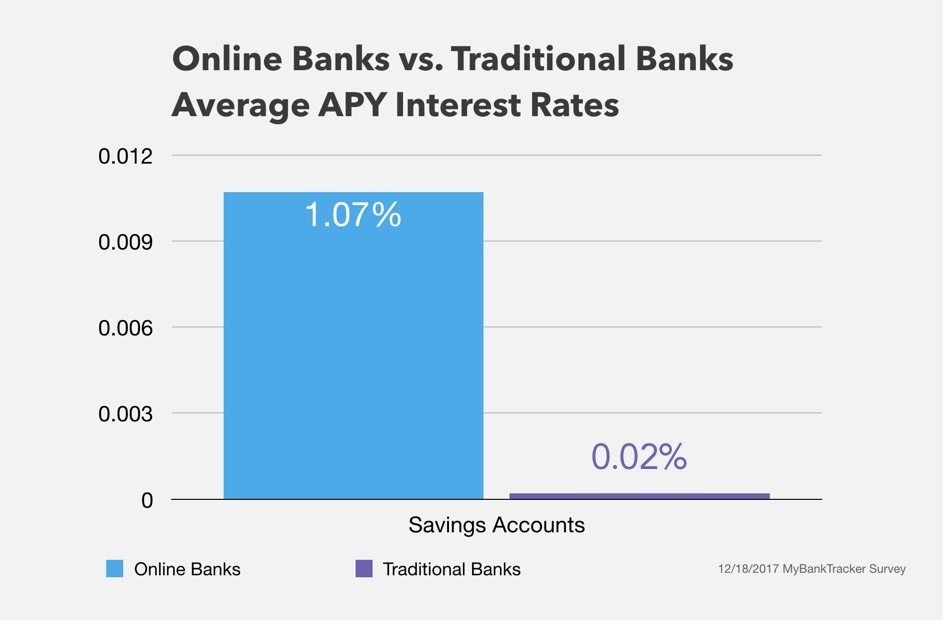 Fees
Paying to save money doesn't make sense. It is counter-intuitive to what a savings account is designed to do. Therefore, we favor options that do not have any monthly fees.
At the top 10 national banks, the median monthly fee for a basic savings account was $3. Now, the monthly fee could be waived when a monthly balance was met or certain activity was posted to the account. These are just punishing people who have trouble building savings.
You don't want to worry -- on a monthly basis -- whether you've met the requirements to waive the monthly fee. Or, you just don't want to be charged as you're trying to get started on your savings goals.
Other than the monthly fee, there's also the excess withdrawal fee. It's probably the only other fee that you're going to encounter with a typical savings account. This fee is charged when you withdraw from your account too often during a month. Federal law limits your withdrawals to 6 per month. Some banks will charge a fee before you reach this limit, while many banks charge when you go over the limit.
During your research, take note of banks that do not charge this fee. Instead, these banks may simply allow the excess withdrawal at no charge or deny the transaction. In either case, if you go over the limit regularly, the bank may close your account or convert it to a checking account. Regardless, it is better than paying an excess withdrawal fee.
Online/Mobile Banking:
We are big fans of the ability to manage your savings accounts with ease. Online bank and mobile apps are crucial for savers who want to access their accounts whenever and wherever they may be.
You should at least be able to view account balances, check transaction history, and initiate transfers. Mobile deposit is very important as you can deposit checks directly into your savings account and give it a good boost toward your savings goal. Most banks impose a limit on how much you can deposit through this feature. Online banks tend to be the most generous with these limits.
ATM Access
Again, we do not think that ATM access to your savings account is a useful feature when you are trying to be disciplined with your savings.
Some savings accounts come with the option for you to request an ATM card that is used to make withdrawals from your account. In emergency situations where you need cash urgently, it can be a life-saver. We do not recommend using an ATM card to withdraw from your savings account on a regular basis. You'd be sabotaging your financial goals.
---
The Set-and-Forget Method to New Year's Resolutions
Remember when we said that the key to achieving your financial goals is more dependent on you rather than your savings account? We mean it. Once you've picked the best savings account for you, there's a way that you can fulfill your new year's resolution without too much work.
We like to recommend that savers set up automatic monthly transfers so that money is moved to their savings accounts effortlessly. You don't have to remember to transfer funds manually. Configure recurring transfers that trigger every month -- it's a 'set-and-forget' method that works. Divide your annual goal by 12 and set that amount as your automatic monthly transfer.
When you can, jump on your online account or open the bank's mobile app and move over a little more cash if you feel comfortable enough to do so.