The Best Savings Accounts in Virginia for 2023
See which local Virginia banks offer the best savings accounts and compare them to the top savings options available nationwide through online banks.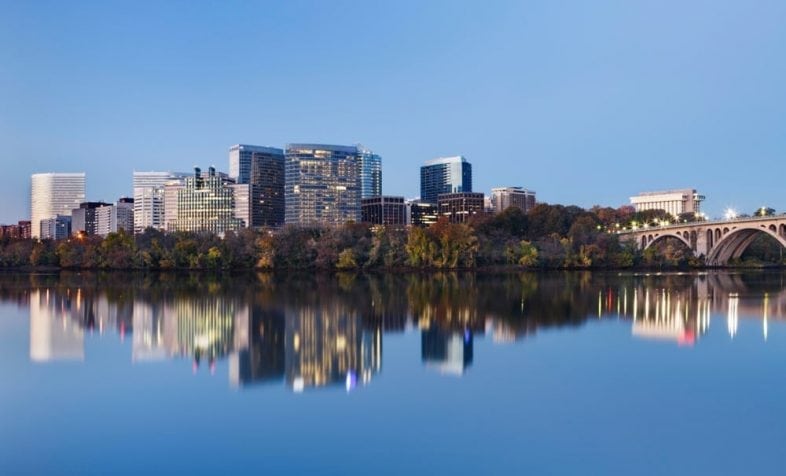 Virginia, located right next to our nation's capital, is home to nearly 8.5 million Americans.
Many national, regional, and local banks look to serve Virginians, offering them essential banking services. Because so many banks operate in the area, they have to compete to draw customers.
This competition is good for consumers, especially consumers who want to open a new savings account.
Savings accounts are designed to give people a safe place to store their cash while letting them earn some interest on their balance. Their useful features have made savings account the second most common type of bank account in the U.S.
Different banks offer different savings account features, so you should take the time to find one that meets your unique needs.
If you live in Virginia and want to open a savings account, this article will cover the options available to you.
The Best Savings Accounts in Virginia
United Bank Platinum Savings
The United Bank Platinum Savings account offers a fee-free way to get started with saving.
You can open the account with a minimum deposit of $50, but there's no minimum balance to maintain once the account is open.
There's also no monthly maintenance fee to worry about. The only fee you'll see is the excessive transaction fee. Each withdrawal after the sixth in a statement period will incur a $5 fee.
The account comes with an optional ATM card that you can use to make withdrawals at United Bank ATMs.
Carter Bank & Trust Savings
The Carter Bank & Trust savings account offers competitive interest rates with no monthly fees.
To open the account, you must make a $50 deposit. Once the account is open, there's no minimum balance to maintain.
One benefit of the account is that there is no limit to the number of transactions you can make. You can make as many withdrawals as you'd like, without paying a fee.
The only requirement is that you visit a branch to make these transactions. Federal law requires that you be limited to six fee-free online transactions each month.
First Citizens Bank e.Savings
The First Citizens Bank e.Savings account gives you a combination of the benefits of online banking and working with a local institution.
You can open the account online by making a minimum deposit of $25.
Once the account is open, there's no minimum balance that you must maintain to keep the account open. There's also no monthly maintenance fee to worry about, which makes this a good account choice for people who are just getting started with saving.
After you open the account, you can manage it by logging in to your online account or visiting your local branch. If you ever need to deposit or withdraw cash, you can do so at any First Citizens Bank ATM.
The account's largest drawback is that you may be subject to fees when you make withdrawals.
Each statement period, you may make two withdrawals for free. The next four withdrawals will each incur a $3 fee. Each withdrawal after the sixth in a statement will incur a $15 fee. This can be a killer if you make a lot of withdrawals from your account.
How we picked
MyBankTracker applied a methodology when choosing the best savings accounts in Virginia. Our top recommendations were selected based on a thorough analysis of savings accounts offered by the top 50 banks by deposit market share in Virginia (based on FDIC June 2023 data)--serving major cities including Virginia Beach, Norfolk, Chesapeake, Richmond, and Newport News.
We focused our choices on savings accounts with low monthly maintenance fees, easy-to-meet requirements to waive these fees, the bank's physical branch and ATM network, excess withdrawal fees, and any other convenience features.
Nationwide Availability With Online Banks
Once you've looked into the local banks and credit unions, take the time to consider online banks.
Online savings accounts have grown in popularity because of their low costs and great interest rates. They also offer significant convenience because you can do all of your banking from your computer or phone.
The low costs and high interest rates offered by online savings accounts are especially attractive to consumers due to the fact that many traditional banks have raised their fees in recent years.
Online banks pay you to save. Some traditional banks make you pay for the privilege of keeping your money in an account.
Keeps fees low and rates high
Fees and interest rates can have a huge effect on the value of your savings over time.
Consider this example:
You're saving up for a family vacation, and have $1,000 to put into a savings account today. Your plan is to add $100 to the account each month.
After five years have passed, you'll use the balance of the account to pay for your vacation.
A typical savings account might offer as much as .1% interest per year. If you choose this kind of account, you'll wind up with $7,019.79 at the end of five years. You'll have earned less than $20 in interest over the course of five years.
Online banks offer as much as 1.6% interest each year. If you instead use an online savings account, you'll finish the five years with $7,325.43.
You'll have earned more than $300 more in interest just by choosing a different savings account.
Also, consider the fact that the traditional bank account is likely to charge a monthly maintenance fee.
If this fee is just $1 per month, you'll wind up with less money than you deposited to the account, even after you account for the interest that accrued.
Over the long-term, the difference between a traditional account and one with no fees can be hundreds or thousands of dollars.
Low deposit requirements
Online savings accounts also excel at being easy to open.
Many traditional banks won't let you open an account with less than $50 or $100 to deposit. Online banks often have no minimum balance requirements.
You can even open an account by depositing a penny. If you're just getting started with saving, this can make opening an account much easier.
The same FDIC insurance
One thing that people often worry about with online banks is their safety.
The good news is that the Federal Deposit Insurance Corporation insures all banks, including online banks. This insurance covers the first $250,000 in each account type at the bank.
That means that you cannot lose money by depositing it to an online savings account unless you let your balance exceed $250,000.
ATM access
Online banks usually make it easy to get cash out of the account. Some offer ATM cards for quicker cash withdrawals.
When you make a withdrawal, you'll get cash and the amount will be deducted from your savings account's balance.
Just be sure to watch out for fees and daily withdrawal limits. Many online banks limit cash withdrawals to $500 or $1,000 a day, making it hard to get a lot of cash quickly. You might also have to pay ATM fees, though some online banks will reimburse those.
Before withdrawing cash, make sure that you'll need it. Most online banks don't have an easy way to deposit cash into your account. It's not a big deal if you are not already doing this regularly.
The Best Savings Accounts in Virginia
There are two significant advantages to working with local Virginia banks.
One is that local banks are better at providing personalized service. The staff at smaller banks will get to know you over time and can use that familiarity to offer advice that can help you accomplish your financial goals.
This familiarity will also be helpful if you ever need help in a complicated financial situation.
Another advantage is that local banks cater to local customers.
A local Virginia bank can work with local ATM networks and offer account features that are useful for people who live in Virginia. That also means that they don't waste effort offering features that locals will never use.
The main advantage of opening an account at a national bank is to leverage the national scale of the bank.
If you travel a lot, it'll be convenient to be able to find a branch or ATM that you can visit anywhere in the country.
Advantages and Disadvantages of Savings Accounts from Local Banks
Benefits
Drawbacks

Lower fees than national banks (but not always)
Personal service for account management

Smaller branch and ATM networks
Interest rates are not the highest available