CIT Bank CIT Premier Savings Account 2023 Review
Learn more about the CIT Premier High Yield savings account and see how you can grow your money faster. Find out about the interest rate, fees, and bonuses.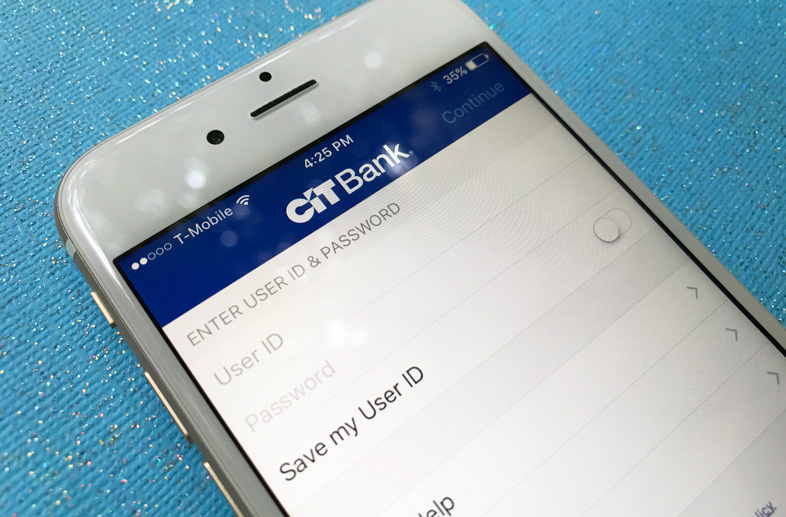 CIT Bank Premier High Yield Savings Account Pros & Cons
Pros
Cons

No monthly fee
Very competitive rate
Mobile apps available
Available as a custodial account
If you're worried that you'll reach a balance of $100,000 and that your interest rate will decline, CIT Bank makes it easy to create a notification after logging into your account.
That way you'll automatically be contacted if your balance exceeds a certain amount.
Online banks such as CIT Bank are able to provide such high rates that because they don't have to spend as much money to operate physical locations. Instead, they can pass those savings onto their customers.
Even if you do keep a balance of more than $100,000, you'll still be earning an impressive interest rate that will beat most other online savings accounts.
Minimum Balance and Monthly Fees
The Premier High Yield Savings account requires a minimum balance of $100 to open. Once you've opened the account, there is no minimum balance required to maintain it.
CIT Bank also doesn't charge monthly maintenance fees on savings accounts.
That's good news because you won't have to jump through hoops to convince the bank to waive fees. You'll get to enjoy free, easy to use banking services.
Other Fees
A savings account can't really be considered a safe place to store money if there are big fees that eat into your savings.
As mentioned, CIT Bank charges no maintenance fees, but it goes one step further by not charging a fee for most banking services.
Accepting a wire transfer, requesting a check in the mail, making an online transfer, or closing your account incur no fee.
There is a $10 fee for making an outgoing wire transfer, but that fee is also waived for customers with a balance of $25,000 or more.
CIT Bank also gives you a way to get around the fee that other online banks must charge on withdrawals.
Banking regulations require that online banks charge a fee for any transfers or withdrawals you make online after the sixth in each statement period.
At CIT Bank, you can exceed the six (6) transactions per statement limit by making the transfer or withdrawal by mail.
You can also make unlimited withdrawals by phone if you request that the money is sent by check in the mail.
CIT Premier High Yield Savings Account Fees
| Type of fee | Fee amount |
| --- | --- |
| Monthly service fee | $0 |
| Excess withdrawal fee | $0 |
| Dormant account fee | $0 |
| Domestic incoming wire transfers | $0 |
| Domestic outgoing wire transfers | $10 (waived if you have a $25,000 balance) |
Promotional Bonuses May Be Available
CIT Bank is known to offer generous cash bonuses for new accounts. They may be worth hundreds of dollars (some requirements may apply, depending on the bonus).
If you happen to catch one of these promotional bonuses, it just sweetens the deal that you're getting in addition to a top-tier online savings account.
Easy Access to Your Account
CIT Bank makes it easy to make transactions, offering four ways to work with the bank.
You can log in to your online account from your computer to make deposits, withdrawals, or transfers. You can also set up recurring transfers, create account alerts, and handle other account maintenance.
CIT Bank offers a smartphone app for both iOS and Android phones. You can use the app to make deposits, transfer money between accounts at CIT Bank, or view your balances and transaction history.
If you don't have a smartphone or don't want to install the app, you can still bank on the go. You can check your account balances and transaction history using text message banking. If you're ever worried about fraud or an unexpected transaction, but don't have a way to get to a computer, text banking can let you check your account in a pinch.
You can call CIT Bank to make transactions over the phone. Whether it's a simple transfer or more complicated request, CIT Bank's customer service representatives will be happy to help.
Compared to Savings Accounts From Other Banks
If you've decided that an online bank is right for you, but would rather work with a different company that CIT Bank, consider these competitors.
Each bank has strengths and weaknesses, so you'll need to consider what each offers and what type of banking service you need:
Goldman Sachs Bank USA Online Savings
The Goldman Sachs Bank USA Online Savings account offers a market-leading interest rate, no transaction fees, and no minimum deposit requirements.
Notably, its customer service line is open from 7 am to 11 pm Central Time every weekday. That makes it easy to reach customer service no matter what your work schedule is.
One thing to know is that Goldman Sachs puts a limit on how much you can hold in your savings account.
If you are the sole account holder your balance cannot exceed $250,000. If you hold the account jointly, your balance cannot exceed $500,000.
Both of these limits coincide with the FDIC insurance limit. That way you never have to worry about losing the money you've deposited and earned.
Synchrony Bank High Yield Savings
Synchrony Bank's High Yield Savings account charges no monthly service fee or other fees to open and maintain the account. That lets you grow your account balance as quickly as possible.
Synchrony also makes it very easy to access your money. You can bank online, setting up deposits, withdrawals, or transfers. You can also schedule recurring transfers through the website.
You're also rewarded for loyalty to Synchrony Bank.
If you have a minimum balance of $10,000 and have held an account for at least one year, you qualify for Silver status.
That earns you discounts at Synchrony Bank's hotel partners. Higher balances and tenures with the bank get you additional rewards.
Ally Online Savings
Ally Bank is one of the most popular online banks, partly due to its Online Savings account.
The interest rates and fee policies are competitive with other online banks.
It's worth mentioning that Ally lets you open multiple savings accounts and you can nickname each one to help you plan your savings goals.
Final Verdict
The CIT Premier High Yield Savings account is ideal for people who want a safe place to store their money and allow it to grow as fast as possible.
Use it for general savings or to establish an emergency fund and earn market-leading interest rates.