FNBO Direct Online Savings Account 2023 Review
Learn more about the interest rates and fees of the FNBO Direct Online Savings Account and compare them to savings accounts from other top online banks.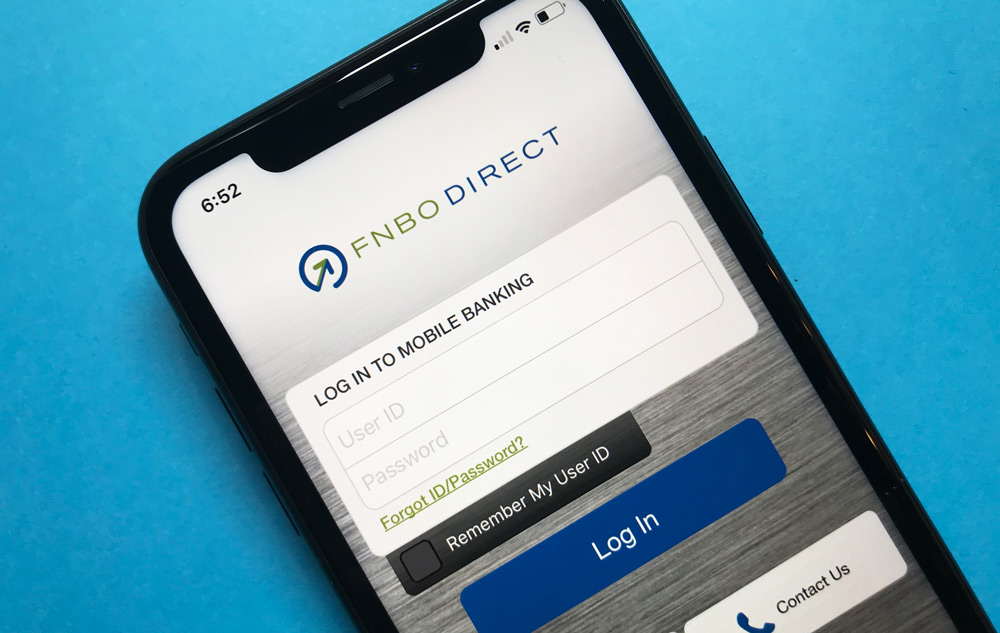 FNBO Direct iPhone App
The FNBO Direct Online Savings account is the online savings account offering from the First National Bank of Omaha.
The goal of the account is to offer existing customers, as well as customers outside of FNBO's normal service area, a way to bank on the go.
If you're looking for a good online savings account, this review will tell you everything you need to know about the FNBO Direct Online Savings account.
FNBO Direct Online Savings Account Pros & Cons
Compare Savings Options
Be sure to check out more savings accounts worth considering:
Solid Interest Rate for an Online Bank
There are two reasons you might want to open a savings account. The first is because you need a safe place to store your money.
FNBO Direct takes care of that thanks to its insurance from the Federal Deposit Insurance Corporation.
The FDIC will reimburse your balance, up to $250,000, if the bank should ever go out of business.
The other reason to open a savings account is that you want to earn interest on your cash.
The amount of interest you earn is possibly the most important factor in choosing a savings account, next to the fees charged.
Why is the interest rate important?
When you deposit money in your savings account, what you're actually doing is making a loan. You loan your money to the bank and the bank offers you interest.
The bank then uses your money to make loans to other customers, charging them interest on those loans.
The bank charges more interest that it pays, and the difference goes towards running the bank.
Earning Interest to Fight Inflation
The other reason that the interest rate is important is inflation. Each year, inflation reduces the value of the dollar.
That's why you'll hear stories of people buying a loaf of bread for a nickel in the old days when that same bread might cost a dollar or two today.
Inflation is expressed as a percentage. If the inflation rate this year is 2%, that means the dollar is worth 2% less at the end of the year than it was at the start of the year.
If the interest you earn on your savings account is lower than the inflation rate, even though your balance is increasing, your spending power is going down.
Over the course of many years, the compound losses to inflation could really reduce your account's value.
The FNBO Direct Online Savings account offers a competitive interest rate when compared to other online banks.
It will help you fight the effects of inflation, but it is unlikely to beat the inflation rate.
You can open a savings account at nearly any bank, so you should shop around for the best deal.
FNBO offers competitive interest rates when compared to other online savings accounts, so it should be on of the banks you considered when your comparison shopping.
$1 Minimum Deposit and No Monthly Fees
Many banks make you meet a minimum deposit requirement before you can open an account.
Others force you to maintain a certain balance, lest you be hit with maintenance fees.
A savings account is hardly safe if you're worried about fees, so FNBO does not charge any monthly fees for keeping the account open.
You also don't have to worry about saving up to be able to open the account. You can open a FNBO Direct Online Savings account with as little as $1. That makes it easy to start saving towards your financial goals.
Other Fees
The main fee you'll have to watch out for with online savings accounts is the excessive transaction fee.
Federal law limits the number of transactions you can make by phone or online per statement to six. Every transaction that exceeds that limit will incur an excessive transaction fee.
FNBO Direct gets around this by restricting you from making any transfers after your sixth transfer in a statement.
You won't be able to make online transfers out of the account, even if you are willing to pay a fee.
One thing to note is that transactions made by mail or at an ATM do not count towards the limit. So even if you've made six transactions and locked yourself out of making online transfers, you can still get to your money.
FNBO Direct Online Savings Account Fees
| Type | Fee |
| --- | --- |
| Monthly Maintenance Fee | $0 |
| Excess pre-authorized withdrawals, transfers or checks | $0 (not allowed after 6 per month) |
| Incoming wire transfer (domestic) | $0 |
| Outgoing wire transfer (domestic) | $15 |
| Popmoney (Standard transfer) | $0 |
| Popmoney (Next day delivery) | $10 |
Access Your Cash with an ATM Card
Because the FNBO Direct Online Savings account is an online account, you might worry about being able to get cash out of the account.
If you do want to be able to withdraw cash, you can request an ATM card from FNBO. You can use that card to make withdrawals at any ATM in the United States.
FNBO does not reimburse ATM fees, so you'll be on the hook for any fees charged. All FNBO owned ATMs can be used fee-free.
Transfer Money with PopMoney
Your FNBO Direct Online Savings account comes with access to PopMoney. You can use the service to quickly and easily send money to friends or colleagues.
All you need to do is log into your account, enter the amount you want to send, and provide an e-mail address or phone number for the person you're sending the money to. The recipient can then complete the transaction with their bank.
Even if a world with Venmo, Square Cash, Paypal, and myriad other ways to send money to friends, PopMoney is useful because it lets you send money to people without them having to create an account with the service.
How Does It Compare?
There are a lot of banks that offer online savings accounts, so you should shop around to find the best deal available.
If the FNBO Direct Online Savings account isn't to your liking, consider these alternatives:
Goldman Sachs Bank USA Online Savings
Goldman Sachs Bank USA offers very competitive interest rates in an easy-to-understand savings account.
There's no minimum fee required to open the account. You also won't have to worry about monthly maintenance fees or transaction fees, beyond the standard excessive transaction fee.
The account is very flexible with deposits, allowing deposits by wire transfer, direct deposit, or mobile check deposit.
Withdrawals are more difficult. You'll have to transfer the money to another bank to get at your cash. You can't just request an ATM card or ask Goldman Sachs to send you a check in the mail.
If you like to keep your financial life in the digital world, it's not a problem, but heavy cash users will be better served elsewhere.
Synchrony Bank High Yield Savings
Synchrony Bank's High Yield Savings account offers strong interest rates on all balances, but the rates really shine on higher balance accounts.
There are multiple balance tiers that affect how much interest you can earn.
Higher balances lead to higher interest rates, though sometimes different tiers will share the same rate. There are three balance tiers to keep in mind.
You can deposit money in the account by mailing a check, by wire, or direct deposit.
You can make withdrawals using an ATM card or by phone. You can also manage the account and make transfers online or by phone.
Synchrony Bank has no minimum deposit requirement and doesn't charge a monthly fee.
That makes it a great bank for savers who are just starting out. The higher balance tiers offer a great goal to work towards.
UFB Direct Money Market Account
The UFB Direct Money Market Savings Account is intended to offer high balance consumers flexibility and great returns.
Money market accounts function as a hybrid of checking and savings accounts. They offer the great interest that savings accounts offer, with the flexibility of checking-writing ability.
UFB's money market account offers a market-leading interest rate, letting you earn a great return.
The downside is that there is a hefty minimum deposit requirement: $5,000. You also need to maintain that balance after the account opens to avoid a $10 monthly fee.
Once you've opened the account, you'll be able to write checks against the account and access your money with an ATM card.
You can deposit checks easily with the bank's mobile app and can manage your account anytime using the bank's website.
As a bonus, you'll get access to FinanceWorks, a money management tool that lets you see all your financial accounts in one place.
If you have a lot of money to save, UFB Direct is a great choice. People with lower balances will not be able to meet the minimum balance required.
The Final Verdict
In all, the FNBO Direct Online Savings account offers competitive interest rates, but no other significant perks.
If you already bank with FNBO or want a no-frills online savings account, it's a good choice.
If you're looking for more features or to move your entire financial life online, you might want to look for a competitor that offers more use perks with their accounts.