PNC Bank High Yield Savings Account 2023 Review: Should You Open?
Learn all about the PNC Bank High Yield Savings Account, including the interest rate and fees -- an online savings account only offered in some areas.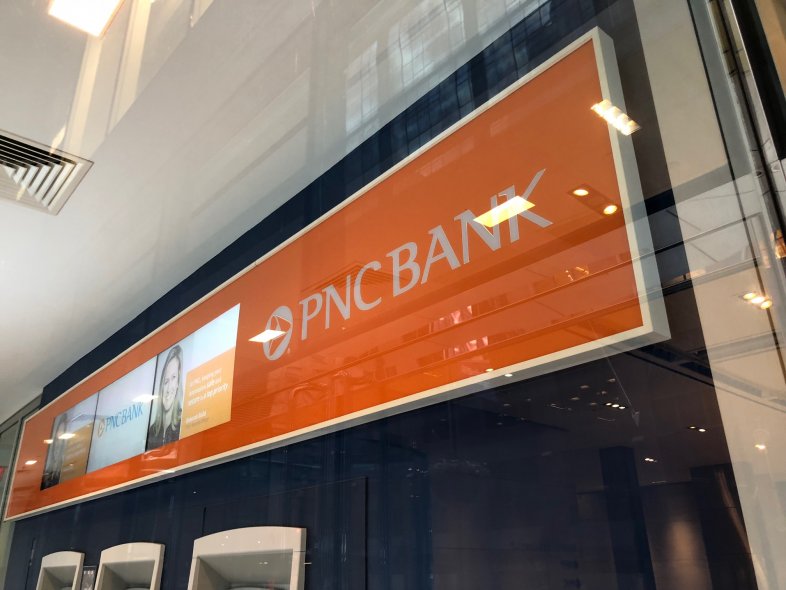 If you're specifically looking for the highest savings rates, your best bet is to go with an online bank.  
But:
What if a national bank offered a savings account with a market-leading APY?
In this case, PNC Bank is doing just that with its High Yield Savings Account.
Major disclaimer:
This savings account isn't available to everyone. It's only offered in areas that don't have a nearby PNC Bank branch.
If you're fortunate enough to live in a market that accommodates this account, find out if the PNC Bank High Yield Savings Account can help you achieve your financial goals faster.
PNC Bank High-Yield Savings Account Pros & Cons
Compare Savings Options
Be sure to check out more savings accounts worth considering:
A Market-Leading Interest Rate
All savings accounts are interest-bearing accounts. But not all savings accounts offer the same return.
As you shop around and compare options, you'll find that many regular savings accounts pay customers pitiful rates.
And as a result, your money grows at a slower rate.
The good news:
PNC's High Yield Savings Account provides a competitive interest rate that even exceeds the rate offered by some online banks.
What does this mean for you?
To put it plainly, you're able to reach many of your savings goals sooner. This is huge because saving money can be a challenge.
The APY on this account is hundreds of times better than what is offered by PNC's other savings accounts (the savings accounts offered to customers who are close to a PNC branch).
Why PNC is offering different rates
Existing PNC customers may ask why is the APY so much higher with the High Yield Savings Account.
The reason:
Like online banks, this account caters to people who don't need the resources provided by physical branches.
PNC doesn't have to deal with the operating costs of running physical locations in these areas -- translating to better benefits for these customers.
To attract consumer deposits, PNC is offering an amazing interest rate to people who cannot access a PNC branch.
No Monthly Fees
Even if you find an offline bank that pays its customers better-than-average interest rates, these banks will likely charge a monthly service fee.
And unfortunately, expensive service fees can eat away at any interest earnings.
Now:
The PNC High Yield Savings Account does not charge a monthly service fee.
Also, there's no charge when you transfer money into your high-yield savings account.
For easy transfers, simply link this account to an external bank account. From here, transfer funds whenever you like.
You can also set up automated transfers at no charge. Keep in mind that while there's no charge to transfer funds into your savings account, you may be charge an excessive withdrawal fee.
This fee ($15) applies when you have more than six outgoing transfers from your savings account within a statement cycle.
No Minimum Deposit
Some people avoid opening a new savings account because the bank may require a large minimum opening deposit. This isn't the case this PNC savings account.
The minimum to open an account is $0.
Also, this account doesn't require a minimum monthly balance. Although you'll need to maintain a minimum balance of $1 to qualify for its competitive high-yield interest rate.
Keep in mind:
PNC Bank caps initial deposits at $50,000.
And the bank may close any account that remains unfunded for 60 days.
Online and Mobile Banking
Again:
This is an online-only high-yield savings account.
So you need to be in a position to manage your account digitally. PNC Bank makes this easier with its digital banking tools.
Whether you prefer online banking or mobile banking, you're able to seamlessly and conveniently manage your account from any location 24/7.
Once you've opened your savings account:
sign up for online account management.
bookmark the website to your computer.
download PNC Bank's app to your mobile device(s)
Account management features
The account has a group of key features that are important for all savings accounts.
Automated transfers
The best thing you can do with this savings account is set up automatic transfers.
Putting your savings account on autopilot is an excellent way to build your account quicker.
Mobile check deposit
Since there isn't a bank branch near you, mobile banking also makes it easier to deposit checks. Gone are the days and hassle of mailing in a check.
Snap a photo of a check using your phone or tablet, and deposit it from anywhere—anytime.
There is a mobile deposit limit:
Customers with accounts opened for 30 days or longer: $2,500 per day and $5,000 per month
Customers with accounts opened for less than 30 days: $1,000 per day and $2,500 per month
Text/phone banking
There's even the option of text banking. This feature might be foreign to you, but it's super simple.
Once you're signed up for online or mobile banking, register your phone for text banking. This feature allows you to send text commands to PNC Bank through your phone.
Let's say you want to check your savings account balance. To get this information, text "BAL" to PNC Bank. Or, text "LAST" for a rundown of your most recent transactions.
You'll find a complete list of text commands at PNC.com/mobile.
You can also take advantage of voice banking. This is useful if you need assistance when a customer service representative isn't available.
Use this feature anytime, including nights, weekends, and holidays.
Check your account balance, transfer funds, or review your recent activity with voice banking.
Other Fees to Know About
Along with no monthly service charge, PNC Bank offers several other freebies.
For example, there's no charge to receive a PNC banking card.
This allows you to access money in your savings account—in case you travel to a location with physical branches. There's also no charge for paper statements.
If you lose your banking card and request a replacement, the fee is $7.50 for each replacement. Expedite delivery is $25.
Using a PNC Bank ATM is free. But you'll pay a $3 fee each time you access a non-PNC Bank ATM within the United States, Canada, Puerto Rico, and the U.S. Virgin Islands.
If you use a non-PNC Bank internationally, you'll pay a $5 fee per transaction. Unlike some banks, PNC Bank doesn't reimburse another financial institution's ATM fee.
Before opening a PNC Bank high-yield online savings account, make sure this is the right account for you.
If you open an account and close it within 180 days, the bank charges a $25 fee.
Compare to the Top Savings Accounts
Finding a great savings account requires research. If you don't shop around, you could end up earning little interest, yet pay a bunch of fees.
The best savings account puts your money to work for you. So start your search by looking at how much interest an account earns.
Next, compare bank fees and find out how much cash it takes to get started. Ideally, you want an account with no minimum deposit requirement.
Don't forget to research a bank's mobile and online features, especially if you'll manage your account on the go.
The bottom line is that you want an online savings account that makes it easy to check your balance, transfer funds, and deposit checks. And you should be able to complete these basic functions at no charge.
Final Verdict: Is This Account Right for You?
Compared to other online savings accounts, PNC Bank's high-yield savings account is a strong contender.
This account offers a competitive rate, resulting in a higher return on your money. It provides one of the fastest ways to grow an account
It's also a great account if you don't have a lot of cash to get started, and if you're okay with managing your account online.
Remember, this savings account is only available in areas where there isn't a PNC Bank location. So this account isn't the right choice for those who want the option of using a bank branch.
Or, shop around and choose another savings account.
Other online savings rates might not be as high as PNC High Yield Savings. But these rates are likely to be higher than those offered by a traditional savings account.