Citi Simplicity vs. Capital One Platinum Credit Card Credit Card 2023 Review
The Capital One Platinum Credit Card and Citi Simplicity credit cards are popular for their low interest rates. see which one is actually better.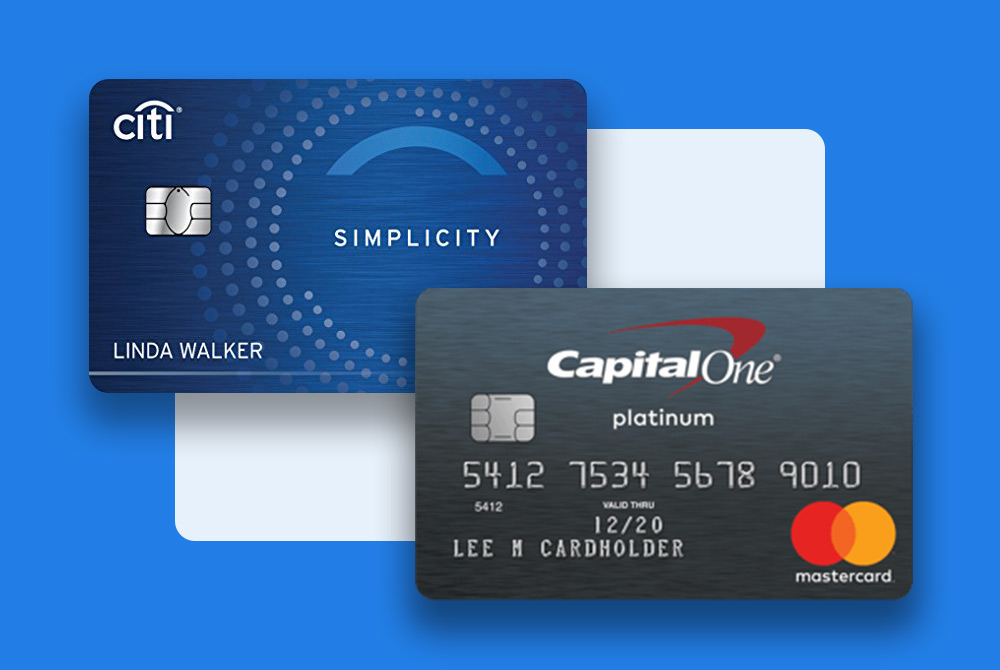 During your search for a simple, no-frills credit card, you might come across the  and -- two very popular credit cards.
But, which one is better? I've defined the deciding factors to help you pick the best card for you.
Both Cards Have No Annual Fee
You're looking for a simple credit card without all the complex rewards and benefits. So, it makes no sense for you to have to pay an annual fee.
Fortunately, you won't be dealing with annual fees on the Platinum Credit Card from Capital One nor the .
You're probably not too surprised though -- cards that don't come with extravagant perks are unlikely to also come with an annual cost.
Read Platinum Credit card from Capital One Review
Read Citi Simplicity Credit Card Editor's Review
Citi Simplicity Usually Offers a Lower APR Deal
Without any rewards program to compare, interest rates will be a big factor in your decision between the two cards.
And yes, you obviously want the lowest rate possible because I'm sure you understand that a minor difference in APRs can result in a major difference in total interest paid.
It is clear that the Citi Simplicity card offers the better deal when it comes to interest rates.
The difference in total interest paid would be even greater the longer that you take to pay off the balance (if you have a lower monthly payment or continue to accumulate a balance).
Introductory Offers Can Help Cut Down Debt
There's no denying that you will look at introductory offers as you compare the two cards.
These special offers are tempting and, with the proper mentality, extremely beneficial when you use introductory offers to speed up your debt reduction plan.
Citi Simplicity is known for long introductory APR offers.
The lengthy period of time without interest charges means you can take your time to pay off a major purchase or reduce any transferred debt.
It could result in large savings during that introductory period. This is the reason that Citi Simplicity is one of the best balance transfer credit cards available.
The Capital One card doesn't have any type of special introductory interest rate. The regular APR takes effect starting with the very first purchase or balance transfer.
Remember that the APR isn't exactly low when compared to other credit cards. It would not be a smart move to carry a balance on this card.
That's why Citi Simplicity takes the prize for the better introductory offer -- the Capital One Platinum Credit Card doesn't have one at all.
Card benefits: Tied
Although a simple credit card isn't nearly as exciting a rewards credit card. That's why some credit cards issuers will "spice" things up to differentiate themselves from the crowd.
Some of these additional card benefits may come in handy, even if you may never use some of them.
: No balance transfer fees, no foreign transaction fees, and free CreditWise tool
: No late payment fees, no penalty rate, and Citi Rewind price protection program
Capital One's benefits are useful for people who expect to use the card abroad and for people who want to build their credit.
It also offers free balance transfers, but it isn't advised because of the relatively high APR on the Capital One Platinum Credit Card.
The CreditWise tool includes a monthly credit score that you can use to track the progress of your credit improvement.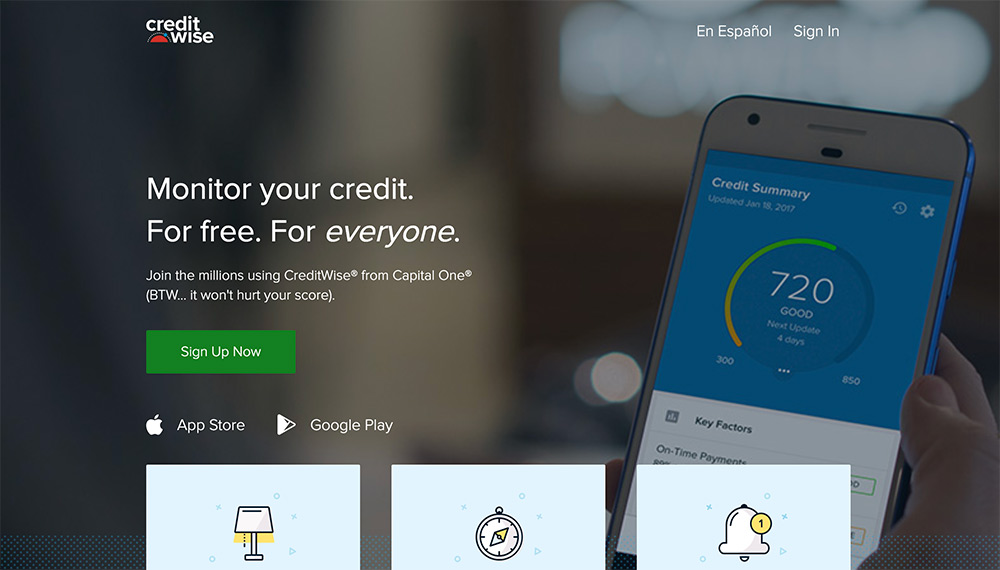 It also has a nifty simulator that shows you how a certain change to your credit (e.g., paying down a balance, a late payment, bankruptcy, etc.) can affect your credit score.
Meanwhile, Citi Simplicity caters to people who don't want to get penalized when they forget to make payments.
Normally, the bad habit of making late payments on a credit bill can be very expensive. With most credit cards, a late fee is around $35 and the penalty APR is roughly 30%.
The worst scenario results if the credit card issuer reports your late payment to the credit bureaus. That would lead to a big drop in your credit score.
Another interesting Citi credit card benefit is the Price Rewind program.
It will search online for a lower price on a recent purchase. If it finds, a lower price, you will be refunded the difference. Most other credit cards have similar price protection programs, but they don't do the work of finding the lower prices for you.
Given that the standout benefits of each card do not directly compete with each other, it's hard to pick out the card that offers the better set of benefits.
Furthermore, both cards offer complimentary perks including extended warranties, travel accident insurance, and auto rental insurance.
So, I'm going to say that they're even.
The Cards Require Different Credit Ratings for Approval
Not everyone will be approved for every single credit card. For credit cards that offer rewards programs and amazing benefits, expect to be denied if you don't have a high credit score.
Citi Simplicity has a decent package of features, even though it doesn't have a rewards program.
Generally, you'll need a good to excellent credit in order to qualify for the card. Therefore, you're more likely to get the card when you're already managing credit responsibly.
The Platinum Credit Card from Capital One stands out because it is much easier to get if you don't have a high credit score.
It is designed for people who have average credit and want to use a credit card to improve their credit score.
Because of the greater risk of default with people who have less-than-stellar credit, the card comes with a high APR, as mentioned earlier.
However, with Capital One, you'll likely get a small credit line to start off.
FICO Credit Scores Matter
The FICO credit score is the most popular credit score used by major U.S. lenders. It ranges from 300 to 850 -- higher is better. There are several ways that you can check your FICO score.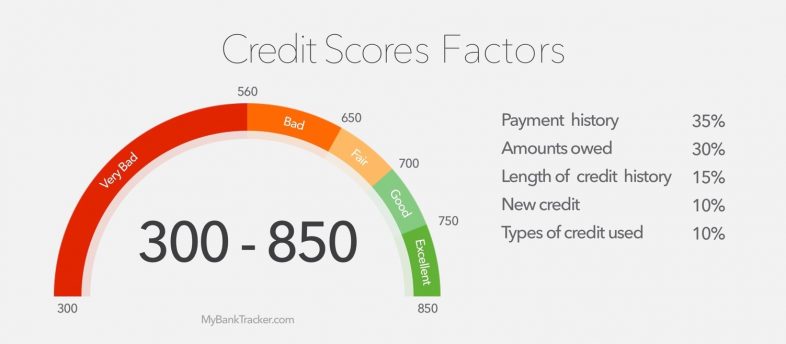 For Citi Simplicity, you'll need a FICO score of roughly 700 in order to qualify for it. For Capital One, a score of at least 600 may be needed to get it.
The formula to calculate one's FICO score is unknown to the public. But, FICO does reveal the five factors that go into your score. It is possible to use a credit card to improve your FICO score.
Tip: Regardless of what kind of credit card you have, you can increase your score by asking for a higher credit limit.
Ideally, you use the Capital One card to build your credit before switching to a better credit card -- preferably one with a much lower interest rate.
With Citi Simplicity, you can hold onto it even after its introductory period because it can still prove valuable for people who want to avoid late payment fees and penalty APRs.
The Better Card for You
Every credit card serves a different purpose so the choice between the and Citi Simplicity will depend on your current financial situation.
For most people, emerges as the winning option because it has the better overall package. The long 0% introductory APR period and friendly fee-policy are the defining traits that help it to outshine Capital One's card.
Again, the is ideal for people who don't want rewards, but are focused on avoiding interest charges on an upcoming purchase or balance transfer.
Next to Citi Simplicity, the Capital One Platinum Credit Card may look like the worse card.
However, it definitely has its purpose for certain people.
If you don't have good credit, you can apply for it and use it to boost your credit scores. It is one of the few credit cards that are designed for people with average credit and don't want to pay an annual fee.
So, if you are trying to build your credit, go with the . Otherwise, the Citi Simplicity card is the better choice.
If you have decent credit, carry no balance, and pay off your balance in full every month, a cash back credit card is worth your consideration. You can spend as you normally would and earn cash rewards.
Additionally, the APR does not really matter because you won't be paying any interest (when you pay the balance in full every month). Take a look at the best cash back credit cards to see which one matches your spending habit.