The Best Credit Cards For a Trip To India
Learn which travel credit cards are the best for use in India and how to earn rewards, free flights, and travel perks on the trip.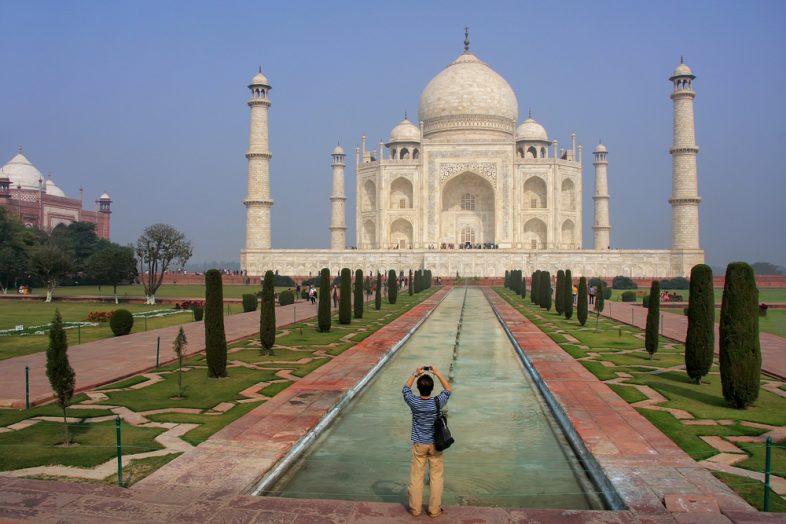 But once you arrive in India, you'll find it to be one of the most affordable places you can go.
For example, it's generally pretty easy to find a car, a driver, and a tour guide for about $100 a day in India's capital of New Delhi.
And fortunately, you can earn points and miles from your credit card that you can use for flights to India and even hotels.
Finding the Right Credit Card for a Trip to India
Most of the time, it makes sense to earn points in a credit card rewards program that allows transfers to miles with multiple airlines.
Here are the top travel rewards credit cards that you can use for your trip to India:
Chase Sapphire Preferred
The is a premium rewards card that usually offers an attractive welcome bonus. Additionally, the rewards program is suitable for those who travel and dine out regularly.
Points are earned in the Chase Ultimate Rewards program, which allows you to transfer points to miles with different airline partners and hotel programs.
For example, you can transfer your points to United, which offers round-trip awards to India for 85,000 miles in economy and 140,000 - 160,000 miles in business, depending on if the intercontinental flight is operated by United.
United is part of the Star Alliance, which means that you can redeem your miles for flights from other carriers like Lufthansa, Turkish, and Air Canada.
And since Air India is also a member of the Star Alliance, you can add on flights to smaller cities in India, not just New Delhi or Mumbai.
You could also transfer the points to the Flying Blue program, which is the one for Air France and KLM.
Flying Blue also partners with Delta, and offers round-trip economy awards to India for 80,000 miles.
However, their business class awards are a more unreasonable 200,000 miles round-trip. This card has a $95 annual fee.
Read Chase Sapphire Preferred Card Editor's Review
Citi / AAdvantage® Platinum Select® World Elite MasterCard®
This card offers new applicants a very generous welcome bonus.
You earn double miles on all American Airlines flights and one mile per dollar spent elsewhere.
Other benefits include a free checked bag, priority boarding, and discounts on in-flight food and beverages.
Award flights from the 48 contiguous states to India on American Airlines are 80,000 miles round-trip in economy class and 140,000 miles round-trip in business class.
American is partnered with several different carriers that serve India and are part of the OneWorld Alliance including British Airways, Cathay Pacific, Japan Airlines, Qatar, and Sri Lankan.
In addition, it also partners with Jet Airways, and Indian carrier that serves India from Toronto via Amsterdam.
This card has a $99 annual fee that's waived the first year, and no foreign transaction fees.
Read Citi / AAdvantage Platinum Select World Elite MasterCard Editor's Review
Amex EveryDay Preferred Credit Card
This card offer a great way to earn Membership Rewards points, which can be transferred to miles with 17 different airlines.
But what's exceptional about this card is that It features 3x points at U.S. supermarkets (on up to $6,000 spent each calendar year), 2x points at US gas stations, and 1x elsewhere.
In addition, you also get a 50% points bonus each billing period that you make 30 or more transactions, which allows you earn 4.5x, 3x and 1.5x respectively.
One way to use these points for an award flight to India is to transfer them to ANA, which requires the least amount of points for this trip.
As a Star Alliance member, you can redeem ANA points for flights operated by Air India and numerous other carriers.
Another Membership Rewards transfer partner is Air France/KLM's Flying Blue program.
There's a $95 annual fee for this card, but it does have a 2.7% foreign transaction fees.
Alaska Airlines Visa Signature card from Bank of America
This card also offers a generous welcome bonus. It also offers 3x miles for all Alaska Airlines purchases, and 1 mile per dollar spent elsewhere.
But I'm sure that you're wondering if Alaska Airlines even flies to India, right?
They don't, but you can redeem your miles to fly there with several of their partners. Round-trip award flights to India on Air France or KLM are 80,000 miles in economy or 140,000 miles in business class.
Another option is Cathay Pacific flights, which require a steep 100,000 miles in economy but are a bargain at 125,000 miles for business class.
Finally, you could consider Emirates, which would be 85,000 in economy or 165,000 miles in business class. There's a $75 annual fee for this card, and no foreign transaction fees.
What Credit Cards to Use in India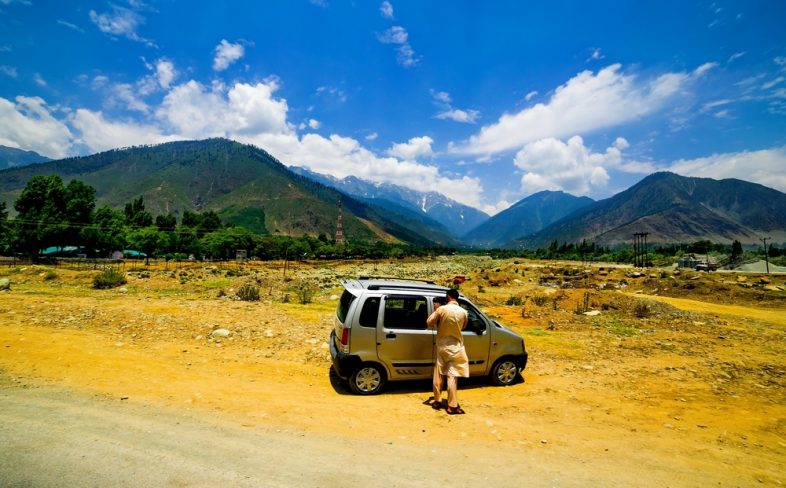 Bottom line
With a population of over four times the United States, India is an amazingly diverse and exciting destination.
Despite the great distances involved, visiting India is well worth the trip.
By using the right credit cards to earn travel rewards, you can visit India sooner than you may have thought, and for a lot less money.
Compare Best Accounts Now