Navy Federal Credit Union Savings Account 2023 Review6
Find out how the share savings account from Navy Federal Credit Union (NFCU) compares to the best savings accounts in terms of interest rates and fees.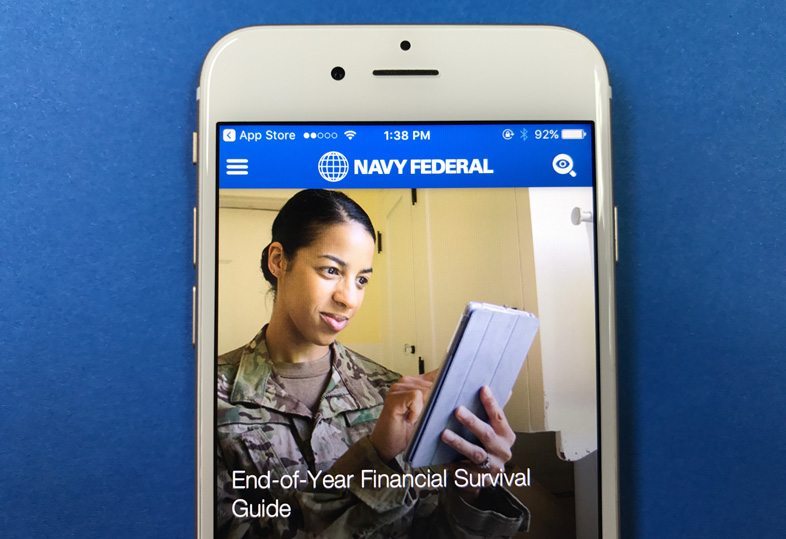 The Navy Federal Credit Union savings account offers members a place to store their cash for future use. Here's a breakdown of the account's features:
Earn competitive interest
No monthly maintenance fees
Access to free seminars covering personal finance
Qualify for members only perks and discounts
Bank from anywhere using a fully featured mobile app
In this Navy Federal Credit Union Savings Account review, we'll compare rates, fees, and services to other national and online banks.
Competitive Rates for a Credit Union
There are two reasons to open a savings account.
The first is that you need somewhere safe to store your money. Carrying it around in your wallet or keeping it at home is dangerous.
Storing it in a savings account protects your money. In fact, even if the bank closes, your money will still be safe thanks to insurance from the FDIC.
The Federal Deposit Insurance Corporation was founded after the Great Depression. Its goal is to protect consumers from bank closures.
If you have an account at a bank that closes, the FDIC will reimburse you for the amount lost, up to a limit of $250,000 per account.
The second reason to open a savings account is to earn interest. The interest is possibly the most important part of a savings account.
When you deposit money in a savings account, you're actually lending money to the bank. The bank takes the money you've deposited and uses it to make loans to other customers.
The bank charges those customers interest on the money they've borrowed and it pays you interest on the money you've deposited.
The difference in the rate that the bank charges and pays is used to keep the bank running.
Navy Federal Credit Union Savings Account Pros & Cons
Pros
Cons

Mobile app available
No monthly maintenance fee

Low Interest Rate
Minimum opening deposit
Minimum balance to earn APY
Membership restrictions
Why is the Interest Rate Important?
Besides the fact that you might be able to earn more interest at another bank an account's interest rate is important because of inflation.
Each year, inflation reduces the value of a dollar.
Everyone's heard stories of how a loaf of bread used to cost a nickel and when dollar stores actually sold goods for a dollar.
Goods cost more now than they did in the past because inflation has caused the dollar to be worth less.
Inflation is expressed as a percentage. So, if inflation this year is 2%, that means each dollar is worth 2% less at the end of the year than it was at the start.
That might not seem like much, but over the course of many years, it can make a big difference in your bank account's value.
If the interest rate that you earn is less than the inflation rate, the spending power of your account is decreasing, even if the amount of cash in the account is increasing.
Navy Federal Credit Union offers a great rate for a credit union, but it's unlikely to beat inflation. Finding an account that helps fight the effect of inflation is essential.
Monthly Fee and Minimum Deposit
Navy Federal Credit Union was founded with the goal of serving its members. Unlike other banks, it does not nickel and dime customers.
That's why there is no minimum deposit to open an account and no monthly fee to pay.
You don't have to worry about meeting a list of requirements to waive the fee, giving you time to focus on other, more important things in your life.
Other Fees
There are no other notable fees of the NFCU savings account. It charges the same fees as other banks, such as wire transfer fees and abandoned account fees.
Most savings customers will not encounter these fees in their day-to-day life.
Note: The federal rule that limits withdrawals and outgoing transfers to six (6) per month still applies. The typical excess withdrawal fee doesn't apply because excess withdrawals are not allowed by NFCU. Members may be required to get approval for withdraws in excess of this limit (not more than 60 days advance notice).
Free Personal Finance Seminars
By joining Navy Federal Credit Union you'll get access to NFCU's full suite of member services. One great service that is offered to members is access to free seminars that cover personal finance topics.
Whether you need help planning for retirement, buying a home, or just building a budget, NFCU is there to help.
There are group seminars covering a different topic every week. For more difficult or personalized topics, you can get one on one help from someone by visiting your local branch.
Members Only Perks and Discounts
Members get access to a bevy of perks and discounts, just for having an account at NFCU.
Navy Federal Credit Union rewards its customers by offering cash bonuses for refinancing your car loan at the credit union.
You can also get thousands of dollars in cash back by using NFCU for your mortgage.
Members also get access to discounts from other companies, including Hertz, Geico, and Enterprise.
Not only can you earn money by depositing money in your NFCU savings account, you can save money just by being a member.
Bank from Anywhere with the NFCU App
Navy Federal Credit Union offers a fully featured smartphone app that lets you manage your account on the go.
Whether you want to transfer money, make a loan payment, or deposit a check, you can do it from the palm of your hand.
Requirements to Join Navy Federal Credit Union
Navy Federal Credit Union was founded with a mission: to serve members of the United States' armed forces, the DoD, and their family members.
To ensure that it is able to provide the best customer service possible, NFCU has restricted membership to specific groups of people.
By focusing only on customers who meet the eligibility requirements, NFCU can avoid growing too large.
That lets it avoid building an inflexible bureaucracy. By controlling its size, it is able to focus on its customers.
To open an account at Navy Federal Credit Union, you must meet one of these requirements:
Be a current or member of the Army, Navy, Air Force, Coast Guard, or National Guard, or have been honorably discharged from one of those groups.
Be a currently or previously employed by the United States Department of Defense.
Have a parent, grandparent, child, grandchild, sibling, or household member who is or was a member of the Armed Forces.
Have a parent, grandparent, child, grandchild, sibling, or household member who is a current member of NFCU.
If you do not meet any of the requirements you will not be eligible to open an account at Navy Federal Credit Union. You will need to consider other banks that offer savings accounts.
How Does It Compare?
Navy Federal Credit Union isn't the only bank that offers savings accounts.
If you're looking for the right place to store your money, consider these competitors as well:
UFB Direct Money Market Savings
The UFB Direct Money Market Savings account targets high-value consumers looking for the best possible return.
UFB's interest rate is among the best in the market, so it's a great choice for people looking purely for return. However, just make sure that you keep a $5,000 average daily balance to avoid the $10 monthly fee.
Because the Money Market Savings account is a premium account, you also get access to premium features.
You'll get a free debit card that you can use to access the account's funds when you need to. You can also use the MyDeposit app to make deposits and transfers.
If you'd rather mail checks to UFB Direct for deposit, they'll provide the deposit slips and pre-paid envelopes, free of charge.
Synchrony Bank High Yield Savings
Synchrony Bank is an online-only bank, and it lives up to the online bank trend of paying a great interest rate.
You'll earn a great rate no matter how much money you have in the Synchrony High Yield Saving account, but you'll need a high balance to earn the maximum possible.
You'll earn a different rate based on which of the three balance tiers you fall into.
Because Synchrony Bank is an online bank, you can't make deposits by visiting a branch.
You can deposit money into the account by mailing a check, by wire, or by direct deposit. You can make withdrawals by ATM or phone.
There's no minimum deposit and no monthly fee, which makes it easy to open an account and start saving. As a plus, the higher balance tiers offer a built-in goal to work towards.
Goldman Sachs Bank USA Online Savings
Goldman Sachs Bank USA offers competitive interest rates in an easy to use savings account.
There's no minimum balance to open the account and no monthly maintenance fee to worry about.
It's easy to manage the account since you make deposits by wire transfer, direct deposit, or mobile check deposit.
The catch is that withdrawals are more difficult. Goldman Sachs doesn't provide an ATM card for its savings account.
If you want to withdraw your money, you'll need to transfer it to another account first.
Though that won't be a problem for people who keep the financial life in the digital world, people who use physical cash regularly might want a different account.
The Final Verdict
The Navy Federal Credit Union savings account is a great choice for someone who wants a personalized banking experience.
If you value the availability of in-person assistance, personal finance seminars, and having a physical branch to go to if you need help with your account, NFCU's savings account is a great choice.
If you just want a savings account that offers the best interest available or don't need the extra services, you can find a better account elsewhere.