TD Bank Simple Savings Account 2023 Review
Learn how the TD Simple Savings Account compares to the top online savings accounts as we review the account's interest rates, fees, and features.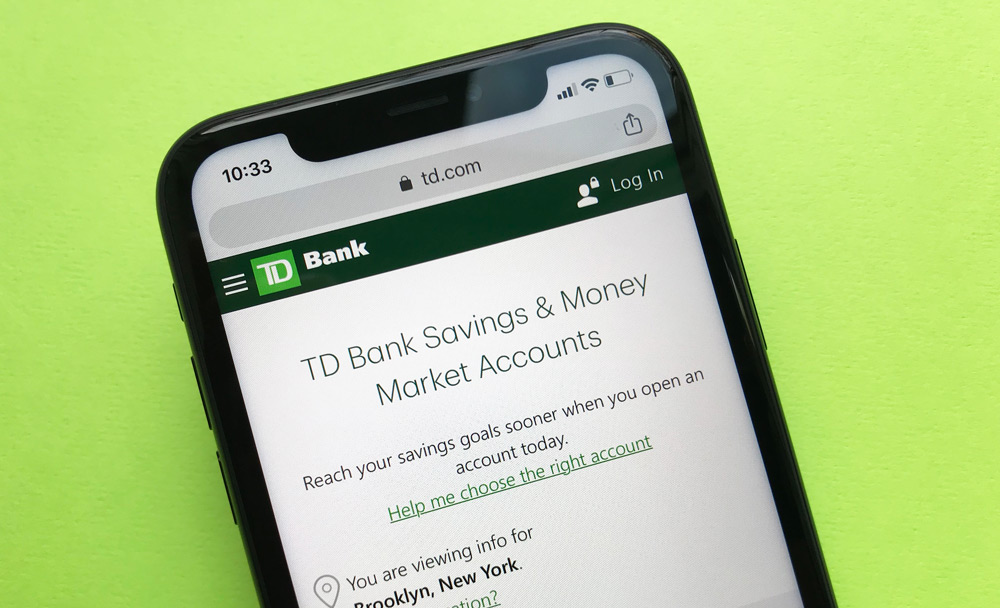 TD Bank Savings Account
A savings account is a handy thing to have, especially when you run into a financial bind. Making savings a regular habit is a lot easier when you can watch your money grow in a savings account.
The TD Simple Savings Account offers a stress-free way to build savings and earn interest on the money you're socking away.
TD Bank is one of the 10 largest banks in the U.S. and has more than 1,300 locations throughout the Northeast, Mid-Atlantic, Metro D.C., the Carolinas and Florida so if you live in one of those areas, you've got ready access to your cash when you need it.
This savings account comes with features like:
Free automatic transfers between accounts
IRA savings account option
No minimum deposit required to open
Zero ATM fees when you use TD Bank ATMs in the U.S. and Canada
If you're looking for a new home for your savings, the TD Simple Savings Account is one option.
In this TD Bank Simple Savings Account review, we'll compare rates, fees, and services to other national and online banks.
TD Bank Simple Savings Account Pros & Cons
Compare Savings Options
Be sure to check out more savings accounts worth considering:
Earning Interest on Your Money With TD Simple Savings
As mentioned, the TD Simple Savings Account is an interest-bearing account. The rate isn't tiered. You'll earn the same APY whether you have $1,000 or $100,000 in your account.
Compared to other savings accounts, the APY you'll get with the TD Simple Savings Account is on the low side.
The higher your rate, the faster you can build your savings. An online bank, by comparison, may offer a better yield.
Online banks tend to have lower overhead costs than brick-and-mortar banks. That means they can pass their savings on to their customers by offering higher rates on deposit accounts.
The tradeoff is that by putting your savings in an online account, you sacrifice the convenience of being able to visit a bank branch.
If you need to make a cash deposit to your savings at a regular bank, you can do it at the ATM, the drive-thru or the teller window.
If you want to deposit cash to an online bank, you may have to deposit it in another account first, then transfer it to your online savings.
You have to ask yourself what's more important: a higher APY or convenience? The TD Simple Savings Account may have a lower rate but you may not have to jump through as many hoops to get to your money.
If you plan to keep a higher balance in your account, a TD Select Savings Account is an alternative.
TD Bank Simple Savings Account Fees
| Type | Fee |
| --- | --- |
| Monthly Maintenance Fee | $5 |
| Excess pre-authorized withdrawals, transfers or checks | $9 |
| Statements with check copies &/or deposit slips only | $5/Statement |
| Incoming wire | $15 |
| Outgoing wire | $25 |
| Stop Payment Fee | $30 |
Tip: Take a short quiz to find the best online savings account for you.
How to Avoid the Monthly Maintenance Fee
Your efforts to save can backfire if you're paying the bank big bucks in fees each month. The TD Simple Savings Account does have a monthly maintenance fee of $5 but there are a few ways to avoid it.
Automatic savings transfers
First, you can get the fee waived in the first year by setting up automatic transfers to your savings.
To qualify for a fee waiver, you have to have a linked, eligible TD Bank checking account and a recurring transfer of $25 or more from a TD Bank account each month.
Maintaining a minimum daily balance
TD Bank also waives the fee if you meet the minimum daily balance requirement.
The minimum daily balance required to get out of paying the fee is $300.
There's no minimum required to open an account but if you can do it with at least $300, you can get around paying the monthly maintenance fee.
Be a student or senior
The fee can be waived if you link a TD Student Checking account to your Simple Savings account.
That's good news for students who are trying to build up their savings while they're still in school. The fee waiver also applies to savers who are 18 or younger, or 62 and older.
Choose online statements
If you sign up for online statements, you can knock the fee down to $4 a month. In terms of how the fee compares to other banks, it depends on who you bank with. Ally, for example, doesn't charge a monthly maintenance fee at all.
Bank of America and Chase, on the other hand, both charge a $5 monthly maintenance fee for a basic savings account.
Both banks give you a chance to avoid the fee, either by setting up recurring transfers or maintaining a set minimum balance.
For premium savings accounts, the monthly fee goes up to $12 and $20, respectively.
Compared to other brick-and-mortar banks, TD Bank's Simple Savings Account fee isn't outrageous.
You've also got lots of ways to avoid it. If you'd rather not worry about fees or minimum balances at all, however, an online savings account may be the better choice.
Opt for a Simple Savings IRA instead
One last way to avoid the fee is to open your TD Simple Savings Account as an individual retirement account (IRA).
An IRA offers a tax-advantaged way to save for retirement. The minimum to open a Simple Savings IRA is $300.
The advantage of opening an IRA versus a savings account is that you can get some tax benefits.
Normally, when you have a savings account, the interest you earn is taxable income. You'd have to report any interest you earn on your taxes each year.
With an IRA, you don't pay taxes on the money until you withdraw it in retirement.
If you open a Roth IRA, withdrawals are tax-free after age 59½. The downside is that you can only save up to a certain amount each year.
You can put $5,500 in an IRA, including an IRA savings account. You can't take the money out until age 59½, without having to pay taxes and a penalty on it.
With a Simple Savings Account, there's no limit on how much you can save each year. You can make up to six withdrawals per month without triggering a penalty.
A Simple Savings IRA serves a different purpose than the TD Simple Savings Account.
The IRA is for long-term savings. The regular Simple Savings Account is money you could tap for a down payment on a house, a summer vacation or a new tire if your car gets a flat.
Thinking about your goals can help you decide whether you need a Simple Savings IRA, a regular savings account or both.
Other Account Features
Before we wrap up our review, there are a couple of other points worth mentioning about the TD Simple Savings Account.
For one thing, you can use automatic transfers to add to your savings. That's helpful if you're struggling to get into the savings habit.
Next, this account isn't just for grown-ups. Kids under 18 can also get a TD Simple Savings Account to start working towards their savings goals.
If you've got kids, getting them their own savings account can be a good way to teach them about managing money.
Finally, if you've got a TD Bank checking account, you can link it to your savings as a form of overdraft protection.
If you accidentally put your checking account in the red, TD Bank will transfer money over from your savings to cover it.
There's a $10 fee for each daily transfer but that's cheaper than paying $35 per transaction for overdraft fees.
Compared to the Top Online Savings Accounts
The TD Simple Savings Account has to contend with online savings accounts that provide higher interest rates without monthly fees:
Ally Bank Online Savings
Ally Bank's online savings account doesn't charge any monthly fees and it offers an interest rate that is significantly higher than the APY on the TD Simple Savings Account. You can also open multiple accounts with difference nicknames for difference savings goals.
Synchrony Bank High Yield Savings
The Synchrony Bank High Yield Savings account has no monthly, an attractive APY, and an optional ATM card for those times when you need cash immediately for an emergency.
Goldman Sachs Bank USA Online Savings
Goldman Sachs Bank USA's online savings account is a no-frills savings account that just focuses on delivering a high interest rate on your deposits.
Final Verdict: For Branch Banking, Not for High Rates
The TD Simple Savings Account has some positives. You don't need a ton of cash to open one; in fact, you don't need any money at all to get started.
While there is a monthly maintenance fee, dodging it may not be that difficult if you can maintain the $300 minimum daily balance.
The option to set up your account as an IRA is also appealing if you haven't started saving anything for retirement yet.
The biggest downside is the APY. Online banks tend to have the edge where that's concerned. The same goes for the monthly maintenance fee.
But again, you lose the ability to talk to a teller face to face, which may matter more to some savers than others.
Overall, we'd say this account is good for someone who wants to earn interest on their savings and may not be ready to make the move to an online bank.
We'd suggest shopping around a bit more if you're looking for a higher APY or a savings account without a monthly maintenance fee.