The Best Credit Cards for Restaurants & Dining of 2023
Find out which credit cards are best to help you earn the most rewards or cash back on your restaurant spending. See how much the average American could earn when eat out. Learn what factor should go into picking the right credit card for you, based on your dining habits and other purchase patterns.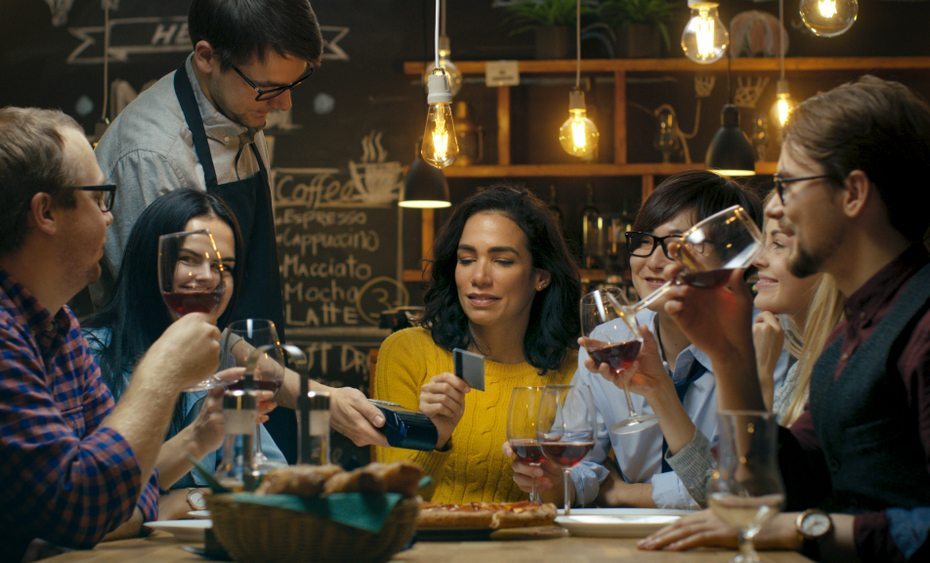 Picking up takeout meals on the fly or regularly sitting down to lunch or dinner at your favorite restaurant can get expensive.
Using a rewards credit card to pick up the tab for meals out can yield savings if you're earning cash back or points on what you spend.
Certain credit cards offer enticing perks and benefits to diners, beyond just earning rewards at restaurants.
While some cards charge an annual fee, there are also $0 annual fee options.
We've canvassed the range of dining rewards credit cards to find the best picks for savings-conscious foodies.
1. Costco Anywhere Visa
The Costco Anywhere Visa is designed with regular Costco shoppers in mind but it's also a boon for diners.
With this card, you can earn 3% cash back on restaurant and eligible travel purchases worldwide. But the rewards don't end there.
This card also offers 4% cash back on gas, up to the first $7,000 in purchases each year. After that, you earn 1% back on gas. You get 2% back on purchases made at Costco and Costco.com, plus 1% back on all other purchases.
This card has no annual fee. You do, however, have to pay your annual Costco membership fee.
Purchase protection, extended warranty protection, and travel benefits are also included.
There is one catch, however.
Cash back earned is issued as an annual reward certificate once per year. It's only redeemable for cash or merchandise at U.S. Costco warehouses.
2. Capital One Savor
If you've got excellent credit and you want to earn a high cash back rewards rate on dining, check out the Capital One Savor card.
With this one, you can earn 3% cash back on dining and 2% cash back on groceries. You also earn 1% cash back on all other purchases.
The Savor card offers a one-time introductory cash rewards bonus for eligible cardmembers.
You can redeem rewards your way and in any amount, giving you more flexibility than the Costco Anywhere Visa.
There's no foreign transaction fee or annual fee to worry about.
3. Chase Sapphire Reserve
Chase Sapphire Reserve is a premium travel rewards card option for people who don't mind paying a higher annual fee.
For diners, the main appeal of this card is the 3X points you can earn on dining and travel. All other purchases earn 1 point per $1.
Chase is known for its big introductory bonuses and the Sapphire Reserve card lives up to that reputation. Ongoing benefits include:
A $300 annual travel credit
50% more in rewards redemption value when you redeem through Chase Ultimate Rewards
Global Entry or TSA Precheck entry fee credits
Complimentary lounge access to 1,000+ airport lounges through Priority Pass Select
Luxury Hotel & Resort Collection access
24/7 concierge service
No foreign transaction fee
There is, of course, the annual fee to consider. You'll pay $550 per year for this card, plus $75 for each authorized user.
4. Chase Sapphire Preferred
If you don't want to pay that much for an annual fee, you could consider the Chase Sapphire Preferred card instead.
The card's rewards program is a great match for consumers who travel and dine out regularly.
You still get a redemption bonus when you redeem through Chase Ultimate Rewards, though not as high as the Chase Sapphire Reserve.
There's no foreign transaction fee for this card and you get some of the same great travel perks the Reserve card offers.
The card's annual fee is $95.
---
How Much In Dining Rewards Can You Earn?
That's a great question and the answer varies based on how often you dine out, where you like to eat the most and which card you choose.
But even if you're an average diner, you've got a lot of potential to earn big points or cash back.
Here, we've broken down estimated rewards earnings per year for each card, based on the dining spending of an average American*:
Average Annual Rewards on Restaurant Spending
| Card | Annual fee | Rewards rate on dining | Annual dining rewards |
| --- | --- | --- | --- |
| Uber Visa | $0 | 4% | $126 |
| Costco Anywhere Visa | $0 | 3% | $95 |
| Capital One Savor | $0 | 3% | $95 |
| Chase Sapphire Reserve | $550 | 3% | $95 |
| Chase Sapphire Preferred | $95 | 2% | $63 |
*Estimates are based on the Bureau of Labor Statistics' 2016 average food "away from home" spend of $3,154.
---
What Do You Need Out of a Restaurant Credit Card?
As you can see, restaurant credit cards aren't exactly alike. Before settling on one, it's helpful to think about what's most important to you.
Earning and redeeming rewards
Obviously, the rewards rate matters.
The more rewards you can earn, the more money you can potentially save.
If there's a quarterly or annual earning cap on rewards, that can limit your ability to make the most of the card if you dine out a lot.
Next, think about what form those rewards take and how you can redeem them.
The Uber Visa, for instance, offers the best rewards rate on dining compared to the other cards featured here.
But, you can't redeem those rewards for travel or get a premium bonus for doing so like you could with either of the Chase card options.
Your card's rewards program should match how you spend at restaurants and how you want to use those rewards. Also, consider the individual rewards redemption rate.
Your card may allow you to redeem rewards for travel, cash back, gift cards or statement credit. That doesn't mean that each option is valued the same, however.
Your rewards may be worth more for travel and less for gift cards, for example.
You need to know how much rewards are worth if multiple redemption options are available to make sure you're getting the most value.
Furthermore, remember that credit cards may offer great rewards on other spending as well. So, your preferred restaurant card could also help you generate rewards on other kinds of spending, such as travel, gas, department stores, and more.
APRs and fees
Cost is the other side of the restaurant rewards credit card coin.
A card with no foreign transaction fee might be appealing if you travel internationally.
If you don't dine out quite as often, you might prefer a card with a low (or no) annual fee.
You should also consider the APR. Ideally, APR shouldn't matter because if you're getting a restaurant rewards card, you should be paying your balance off in full each month anyway.
You'd still, however, want to check the APR if you plan to use your card for travel or other expenses that won't be paid off right away.
Know Which Purchases Are Classified as 'Restaurant' and 'Dining'
One mistake you don't want to make with a restaurant rewards card is assuming that you're always getting the highest rewards rate on dining.
Individual restaurants and dining locations have unique merchant codes and these can vary from one card network to another.
If a dining purchase is categorized as something other than dining, you may get shortchanged on rewards.
For example, the Capital One Savor card includes food trucks, bakeries and Starbucks as dining so you'll get 3% back on those purchases. But if a restaurant doesn't have the right merchant code, you'd end up earning 1% back instead.
If you dine out a lot, the wrong merchant code could cost you major rewards earnings.
When in doubt, ask someone at the dining location how it's coded for credit card transactions.
If no one can tell you, try making a small test purchase first to see how your rewards are credited.
---
The Bottom Line
These restaurant rewards cards are the ones we think are the best for diners but they aren't the only ones to choose from.
If you're searching for a different type of restaurant reward card, remember to look at the rewards structure, fees, and APR.
Consider also what kind of credit rating you'll need to qualify since some upper tier restaurant rewards cards require an excellent credit score.