The Best Credit Cards For a Trip to Israel
Find out which travel credit cards are the best for spending, earning rewards, flights, hotel stays, and travel benefits during a trip to Israel.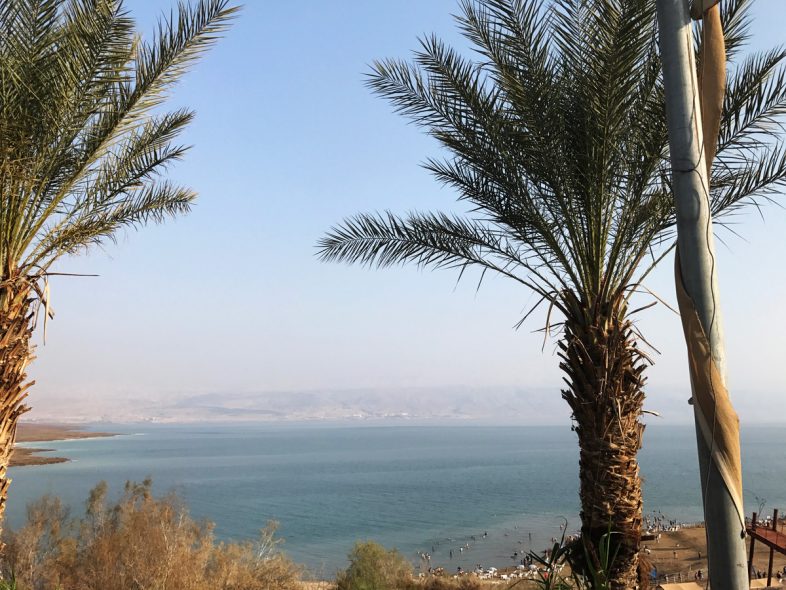 Israel is a magical place, and a visit there is on so many people's bucket list. A trip to Israel can take almost any form from a religious pilgrimage to a party on the beach.
But if there's one thing that every U.S. visitor to Israel has in common - we all have to endure a long journey from North America to get there.
And for many Americans, it's the cost of this trip, as well as the hotels in Israel, that keep them from making the journey.
I'm fortunate enough to have been to Israel numerous times.
My first trip there was in high school, and my second was when I was in my 20s. But after marrying an Israeli-American, I began making regular trips there with my wife, and eventually with our three children.
We now go every year or two, and we know the drill so well that we have started referring to our visits as "falafel runs."
But at the same time, our family of five couldn't afford to take a trip to Israel every other year if it wasn't for the rewards we earn from our credit cards.
Our last several trips to Israel have been taken exclusively using points and miles that we earn from credit cards, promotions, and even what I earn from some paid travel.
Related: How to Start Travel for Free With Credit Card Reward Miles & Points
The Best Frequent Flyer Programs for Free Flights to Israel
As if there wasn't enough controversy surrounding the Middle East, the airlines can't even agree where Israel is for the purpose of booking awards.
This is important since most airlines use award charts that require different amounts of miles for travel to different regions.
According to their own unique definitions, some airlines put Israel in Asia while others consider it part of Africa.
On the other hand, many put it in their Middle East region while one program actually considers it to be part of Europe.
Flying Blue
Flying Blue, which is the frequent flyer program for Air France, KLM, Alitalia, and others, makes a special exception for Israel, letting you travel there for the same number of miles as any European destination.
This works out to a mere 50,000 miles round-trip in economy class and 125,000 miles in business.
Flying Blue is part of the SkyTeam alliance which includes Delta. This can be helpful when connecting to an Air France or KLM flight from the United States, or flying from here to Amsterdam or Paris.
But sadly, Delta almost never makes any award seats available on its non-stop flight from JFK to Tel Aviv, so you might as well forget about that option.
Therefore, this program will allow you to get to Israel with very few miles, but you will almost certainly have to change planes in Paris or Amsterdam along the way.
Thankfully, this program does allow for one free stopover on a round-trip award.
Better yet, there are lots of easy ways to earn Flying Blue miles with credit cards. Flying Blue is a transfer partner of four major credit card reward programs:
ANA Mileage Club
ANA Mileage Club stands for Al Nippon Airways, which is a Japanese carrier that doesn't serve Israel at all.
However, it's part of the Star Alliance, which includes United, Air Canada, Lufthansa, Turkish, and several other airlines that provide connecting service to Israel.
Furthermore, it considers Israel to be part of "Africa and the Middle East" and it only requires 65,000 miles round-trip in economy class and just 104,000 miles round-trip in business class.
You can get ANA miles from the American Express Membership Rewards program.
United MileagePlus
United Airlines usually offers two daily non-stop flights to Israel from Newark, and a single flight most days from San Francisco.
Like ANA, it's part of the Star Alliance, which means that you can mix and match flights from other carriers like Lufthansa, Turkish, Air Canada, and others.
Through United MileagePlus, you can redeem a round-trip flight to Israel with 85,000 miles in economy class or 140,000 in United's business class.
When you cross the Atlantic on a partner carrier, the price goes up to 160,000.
While this is a lot of miles, consider that United never imposes fuel surcharges on its awards, which can save you a few hundred dollars.
And since many Americans have some United miles already, it may be easier to start with that and add more United miles from the Chase Ultimate Rewards program or one of the United-branded credit cards from Chase.
Singapore Airlines KrisFlyer
Singapore Airlines is also part of the Star Alliance, so there are many airlines that will get you to Israel. It also charges just 75,000 miles in economy and 115,000 miles in business class, round trip.
You can get Singapore miles from:
American Express Membership Rewards
Chase Ultimate Rewards
Citi ThankYou Points
American Airlines AAdvantage
The American Airlines AAdvantage frequent flyer program used to be a great way to get to Israel.
But in recent years, it dropped its frequent flyer partnership with El Al, canceled its own flight to Tel Aviv from Philadelphia, and vastly curtailed award availability to connecting points in Europe.
Furthermore, it's main European partner British Airways imposes massive fuel surcharges on awards that often approach or even exceed the cost of discounted ticket paid with cash.
However, if you already have a head start earning American Airline miles, and you may want to use them for your Israel trip, you will have to fly via Europe and pay 80,000 - 90,000 miles in economy class (depending on the time of year), and 135,000 miles in business class.
American Airlines miles can be earned from several different credit cards.
Picking the right credit cards to earn these miles
Chase Ultimate Rewards
Chase Ultimate Rewards offers many ways for members to use their points, including the ability to transfer them to partner airlines (this feature is only available to Chase Sapphire Preferred and Reserve card customers).
Partnered airline loyalty programs that offer rewards flights to Israel are:
United MileagePlus
Singapore Airlines KrisFlyer
Chase Sapphire Reserve is a premium rewards card that offers 5x total points on air travel and 10x total points on hotels and car rentals when you purchase travel through Chase Ultimate Rewards after the first $300 is spent on travel purchases annually. Earn 3x points on other travel and dining & 1 point per $1 spent on all other purchases.
It does have a $550 annual fee, but that's largely offset by a $300 a year travel statement credit.
Another option is the Chase Sapphire Preferred, which also rewards those who travel and dine out frequently . However, it has a $95 annual fee.
Finally, Chase offers its Freedom and Freedom Unlimited cards. Chase Freedom offers 5x points on up to $1, select categories of purchases, while Chase Freedom Unlimited offers bonus points on everyday spending categories.
You can't transfer these points directly to miles, but you can transfer them to a Chase Sapphire Preferred or Reserve card account that you, your spouse, or domestic partner have, and then to miles with United, Singapore, or Flying Blue.
The Freedom cards have no annual fee.
Citi ThankYou points
The Citi Prestige card is a premium travel rewards card that participates in the Citi ThankYou points program.
Although it carries a $495 annual fee, you get a $250 annual travel credit, free Priority Pass lounge membership, Global Entry application fee credit, and more.
The card offers 5x points for air travel and restaurants, 3x points for hotels and cruises and 1x points elsewhere. These points transfer to Flying Blue and Singapore Airlines.
American Express Membership Rewards
My favorite card for earning these points is the Amex Everyday Preferred. It features 3x points at U.S. supermarkets (on up to $6,000 spent each calendar year), 2x points at US gas stations, and 1x elsewhere.
But you also get a 50% points bonus each billing period that you make 30 or more transactions, which allows you earn 4.5x, 3x and 1.5x respectively.
These points can then be transferred to ANA, Singapore, or Flying Blue.
Using the Right Credit Card in Israel
Nearly all merchants in Israel accept Visa and MasterCard, and the vast majority accept American Express.
The Discover card is gaining acceptance but is far from universal. As with any trip outside of the United States, you'll want to make sure to use a credit card with no foreign transaction fees.
All of the cards mentioned here have no foreign transaction fees, except for the Amex Everyday Preferred, Freedom, and Freedom Unlimited.
If you are renting a car, be very careful which card you use, as many, such as American Express cards exclude Israel from their coverage.
Thankfully, Chase and Citi now have worldwide coverage, but you should still ask for a coverage letter that you can show to the rental car company, so it won't force you to buy additional coverage.
By using the right mix of credit cards, and transferring your points to the best frequent flyer programs, you can plan your trip to the Holy Land sooner than you might have thought.