5 Tips When Using Your Credit Card for Reimbursable Work Expenses
Find out how you should use your personal credit card to pay for reimbursable work expenses so that you can earn travel rewards for free flights or cash back.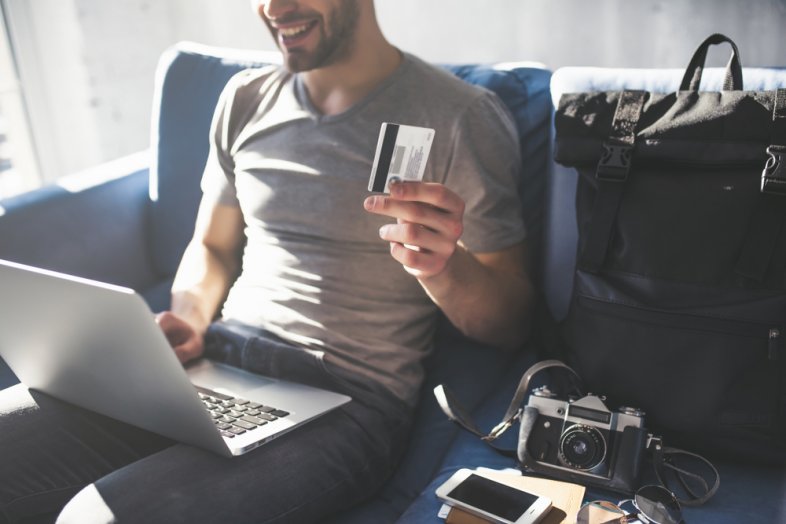 You have to travel to an industry conference, or your boss may have asked you to cover an expense using your personal credit card.
Regardless of the situation, you find yourself having to use your credit card to pay for work expenses, with the promise that you'll be reimbursed in the future.
Many people may not like this.
But, if you are savvy enough, you can turn these reimbursable work expenses into personal rewards.
Simply put:
You can earn credit card rewards without spending any of your own money.
Here are the best ways to take advantage of this potentially lucrative situation.
1. Know the Reimbursement Rules
The most important thing to do when you're using your card to pay for work expenses is to understand your contract with your company.
What will your employer, and how will the reimbursements be made?
How frequently will you be reimbursed?
What documentation do you need to provide?
For example, your employer might only pay out card reimbursements monthly. You might also be required to submit a receipt for each and every expense. Your employer will also specify whether it will cover things like annual fees or interest charges.
Your goal:
Maximize the rewards that you earn without spending a penny of your own money.
This means that you need to know when your employer will give you back the money that you spent.
You may need to be ready to pay the bill with your own money, as your employer's reimbursement could come after your card's due date.
2. Choose the Right Card
In order to maximize the rewards that you can earn, you have to make sure that you choose the right credit card.
Different credit cards have different rewards structures. Some offer rewards in the form of cash back. Others offer airline miles.
Still:
Others give you rewards points that can be redeemed for a variety of rewards.
The type of rewards that your credit card gives you matters less than their value to you, as your goal is to maximize the value of the rewards that you earn.
On top of the different types of rewards, different cards pay different amounts of rewards.
Some cards aim to keep it simple, giving you a flat rate for all kinds of spending. Others give you a bonus for certain types of spending, such as spending at gas stations or travel spending. Some cards even have bonus categories that rotate.
If you're using your card to pay for work expenses, there are a few spending categories that will be more common than they would be in your personal life.
Look for cards that offer bonus rewards for categories such as:
travel
gas
dining
car rentals
office supplies
mobile services
These are the cards that are most likely to help you earn plenty of rewards.
3. Keep Your Receipts
Any time you shop, you should have some strategy for tracking your expenses.
When you're using a personal credit card to pay for your employer's expenses, tracking your spending is even more important.
Not only will tracking your expenses help you know exactly how much money you're spending and where you're spending it, it will also be an important part of getting your employer to reimburse you for the spending.
The best way to do this when covering work expenses with your card is to keep your receipts.
Many employers require copies of receipts that you want reimbursed, so you should get into the habit of keeping any receipts you receive.
There are a number of receipt-tracking mobile apps available, like Expensify and Wave, that make it easy to scan your receipts and create an easily searchable record of them. Download one or two and try them out.
Take a picture of every receipt you receive, and you'll always be able to show one if your company's finance office asks.
If your employer doesn't require receipts for every transaction, you could use another tool, like Excel or online budgeting software to track your spending.
4. Track Your Rewards
Equally important to tracking your spending is tracking your rewards.
You have to know what you're earning, and how much the rewards that you earn are worth, in order to use them effectively.
You can use a number of different tools to track your rewards. A spreadsheet is one of the most basic tools available to you, but each rewards program should offer its own tracking option.
If you'd rather, you can also use a third-party reward tracking service, like AwardWallet.
These tools automatically track and update your rewards balances, letting you get a quick view of how much you've earned across all of your cards.
More importantly, some of these tools can help you redeem those rewards.
If, for example, you want to go on a vacation to Hawaii, these tools may be able to help you identify the best way to use your points to make the trip happen.
5. Pay the Full Balance as Soon as Possible
When you're using your personal card to pay for work expenses that will be reimbursed, the last thing that you want to do is pay interest.
Do note:
Most employers will not reimburse you for interest charges on your personal card, even if they were caused by your work expenses.
Always pay your card balance in full before its due date. In fact, you might want to pay it early if you can.
Pay your bill as soon as you receive the reimbursement from your employer.
This will guarantee that you won't pay any interest and will help you avoid the temptation to spend the money that has arrived in your account.
No matter how much you're earning, interest charges can quickly pile up and outstrip the value of the rewards that you've earned.
The Best Credit Cards for Work Expenses
If you're in a situation where you can use a personal credit card to pay for work expenses, these are some of the best cards to use.
Chase Sapphire Reserve
The Chase Sapphire Reserve card is Chase's premium travel rewards offering. It charges a $550 annual fee but makes up for it with perks and rewards.
This is one of the best cards to use for work travel. You get $300 in annual travel credits, which apply to airfare, car rentals, and other travel expenses. You also get perks such as a fee reimbursement for TSA Precheck and Global Entry, which gets you through security quickly. On top of these benefits, you'll earn 3 points per dollar spent on travel and dining.
Points are worth 1.5 cents when redeemed toward travel, giving this card an effective rewards rate of 4.5%.
Bank of America Cash Rewards
Bank of America Cash Rewards offers cash back for every purchase that you make.
You can redeem your cash to your Bank of America account, or as a statement credit against your card's balance. You'll earn 3% back on the category of your choice out of gas, online shopping, dining, travel, drug stores, and home improvement/furnishings, making this card customizable based on what your employer has you buying.
If you use Merrill Edge for your investments, this card gets even better as you can earn a bonus of up to 75% when you redeem your rewards. The more you have in your Bank of America and Merrill Edge accounts, the bigger the bonus will be.
U.S. Bank Cash+
U.S. Bank Cash+ also lets you choose your bonus categories, paying 5% cash back on categories like cell phone service, car rentals, and electronics.
You can also earn 2% cash back on a category of your choice, including gas and restaurants.
Citi Double Cash
If you want a simple card, the Citi Double Cash Card is the best card for you.
Unlike other cards, which pay bonus rewards for certain types of shopping, the Citi Double Cash offers the same amount of cash back for everything you buy. You'll earn an effecitve 2% cash back on everything: 1% when you make the purchase and 1% when you pay your credit card bill.
If the purchase that you make for your employer vary widely or don't fall into any of the categories that the above cards offer bonuses for, this card is a great fallback option.
Conclusion
Using a personal credit card for work expenses might seem like a pain, especially given the annoying reimbursement processes that employers often have.
However, this can be an opportunity to earn credit card rewards at no personal cost, letting you earn cash back or travel for free.