Which Bank is Best for Getting a Credit Card
There are hundreds of credit cards from many banks, credit unions, and card issuers. Find the best bank when you looking to apply for a credit card.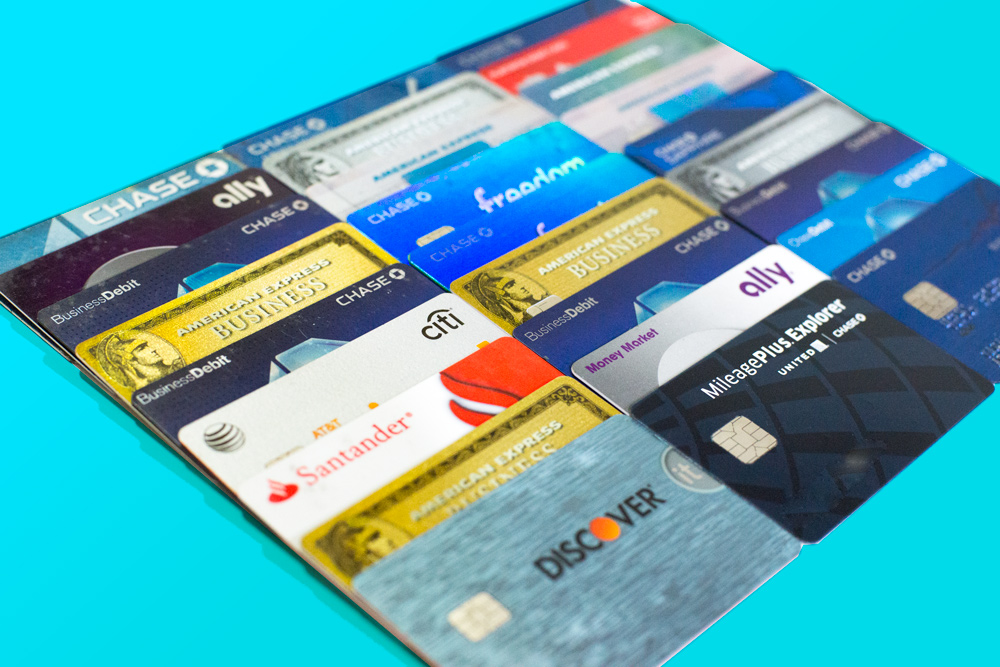 If you're looking for a credit card you might be overwhelmed by the sheer number of providers there are to choose from.
Each provider has its own benefits, drawbacks, and requirements, so if you've wondering which is the best bank for credit cards these tips and reviews will help.
American Express
American Express often tops the list of the largest credit card companies based on annual purchases.
This is partially due to the fact that American Express has long held a brand image as the premium or luxury credit card issuers.
It is known for the rare Centurion Card (aka. the Black Card), which comes with ultra-premium benefits for big spenders.
Their cards for the general public can still be difficult to qualify for and have annual fees, but you get great perks and service in return.
The American Express Membership Rewards program is worth mentioning because it allows customers to transfer their rewards points to partnered frequent traveler programs including Delta SkyMiles, British Airways, JetBlue TrueBlue, and more.
Here are a couple popular American Express cards:
The Platinum Card® from American Express
*See Rates & Fees. Terms apply.
The Platinum Card from American Express is the next most expensive card from the issuer after the Centurion Card.
The Platinum Card has a $695 annual fee (see Rates & Fees; terms apply). In exchange, you get complimentary access to various airport lounges, a $200 airline fee credit (for checked bags, in-flight purchases, etc.), elite status in various hotel loyalty programs, and much more. The card is ideal for the frequent traveler.
Blue Cash Preferred® Card from American Express
*See Rates & Fees. Terms Apply.
The Bue Cash Preferred Card from American Express card is one of the best cash back credit cards because it offers the highest cash back rate on groceries.
Cardmembers earn 6% cash back on the first $6,000 spent at U.S. supermarkets per year (1% thereafter).
Despite the $95 annual fee (see Rates & Fees; terms apply), a big spender on groceries can make up that fee quickly.
Capital One
Capital One's credit cards include those that offer travel rewards to those that help people repair their poor credit.
The company also offers business cards that are rough equivalents of their consumer cards if you like having consistency across your personal and business accounts.
The student card earns rewards and gives you a bonus for paying on time while the company's secured card can be opened with only a $49 deposit.
Of the bank's many great credit cards, these are the biggest names:
Capital One Venture Rewards Credit Card
The Capital One Venture Rewards credit card is a travel rewards credit card with a simple program -- earn miles on all your purchases and use them to pay off recent travel purchases.
With no foreign transaction fees and various MasterCard travel benefits, Venture Rewards allows to you travel in comfort and with some savings in your pocket.
Capital One Platinum Secured Credit Card
The Capital One Platinum Secured Credit Card is one of the best secured credit card to help people build credit. Just put down a refundable deposit starting at $49 to get a starting credit line of $200.
With good behavior, Capital One will offer to raise your credit line without additional security deposits. Therefore, the card makes it very easy to start improving one's credit without much cash upfront.
Chase
Chase's cards are heavily focused on travelers, offering rewards with airlines and hotel chains, as well as bonus rewards on travel-related spending.
Their cards tend to come with an annual fee, but feature large signup bonuses and perks with the company's partners.
Chase is also a major issuer of branded credit cards in partnership with major airlines and hotel companies.
Although Chase offers many amazing cards, these are the best of the bunch:
Chase Sapphire Preferred
Chase Sapphire Preferred is one of the top travel credit cards because of its flexible rewards program and travel perks.
You'll earn bonus rewards on travel and dining. Those points can be transferred to partnered travel loyalty programs operated by companies such as United Airlines, British Airways, and Marriott.
Furthermore, when you redeem your points for travel through Chase's travel booking portal, it costs 20% fewer points.
Chase Sapphire Reserve
is the premium travel card from Chase -- offering more perks than Chase Sapphire Preferred.
For a $550 annual fee, you also get a statement credit toward your Global Entry/TSA PreCheck application, $300 in annual travel statement credits, complimentary Priority Pass Select lounge membership, and more.
Furthermore, when your points are redeemed for travel through Chase Ultimate rewards, each point is worth 1.5 cents.
Chase Slate Edge
Chase Slate Edge is popular for its stellar introductory 0% APR period on purchases and balance transfers.
This offer presents a low-cost opportunity to consolidate high-interest debt for the purpose of paying off debt quickly.
Citibank
Citi offers three main types of credit cards: ThankYou cards, travel cards, and rewards cards.
ThankYou cards earn points in Citi's rewards program, which are redeemable for cash back, gift cards, and travel.
ThankYou cards come in four types, each with its own annual fee, services, and rewards structure.
Citi's main airline partner is American Airline, and it supports that partnership with its AAdvantageline of cards. Each offers the chance to earn Airlines Advantage miles with purchases, as well as other perks with American Airlines.
However, one of the most popular Citi credit cards is its cash back card:
Citi Double Cash
Citi Double Cash offers the ability to earn an effective 2% cash back on all spending.
Few credit cards that offer that cash back rate without introducing complex bonus categories and spending limits. It's a simple credit card that can be rewarding for nearly anyone.
Discover
Discover offers four basic types of cards, student cards, secured cards, travel cards, and cash back cards.
Discover's student and cash back cards come in two forms. The Chrome card offers bonus cash back at restaurants and gas stations while the It card offers bonuses on rotating categories. Which card is better depends on where most of your spending occurs.
Discover offers only one travel card which rewards miles that can be redeemed towards travel purchases. Discover has no airline partners so redemptions are made towards charges that appear on your statement.
Discover's most noteworthy cards are:
Discover it
Discover it is a popular cash back credit card that provides 5% cash back on certain categories that change every 3 months.
Usually, these categories are very appropriate for the season. So, you'll have opportunities to earn more cash back.
The earnings can also stack with the Discover Deals online shopping portal, where you can earn another 5% to 20%.
Discover it Secured
Discover it Secured is one of the best secured credit cards because it has no annual fee and it comes with a cash back program -- two features that are rarely found with secured credit cards.
The card has some very beneficial features such as free FICO credit scores to help you make progress with your credit improvement.
Wells Fargo
Wells Fargo offers a wide range of credit cards, each of which serves a different purpose.
The bank's cash back cards offer bonuses in categories like gas, groceries, and drugstores.
Wells Fargo also offers rewards cards with points that are redeemable for merchandise and travel. They also have a student card and a secured card available for those looking to build their credit.
The main draw of Wells Fargo's cards is the "relationship bonus" offered on rewards cards. Depending on your balance with the bank you can earn a bonus of as much as 50% on all points you earn.
Oddly, we believe Wells Fargo's secured card stands out the most:
Wells Fargo Secured Visa
The Wells Fargo Secured Visa is a top secured credit card due to its high credit limit.
You can deposit up to $10,000 for a credit line of the same size. And, large credit lines tend to help people boost their credit scores. Wells Fargo also reviews the account regularly to see if you can graduate to an unsecured credit card.
Choosing the Right Bank for Your Credit Cards
In the end, choosing the right bank to apply for credit cards with comes down to what you want out of your cards.
If you just want the additional protections of using a credit card instead of a debit card, the easiest route would be to get a card from the bank you have your deposit accounts with.
If you're a heavy traveler, a travel card from Chase or Barclaycard is the way to go.
If getting the best perks and customer service is your goal, then apply for a card from American Express.
Having all of your credit cards with one bank does bring some convenience but don't be afraid to work with more than one card issuer.
If you need to get cards from two or three banks to optimize your ability to earn rewards or reduce interest costs, then you should get them.
Getting a credit card is a good way to start a relationship with a new bank which can lead to getting offers for new and better cards from them in the future.