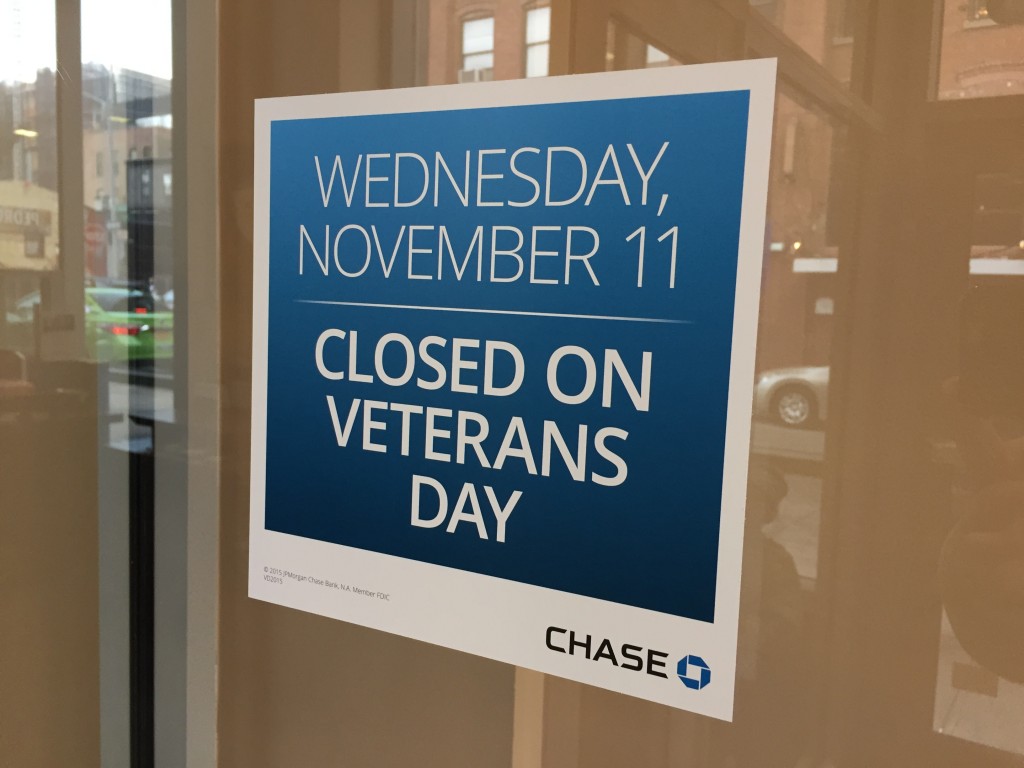 Veterans Day, formerly known as Armistice Day, was first celebrated as a U.S. legal holiday on November 11, 1918 to mark the end of World War I. That conflict, the war to "end all wars," ended on the 11th hour on the 11th day of the 11th month.
As Veterans Day 2015 is a federal holiday, many workers will enjoy a day off, and many banks will be closed as well.
Of the nation's 10 largest banks, Chase, Bank of America, Wells Fargo, Citibank, Capital One, and HSBC will be closed.
Meanwhile, TD Bank will be open for business, as will some branches of U. S. Bank. In addition, the supermarket branches of PNC and SunTrust will operate as usual (but hours may vary by location).
The New York Stock Exchange and the NASDAQ Stock Market will be open on Veterans Day. The U.S. bond market, however, will be closed.
Here is the holiday schedule for Veterans Day at the 10 largest banks in America:
Because of the differences in how various financial institutions observe Veterans Day and other major holidays throughout the year, it's always best to contact your individual institution for hours of operation. You can find your bank's customer service phone number and branch nearest you by looking up your bank on our search page.
Falling on a Wednesday in 2015, this year's Veterans Day holiday shouldn't prove too much of an inconvenience for customers, as all banks will be open on Tuesday, Nov. 10. Use this day for any business that can't wait until Thursday.
Other banking alternatives
If you have banking chores you can't put off until the normal banking schedule resumes on Thursday, no worries. You still have plenty of alternatives.
If you need cash, you can always head to your bank's nearest ATM. Your bank's online and mobile banking solutions should also be available to you. More than 51 percent of U.S. adults now bank online. The figure is even higher — 61 percent — among Internet users, so you won't be alone if you choose to transact business on Veterans Day.
You should note, however, that no banking transactions are processed on federal holidays. Transactions made on Veterans Day will generally not be processed until the next business day, which is Thursday, Nov. 12.
Other closings
While federal government offices, such as the U.S. Postal Service and Social Security Administration offices are closed on November 11, state and local governments, schools and non-governmental businesses are not required to close. Therefore, check ahead with these establishments for their Veterans Day schedules. That goes for using public transit as well, which may follow a regular or holiday schedule.
God Bless America
Cities and towns across the United States will express their gratitude for America's veterans in a variety of ways, but no celebration will be grander than the New York City Veterans Day Parade, whose theme this year is "Land of the Free / Home of the Brave," in honor of the 200th anniversary of the writing of the "Star Spangled Banner" (1814-2014).
Although the New York City Veterans Day Parade will celebrate the bicentennial of the Star Spangled Banner, it should be noted that Irving Berlin's "God Bless America," America's other anthem, debuted on the radio on November 10, 1938, the day before Veterans Day as part of a multi-day Veterans Day extravaganza. Kate Smith sang the song and made it her standard for the next half century.
There are about 19.6 million U.S. veterans. We join millions of Americans across the land in saluting our country's veterans.