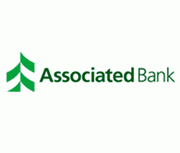 Associated Bank Locations in Your Area
Associated Bank has 226 branches in their region. This traditional brick and mortar bank is an established bank that has presence across at least one state, and most likely uses an ATM network, but we are not aware of it.
We found bank branches & ATMs within miles of . Here are the nearest locations:
We found bank branches & ATMs within miles of . Here are the nearest locations:
We could not find
Make sure your search is spelled correctly.
Try adding a city, state, or zip code.
Learn more about Associated Bank
Associated Bank was established December 1873. That's more than 100 years ago! It holds assets of 29 billion US dollars. This is considered a large bank that most likely serves a large portion of their region. A point to consider when choosing a bank is it's health. This bank appears to be healthy. It has a texas ratio of 12%. Lower is better!
Looking for an alternative to Associated Bank?
If you're looking for higher interest rates and lower fees, but are willing to give up the "walk-in" experience of a local branch, you may want to browse our curated selection of best online banks.
Associated Bank Branches Customer Reviews
Reviewed By Gregkirn

May 26, 2017

On Friday , May 26th I went into this branch to cash a check. The check was written on an account at the bank, but I was not an account holder at Associated. The teller directed me to a personal banker to have the check approved. That person was Leann Hassler, Senior Banker at the branch.

Instead of the runaround I was expecting, Leann was very cordial and took a few minutes to ask some simple questions. She quickly put me at ease and listened to my concerns regarding opening an account. An hour later I walked out completely situated and feeling terrific about the experience. She opened the accounts we decided would fit best and made the entire process completely pain free.

I've had numerous bank relationships in many different states and cities; but I've never been treated with more respect and willingness to actually help a situation than I was by Leann. Mine was a small check, but she treated me as though I was the biggest depositor of the bank. I cannot recommend this branch and especially Leann Hassler enough!

Thank you for your feedback

Is this review helpful?

Reviewed By nicolio

Oct 26, 2016

We have been customers for quite some time, and have good experiences with the ladies at our local branch- so we decided to give them a shot at our construct loan. We started the construction loan process with this junk bank in June. We had already spent months prior getting our bids and contracts together so that when we applied, we would have everything together they wanted. From the day we submitted the application and paperwork, hell ensued. Our mortgage rep and her "assistant" are inefficient and unknowledgable about their products, policies and services. I would wait days to sometimes week before hearing back from them on where we were with things like the appraisal, closing documents. They wouldn't answer my emails or phone calls, sometimes for a couple of days as well. They lied about where they were with things and when they requested things and I know this because they told me they ordered the appraisal and we'd have it back within 2-3 weeks. The appraiser called me over 1 month later to get information on my house as the bank never gave him the info AND he had just been given the order for it. So, been working on it since June- still no "firm" closing date. I get new loan estimate statements in the mail every day to every other, not sure why since I haven't changed anything. If it's not figured out within the next week- I'm going some where else that actually wants to earn my banking. I'm disgusted with how they have handled this process and can't wait to move all of my money somewhere else.

Thank you for your feedback

Is this review helpful?

Reviewed By La nub

Aug 7, 2015

This review is for the "higher up" personal of associated bank. Was with this bank for 30 years and it was called state financial. When associated took over, I learned that big banks are in it for themselves and all they were concerned with is finding new business, while neglecting the business they already had, my " personal banker" that was assigned to me for my commercial accounts is someone who only came around when she wanted things from me. She put my back against the wall in 2008 when the recession hit and had zero empathy, even though I had been with the bank at that time for 18 years. I have found a new bank,,, a nice small community bank. They are backing me with what ever I need to continue to grow, the point is this: ASSOCIATED BANK. Is Big Banking with a personal banker in the commercial end with the compassion of a toad, do yourself a favor a find a nice local bank in your community and you will be treated with the respect that you deserve,

Thank you for your feedback

Is this review helpful?