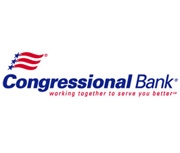 Congressional Bank Locations in Your Area
Congressional Bank has 7 branches in their local area. This traditional brick and mortar bank is a community bank that has expanded to multiple locations, and most likely has ATM locations.
We found bank branches & ATMs within miles of . Here are the nearest locations:
We found bank branches & ATMs within miles of . Here are the nearest locations:
We could not find
Make sure your search is spelled correctly.
Try adding a city, state, or zip code.
Learn more about Congressional Bank
Congressional Bank was established October 2003. It holds assets of 856 million US dollars. This is considered a small bank. A point to consider when choosing a bank is it's health. This bank appears to be healthy. It has a texas ratio of 20%. Lower is better!
Looking for an alternative to Congressional Bank?
If you're looking for higher interest rates and lower fees, but are willing to give up the "walk-in" experience of a local branch, you may want to browse our curated selection of best online banks.
Congressional Bank Branches Customer Reviews
Reviewed By LongtermCustomer

Jul 12, 2016

I have been a customer of Congressional Bank for years and every interaction I had with my branch in Cabin John was excellent. Raji and Alec are very amiable and knowledgeable. They always greet me when I enter and ask me how my day was. Though this experience may seem like a small part of the role of a bank, it actually makes a major positive impact on my banking experience. Congressional Bank staff have the ability to create a close relationship with their customers and emulate a traditional and exceptional experience. Great Job!

Thank you for your feedback

Is this review helpful?

Reviewed By samtheman

Dec 11, 2014

Congressional Bank recently offered a very high CD rate and posted it on Bankrate.com. I attempted to complete their internet application process and received an error message , necessitating me to contact the bank. I telephoned the internet banking department several times and was always transferred to voicemail. Finally, 27 hours after my first voicemail message, a bank representative called me back. The representative apologized for the call delay and stated that they were overwhelmed with work as a result of the response to the bankrate.com account offering.
I believe that their response to my telephone call was not timely and not acceptable. I have had numerous contacts with banks, both large and small, across the country and their service has generally been excellent. I believe that Congressional Bank should have known that a high bank account rate posting on bankrate.com would result in greatly increased business, and they should have adequately prepared and staffed their internet banking department.
In conclusion, this was my sole experience with Congressional Bank. It is possible that they may have learned from their bankrate.com experience and may potentially devote adequate future staffing to the internet banking department------only time will tell !
Note: this is the first time I have ever written a poor customer review on a company.

Thank you for your feedback

Is this review helpful?