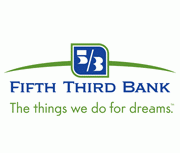 Fifth Third Bank Locations in Your Area
Fifth Third Bank has 1,210 branches nationally across the country. This traditional brick and mortar bank is a large bank that services an entire region in the country, and has ATM locations, but we are not currently tracking them.
We found bank branches & ATMs within miles of . Here are the nearest locations:
We found bank branches & ATMs within miles of . Here are the nearest locations:
We could not find
Make sure your search is spelled correctly.
Try adding a city, state, or zip code.
Learn more about Fifth Third Bank
Fifth Third Bank was established December 1864. That's more than 150 years ago! It holds assets of 138 billion US dollars. This is considered a large national bank that most likely serves a large portion of the country. A point to consider when choosing a bank is it's health. This bank appears to be healthy. It has a texas ratio of 5%. Lower is better!
Looking for an alternative to Fifth Third Bank?
If you're looking for higher interest rates and lower fees, but are willing to give up the "walk-in" experience of a local branch, you may want to browse our curated selection of best online banks.
Fifth Third Bank Branches Customer Reviews
Reviewed By DAVIDSHAWCLT

May 24, 2017

Poor Customer Service! This bank came to my job's function to target the employees. They asked to run our credit to see how they can help us buy a home, manage debt and etc. After running my credit they didn't have any advice nor did they give any tools to accomplishing my goals. They only ran my credit to see what product they could sell me. The banker Toyia Vaughn that took my information to open an account NEVER called me to let me know if the account was approved or denied. After a week I called her and she lied and said that she tried to call me. The account was denied and there was NO Adverse Action notice sent. This whole experience was a waste of time and if they really cared about helping their customers than I would have received at least some tools to help me achieve my goals. The bankers ONLY care about meeting their sales numbers. DO NOT BANK WITH THEM!! THEY'RE JUST LIKE WELLS FARGO; THEY'RE ONLY CONCERNED ABOUT MEETING SALES METRICS.

Thank you for your feedback

Is this review helpful?

Reviewed By rexandcoca

May 24, 2017

In 2004 financed a 2000 dodge pick-up truck with 5th 3rd Bank, and paid off in full, but never used their services again. Then 2017 decided to purchase new farm tractor through Impact Bank using pick-up truck as collateral but discovered that 5th 3rd Bank still had a lien on the truck - so on May 18 returned to 5th 3rd and met with a 5th 3rd Bank representative in an attempt to have the lien removed. The representative was unable to locate any information in their system regarding my previous 2004 loan with them, so they filled out the on-line form and informed me they have 3 business to respond, and then will take up to 10 business days to receive a release in the mail. Was informed by the representative this must be an occurring problem because they have a procedure for dealing with it. Well as of May 24 have heard nothing from 5th 3rd Bank, so I called the same branch to speak with the same representative, but they weren't in and was informed I would have to leave voice mail message. Now I remember why I never financed anything with them again.

Thank you for your feedback

Is this review helpful?

Reviewed By bhamill12

May 19, 2017

This bank purchased my mortgage from another institution over a month ago and is yet to produce a statement. I have already paid a payment and have requested a statement several times. Now they ignore my inquiries. They told me today that they haven't yet received the loan information from my previous lender yet they are receiving payments from me... Seems wrong.. very odd outfit. Wish my mortgage was not sold to them. They are irresponsible.

Thank you for your feedback

Is this review helpful?