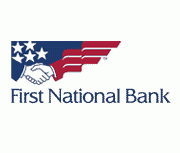 First National Bank Locations in Your Area
First National Bank has 436 branches in their region. This traditional brick and mortar bank is an established bank that has presence across at least one state, and most likely uses an ATM network, but we are not aware of it.
We found bank branches & ATMs within miles of . Here are the nearest locations:
We found bank branches & ATMs within miles of . Here are the nearest locations:
We could not find
Make sure your search is spelled correctly.
Try adding a city, state, or zip code.
Learn more about First National Bank
First National Bank was established February 1864. That's more than 150 years ago! It holds assets of 21.7 billion US dollars. This is considered a large bank that most likely serves a large portion of their region. A point to consider when choosing a bank is it's health. This bank appears to be healthy. It has a texas ratio of 9%. Lower is better!
Looking for an alternative to First National Bank?
If you're looking for higher interest rates and lower fees, but are willing to give up the "walk-in" experience of a local branch, you may want to browse our curated selection of best online banks.
First National Bank Branches Customer Reviews
Reviewed By Astevens93

Aug 25, 2016

This is a great bank! When I walk in, the teller and manager, Kia and Rick, always address me by name, hey how are you doing, etc. it's nice to finally have a bank that is so personal and I've been with a few. I would definitely recommend this bank. They do have a drive through and they are open til 5. I've been to the Catonsville one too and it was just as consistent.

Thank you for your feedback

Is this review helpful?

Reviewed By lisa1456

Aug 1, 2016

I have been unhappy with first national Bank now the Exeter Pa Branch on Perkiomon Ave In Exeter PA 19606 has closed the public restrooms to its customers. I stopped at that branch today and Leann the Branch Manager was in the ladies room when I knocked on the door she opened the door to tell me even thou myself and three grown children have over six accountants at this bank with thousands of dollars in this bank that this bank uses of my money everyday I CAN NOT USE THE PUBLIC RESTROOMS ANYMORE! What a disgrace what is the country coming to when a bank has your money and you cant use the bathroom. I have banked at this branch since 2003 back when it was commerce bank then metro. Another lady said they closed the bathroom because people stole the soap if a bank can not afford a bar soap they better close the door.

Thank you for your feedback

Is this review helpful?

Reviewed By ScottB

Jul 21, 2016

I opened my business back in 7/2014. I used Metro Bank because they were friendly and had low fees. A year later I hear they sold to FNB. What a nightmare. First thing they decided to switch over during a holiday weekend, President's Day. My family and I had a trip planned to NYC for the holiday weekend. Found out we would not have access to our money from Friday 5PM until Tuesday morning. I couldn't use my debit card. I was completely in the dark over the weekend. Had no way to access MY MONEY. That was just the beginning. I do a lot of bank wire transactions for a good chunk of money. My bank fees went up from average $180/mth to over $300/mth. I also had an overdraft situation and tried to have the fee rescinded because it was the first time it happened. Customer service said there was no way to rescind and I could have a manager call me back. I asked for manager to call me back. Manager called me back four days later. BANK WITH THIS COMPANY AT YOUR OWN RISK! Can't believe that they are actually still buying banks. I went with another bank that has a presence along the east coast, best decision I ever made.

Thank you for your feedback

Is this review helpful?