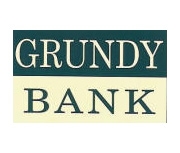 Grundy Bank Locations in Your Area
Grundy Bank has 3 branches in their local area. This traditional brick and mortar bank is a community bank that focuses on local business, and can service the local population, and most likely has ATM locations.
We found bank branches & ATMs within miles of . Here are the nearest locations:
We found bank branches & ATMs within miles of . Here are the nearest locations:
We could not find
Make sure your search is spelled correctly.
Try adding a city, state, or zip code.
Learn more about Grundy Bank
Grundy Bank was established September 1864. That's more than 150 years ago! It holds assets of 266 million US dollars. This is considered a small bank. A point to consider when choosing a bank is it's health. This bank appears to be healthy. It has a texas ratio of 6%. Lower is better!
Looking for an alternative to Grundy Bank?
If you're looking for higher interest rates and lower fees, but are willing to give up the "walk-in" experience of a local branch, you may want to browse our curated selection of best online banks.
Grundy Bank Branches Customer Reviews
Reviewed By Andy

Jul 11, 2012

They screw up bank statements on a monthly basis. They lied to me when I was laid off work and needed some help with my payment. They claimed Freddy Mac wouldn't work with me untill I got behind, We did just that. 1 yr later I was called by a freddy Mac person wanting to know why we fell so far behind in the payments. I informed them of the story I got from Paul at Grundy Bank and they said NO THAT WAS NOT TRUE!!! They offered to help us in the begining and the bank didn't want to help becouse their payout would be less. We were able to get back into our house with the help of Freddy Mac, Even with Grundy dragging their feet. I am in the process of moving all my accounts out of this bank....Soon will be my house payment, I don't care if I get a Higher intrest rate I WANT OUT!!!!

Thank you for your feedback

Is this review helpful?