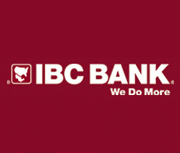 IBC Bank Locations in Your Area
IBC Bank has 132 branches in their region. This traditional brick and mortar bank is an established bank that has presence across at least one state, and most likely has ATM locations.
We found bank branches & ATMs within miles of . Here are the nearest locations:
We found bank branches & ATMs within miles of . Here are the nearest locations:
We could not find
Make sure your search is spelled correctly.
Try adding a city, state, or zip code.
Learn more about IBC Bank
IBC Bank was established September 1966. That's more than 50 years ago! It holds assets of 8.36 billion US dollars. That makes it a regional bank that most likely covers their local population well. A point to consider when choosing a bank is it's health. This bank appears to be healthy. It has a texas ratio of 4%. Lower is better!
Looking for an alternative to IBC Bank?
If you're looking for higher interest rates and lower fees, but are willing to give up the "walk-in" experience of a local branch, you may want to browse our curated selection of best online banks.
IBC Bank Branches Customer Reviews
Reviewed By Lkgreenhouse

Jul 12, 2017

I opted out of overdraft protection and while on vacation in Florida, someone used my card in Texas and made 3 $100 purchases at a corner store. Mind you I didn't have that amount of money in my account so the transactions should have declined. I called to file a claim and was told it takes 10 business days for me to receive a credit. The agent was very rude and inconsiderate. I also have to go into the bank to get my card replaced and there are no banks close to me. I will be canceling this account as soon as I receive my money.

Thank you for your feedback

Is this review helpful?

Reviewed By renyap

Jun 14, 2017

IBC has a practice that should be changed. We had two checking accounts established in the early eightys which had become dormant. We stopped getting statements in January 2016. Since my wife and I both open mail and the accounts were both dormant, neither of us noticed the statements had stopped. In January 2017 we received a final statement on each account showing a monthly $5.00 service charge. The service charges started in January 2016 on one account and in July 2016 on the other. The monthly fees continued until the account balances were zero. Upon receiving the final statements in 2017, I contacted the bank where we did business. To make a long story short I had twelve conversations with numerous employees about reimbursements for all or some of the money. Our complaint went all the way to Bob Shepherd, the manager of the Oklahoma IBC banks. He declined to do anything. I have no problem with IBC charging a service charge on dormant accounts. What irritates me is after all the years of no charges they suddenly start them and purposely kept it from us by stopping the statements. I'm sure this may have happened to hundreds of other account holders.

Thank you for your feedback

Is this review helpful?

Reviewed By Macbob

May 26, 2017

Setup online banking and was a nightmare. Each and every time when trying to access account online, IBC blocks access and demands to verify security access code which they then call you, you have to enter 1, then write down code, go back to online account, enter code, then maybe can see/review your account. Why necessary every time even when you have a valid id and password? Called them for assistance and not much help other than say, oh, you need to register each and every device ( laptops, tablets, phones, etc) with them or you get blocked out from accessing your bank account. No other bank requires that. Even when can access account online, website is confusing. * Find another bank, any bank, just not IBC.

Thank you for your feedback

Is this review helpful?