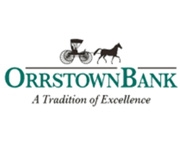 Orrstown Bank Locations in Your Area
Orrstown Bank has 24 branches in their local area. This traditional brick and mortar bank is a growing regional bank that can provide for many more customers, and most likely has ATM locations.
We found bank branches & ATMs within miles of . Here are the nearest locations:
We found bank branches & ATMs within miles of . Here are the nearest locations:
We could not find
Make sure your search is spelled correctly.
Try adding a city, state, or zip code.
Learn more about Orrstown Bank
Orrstown Bank was established April 1919. That's more than 50 years ago! It holds assets of 1.45 billion US dollars. That makes it a regional bank that most likely covers their local population well. A point to consider when choosing a bank is it's health. This bank appears to be healthy. It has a texas ratio of 10%. Lower is better!
Looking for an alternative to Orrstown Bank?
If you're looking for higher interest rates and lower fees, but are willing to give up the "walk-in" experience of a local branch, you may want to browse our curated selection of best online banks.
Orrstown Bank Branches Customer Reviews
Reviewed By outwiththeold

Dec 2, 2014

This bank twists everything to make it seem like your fault. Processed a transfer on Sunday to another account. Right away my checking account showed a debit... but they told me it didn't process until the following Tuesday. The accounts were both at Orrstown. Its caused me overdrafts, that they refuse to backout and they refuse to reverse my mortgage payment that shouldn't have been taken out.

Thank you for your feedback

Is this review helpful?

Reviewed By hllndbsck12

May 15, 2014

Worst bank I have ever dealt with. I was a victim of a fraudulent check. I didn't know it was fraudulent, I cashed it. when I found out it was fraudulent I called immediately and was told it would be all right it would be taken care of. I got charged $14 for the check witch caused one of my checks to bounce so I was then charged another $37 for that. The branch manager in Greencastle (Rachel) forwarded the case to the security department who told me the $14 fee would be returned, but she wasn't sure the $37 fee would be returned. If the $14 fee had not been taken out I would not have been $2 short on my car payment or had the additional $37 fee added to my account.

I closed the account and will post to every review site about the poor customer service, and rude employees as well as their unwillingness to help out a customer of 5 years. I made the call to the owner of the check, I made the call to the bank, and yet I still got the charge. Very upset, and will never recommend Orrstown to another person ever again. I have already told everyone about my experience. I should have $3 and some change in the account instead it showed -$47 and some change. My charges totaled $51 and yet they were not my fault. The check was remote deposited one evening and the next day as soon as the branch opened at 8am I called to tell them. I didn't wait for a phone call to tell me, I didn't keep my mouth shut, I contacted the owner of the check, and yet I got charges. I brought people to this bank. it use to be a good bank but now I trust my daughters piggy bank in a bad neighborhood that gets broken into often better than I do Orrstown Bank.

The customer service was horrible. I spoke to 4 different people within one day over the same matter and when I talked to Rachel the 2nd time she was very rude, and said quote "I will be happy to close your account with us today I can cut off your cards and close your account" Shouldn't they want to keep customers?

Thank you for your feedback

Is this review helpful?