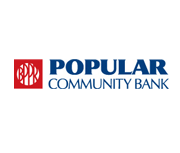 Popular Community Bank Locations in Your Area
Popular Community Bank has 51 branches in their region. This traditional brick and mortar bank is a growing regional bank that can provide for many more customers, and most likely has ATM locations.
We found bank branches & ATMs within miles of . Here are the nearest locations:
We found bank branches & ATMs within miles of . Here are the nearest locations:
We could not find
Make sure your search is spelled correctly.
Try adding a city, state, or zip code.
Learn more about Popular Community Bank
Popular Community Bank was established January 1999. It holds assets of 8.83 billion US dollars. That makes it a regional bank that most likely covers their local population well. A point to consider when choosing a bank is it's health. This bank appears to be healthy. It has a texas ratio of 7%. Lower is better!
Looking for an alternative to Popular Community Bank?
If you're looking for higher interest rates and lower fees, but are willing to give up the "walk-in" experience of a local branch, you may want to browse our curated selection of best online banks.
Popular Community Bank Branches Customer Reviews
Reviewed By Yyy

Nov 19, 2016

MADE $209 CHECK ATM DEPOSIT ONE OF THE POPULAR BANK BRANCHES ON 11/14/2016. THE CHECK USED WAS FROM MY OTHER CKECKING ACCOUNT FROM CHASE BANK. I HAVE CALLED POPULAR BANK 4 DIFFERENT TIMES TO INQUIRE ABOUT THE STATUS OF MY DEPOSIT BECAUSE IT DOES NOT SHOW IN MY BANK STATATEMENT. EVERYTIME I CALLED TNE BANK SAID CHECK WAS PENDING ANS DID NOT GIVE ME A REASON WHY IT IS TAKING SO MANY DAYS TO CLEAR. TODAY, I SPOKE WITH ISRAEL ( PHONE CALL, SUPERVISOR) WHO SAID THAT I HAVE TO GO TO A BRANCH IN PERSON BECAUSE THEY HAD ISSUES WITH THE ATM THE DAY I MADE THE DEPOSIT. I TOLD HIM I CAN NOT MISS WORK TO GO TO THE BANK BECAUSE THEY ONLY WORK MONDAY-FRIDAY, SATURDAYS AND SUNDAYS CLOSED AND THE NEAREST BRANCH LOCATION IS OVER 10 MILES FROM ME. ISRAEL TOLD ME THAT I HAVE TO SUBMITT A CLAIM THAT WILL TAKE UP TO 45 DAYS TO PROCESS. THE BANK IS RESPONSIBLE FOR ALL THIS MESS AND SHOULD EXPEDITE THE SERVICE. THE BANK HAS MY CHECK SITTING THERE WITHOUT NOTIFYING ME OF THE PROBLEM AND MAKING ME WASTE TIME CALLING IN DIFFERENT OCASSIONS. I WANT SOME AGENCY TO DO SOMETHING ABOUT THIS ISSUES. SOMEONE HAS TO TAKE RESPONSIBILITY AND DO SOMETHING. THE BANK SHOULD BE FINED OR CLOSED

Thank you for your feedback

Is this review helpful?

Reviewed By Localboy58

Feb 8, 2016

In 2012 I opened a checking account. They told me I could use the ATM to deposit . Once I return which was two hours from the location. I try to deposit and then work on ATM. I called the 800 number they told me that were I lived I was not able to deposit and ATMs. I left my account as it was since I was not going to drive 2 hours to make a deposit. I think it was a year and a half I noticed that $5 were taken out of my account every month. I called and they told me that my account was dormant and that was the reason why $5 were being taken out every month. I called to try to get it activated but they said that I would have to fill out some forms and send a picture of my ID to them in order to get it active again. So by the time I got the papers the $5 were still being taken out of my account. I finally received the papers fill them out and send it to them. 2 months went by and still the $5 were being taken out of my account. I called the bank to see what happens and they said they never received the papers and that I will have to fill out the papers again so they can activate it. After fussing back and forth on the phone with them they were going to send me the papers again. A month later I received a call from a manager that they were going to activate my account. I had not received the papers yet. But my account was active now. I went to my other bank to set up a transfer to send money to that account to keep it active. I registered online and waited for it to be activated. It said 3 days. After two weeks that I was not able to log in the account I called for help. First person looked into the problem but cannot figure it out. I registered again online and again called to get it activated. The second person help me took a while before he noticed that they had use my middle name as my last name. That I would have to go to the branch and fix it cuz they cannot do it online. So I didn't go to work because I was so frustrated and wanted to get this corrected and over with and not have to deal with these issues anymore with this bank. So I arrived at the branch and there was no sympathy for all the problems I went through. Explains all the situation to the banker. She looks into my account and tells me she could not fix my online account. She kept saying that my last name was xxxx on my driver's license. My license has my first name my middle name and my last name she kept pointing towards the middle please my last name is the last one. She told me she cannot fix my online banking. So I told her, I cannot deal with all these problems continuing So let's close the account. Her response was, you can close it with the teller. I said okay. Since you can't fix it - just close it. She stopped and told me but listen since you came all the way down here which is a 2 hour drive - will try to fix it. She end up fixing my online account. I just wonder why she didn't fix it the first time. So since I've opened up this account I have lost money on it the fees they took out which not even half were we deposited to my account. I also lost one whole day of pay having to go to the bank. My account is only open because I need the location in another country of the same bank but once I can find another bank that serves that country I will definitely close my account. Never again! I put one star because there was no option to put none.

Thank you for your feedback

Is this review helpful?

Reviewed By jyuanlim168

Feb 1, 2016

We have a LOC account, then later it got sold to Popular. We always have great experiences with them, and we are happy. Today, I tried to order checks related to this LOC account. The experience is out of this world! As the owner of the account, I can not have necessary routing number to order my checks from other reputable check printing company. I must and require to only order the checks thru them. On top of it, I also can't find out the price prior to order the check. I must order the check and let them charge to me is the only way for me to obtain any checks. This is process they have for obtaining any checks to withdraw any money from my LOC account. I have the whole conversation on recording. To make the matter worse, I am trying to take money out to give to family friends who are dying of cancer. The bank told me that they can't help me because I must call back tomorrow. It is all around bad, Bad and BAD!! Stay away from this bank if you don't want to take it for a ride!

Thank you for your feedback

Is this review helpful?