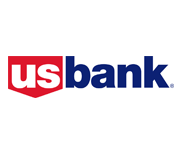 U.S. Bank Locations in Your Area
U.S. Bank has 3,169 branches nationally across the country. This traditional brick and mortar bank is a national bank that serves the entire country, and has ATM locations, but we are not currently tracking them.
We found bank branches & ATMs within miles of . Here are the nearest locations:
We found bank branches & ATMs within miles of . Here are the nearest locations:
We could not find
Make sure your search is spelled correctly.
Try adding a city, state, or zip code.
Learn more about U.S. Bank
U.S. Bank was established July 1863. That's more than 150 years ago! It holds assets of 443 billion US dollars. That makes it a very large bank. The biggest of the national banks. A point to consider when choosing a bank is it's health. This bank appears to be healthy. It has a texas ratio of 6%. Lower is better!
Looking for an alternative to U.S. Bank?
If you're looking for higher interest rates and lower fees, but are willing to give up the "walk-in" experience of a local branch, you may want to browse our curated selection of best online banks.
U.S. Bank Branches Customer Reviews
Reviewed By reginey

Aug 16, 2017

US Bank has no intention to lend any money. They are just to tease you as they are so disorganized and chaotic that they don't know where your files or documents are /were/will be and therefore you will never get your loan. You are just wasting your time like I did for the last 8 weeks for a lousy HELOC!

Thank you for your feedback

Is this review helpful?

Reviewed By JodyLilly

Aug 16, 2017

Was required by my retirement investment company to get a Medallion Signature Guarantee from my local US Bank, to wire transfer retirement funds to my checking account with US Bank in Circleville. Went directly to this bank and sat before the branch manager and she had signed the paperwork and put the banks Medallion Sig. Guarantee on it, as well as made copies of it for their files. I then overnighted that bank paperwork to my investment company as required. A total of 253K was being wired to my account with US Bank, in 3 separate wire transfers from my investment company, and US Bank gave their banks Medallion Sig. Guar. to allow it to be wired into my account with them. One day before the funds hit the account, I had called US Bank, to discuss options to move some of these funds back out of US Bank, once the 3 wired amounts, totaling 253K had arrived to US Bank. I was given nothing but mega questions and argument, when I wanted to then move these funds from US Bank to pay off major bills. They agreed for the 3 wires totaling 253K to come into their bank, but then when I asked to take it out, they refused. They then rejected the wired funds from coming in, that we'd just set up, plus they also canceled my checking account with them and mailed me a bank check for the $1,715, I'd had in my checking acct. with them. When rejecting those wires and sending them back to my investment company, they'd charged $50 per rejected wire for a total of $150. They did NOT tell me they were going to charge me $50 per rejected wire, nor gave me any options to pay this out of my checking acct. with them. They actually took this $150, DIRECTLY from my retirement funds that I was wiring to them! Didn't even cost anywhere near $150 from my investment company to wire the funds TO US Bank initially! US Bank had now changed the balance of my retirement funds that were being rejected and sent back to my investment company. To be in the right, they should NEVER have wasted my time in bringing them my investment paperwork for a Medallion Signature Guarantee, and even allow the initial wires totaling 253K to even come into their bank, only to reject the incoming funds and then deceitfully take $150 out of it, to wire them back. WHAT is wrong with this bank? They wanted my 253K in their bank, then when they found out I was NOT going to be leaving it in their bank, they rejected the wired funds, and deceitfully charged $150 to wire them back AND canceled my checking account to boot! What kind of banking business is this? I would NEVER recommend US Bank to have anything to do with your money. They are all happy when money is coming into their bank, but do NOT want you taking it out, as they believe you are involved in a scam when you want YOUR MONEY. They will refuse your wire transfer of money, IF they know you have plans to withdrawal it. US Bank is very deceitful in their methods and reasons to have done this. They believe they are doing good business and saving their bank customers from scams? US Bank is who is scamming, and everyone needs to be watching out for this, if you ever try to move major money into your checking acct at US Bank. They made $150 bucks off my retirement funds, deceitfully...that's a scam! Cheap, deceitful little town, can't move major money, even though it's legitimately yours to move. I'm so angry and outraged at what they've done with this entire process. IF, I didn't have plans for these investment funds already, I would start litigation with US Bank for their deceptive banking procedures, just for the principle of it all.

Thank you for your feedback

Is this review helpful?

Reviewed By Barth1226

Aug 9, 2017

Due to an oversight on my end (yes I acknowledge i made a mistake) a PENDING authorization on my account was going to put my account into the negative on 8/8/2017. I immediately made a deposit to correct the issue and everything was corrected, my account was brought into the positive. However, I was also charged 2 overdraft fees on 8/8 for transactions that did not make my account negative. At the end of the business day 8/7, my balance was $65.89. But on 8/8 I was charged 2 overdraft fees! Then, my pending authorization posted to my account on 8/8 and on 8/9 I was charged an overdraft fee for that, but if the first 2 overdraft fees that I was charged in error never happened then my account would actually still be in the positive! I immediately called the Delaware Kroger branch and talked to Anthony who listened to everything, looked up my account, and agreed that there was a problem. He went to get his manager, Tina, because he does not authority to give overdraft fee refunds and she was very rude, condescending, refused to listen to the whole problem, and refused to refund any of the fees except 1 "courtesy refund." I was charged a total of $108 I fees all because of something that was not even posted to my account yet! You cannot charge a fee based an authorizations that are pending. Authorizations can change, or even drop off and never even post to the account. For example, if I place an order online the retailer will put an authorization on my card, but if I cancel the order, they will never actually charge the card, but the authorization will still show on my account until a few days pass and the authorization drops off. By the manger's logic, I can be charged overdraft fees while that authorization is showing on my account even though it never actually posts to my account and finally deducts the funds. After getting basically nowhere with the branch manager, I called your customer service number and the man I spoke to said his manager would be giving me a call back today, but I never heard back from anyone. I do not have time to deal with this, but I need my hard earned money back from these ridiculous fees that were charged to my account and for no reason. I am a responsible adult and fully admit to my mistakes, if this had been my fault and my account really fell into the negative with the posted transactions I would take responsibility for this, but it is not my fault, the fees should have never been charged, and awful customer service I have received is ridiculous. I have already made a Better Business Bureau complaint and will be filing a complaint with the FTC tomorrow as well. I can only imagine how many people this bank has scammed from its customers based on this logic and you should be made to pay all of it back. I will also be closing this account on Friday, as soon as the branch closest to me opens in the morning, I will be withdrawing my paycheck from my account and closing my account. Can't wait to wipe my hands clean of this banking institution!

Thank you for your feedback

Is this review helpful?