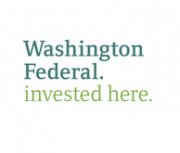 Washington Federal Locations in Your Area
Washington Federal Bank has 237 branches in their region. This traditional brick and mortar bank is an established bank that has presence across at least one state, and most likely uses an ATM network, but we are not aware of it.
We found bank branches & ATMs within miles of . Here are the nearest locations:
We found bank branches & ATMs within miles of . Here are the nearest locations:
We could not find
Make sure your search is spelled correctly.
Try adding a city, state, or zip code.
Learn more about Washington Federal
Washington Federal Bank was established December 1916. That's more than 100 years ago! It holds assets of 15 billion US dollars. This is considered a large bank that most likely serves a large portion of their region. A point to consider when choosing a bank is it's health. This bank appears to be healthy. It has a texas ratio of 5%. Lower is better!
Looking for an alternative to Washington Federal?
If you're looking for higher interest rates and lower fees, but are willing to give up the "walk-in" experience of a local branch, you may want to browse our curated selection of best online banks.
Washington Federal Branches Customer Reviews
Reviewed By alzang

Aug 3, 2017

I had been working with Maureen Sprague at the Everett office on Evergreen for most of the year. I found a home and wanted to get an updated pre approval letter for this house. I contacted her on Thursday 7/25. She said she had been transferred to another department and could no longer work on my account. She gave me the contact information for Felipe at the Murphy's Corner branch. Felipe told me that day to send him my current bank statements and send them to his assistant Sandi as he was going on vacation the next day. He said it would be cleared through underwriting by Monday 7/31 or Tuesday 8/1. That night I sent the documents to he and Sandi. Sandi said my file was sent to underwriting Friday morning 7/26. Monday and Tuesday came and no word from underwriting. Wednesday 8/2 Felipe was back from vacation. He called underwriting in the afternoon. He told me at 3 pm that even though underwriting had the file on Friday it wasn't assigned to a processor until Wednesday afternoon!!!!! In the meantime I'm needing to get the letter so I can send in my offer on the house. This afternoon, Thursday 8/3 I finally got the letter!!! Unfortunately the house was not available!!! I contacted Caliber Home Loans this morning 8/3. My agent had an approval letter by this afternoon! But like I said I didn't get the house I wanted. I am going to tell everyone not to go to Washington Federal for a home loan. Go to Caliber Home Loans.

Thank you for your feedback

Is this review helpful?

Reviewed By CWJ

Jan 12, 2017

Misapplied payments, un-applied payments, horrific computer system, incompetent employees, dishonest culture. One star is highly overrated.

Thank you for your feedback

Is this review helpful?

Reviewed By mrlieu

Nov 8, 2016

I have been banking with Washington Federal since January of 2016 and I am a very satisfied customer. Most the issues mentioned on the other reviews regarding online banking have since been addressed. As long as you remember the requirements of the password and security questions you should have no issues logging in. The interface is easy to navigate around and provides sufficient information. What many people overlook is the very handy Money Sync application that is built right into the online banking experience. It tracks your spending and allows you to set both short term and long term goals for your financial needs. It allows you to also link banks that you transact at other institutions and provides a overall status of your financial situation. The automated ATM's are very useful for depositing cash and checks, the standard 2 day hold on the check does not bother me, and the system will give you the first $200.00's first there are certain regulations that I have noted in the banking industry that affects what's available to the depositor, judging a bank based on government regulated policies shows lack of knowledge by the common street client. Washington Federal is part of the Money Pass Network, so during my vacation in Los Angeles, I was able to withdraw funds from an US Bank without having to pay a service charge fee. The mobile online banking app allows you to deposit checks at your convenience. My in branch experience at a few branches were pleasant, I have been to the Everett Branch, Lynnwood, Downtown Seattle, and Marysville branches on my days off and I have always been treated well by the employees there. One needs to realize, at least in the customer service sector, that there are noticeable turnovers of employees, especially tellers, I am reviewing Washington Federal based on my personal experiences and encounters with employees at the branches I mentioned above, from what I saw, the information provided and the services administered is within line with other banks in the area that I also bank with. The branches are well laid out according to their floor plans and signs are easy to read and interpret. Currently I have the Simple Checking account which requires no minimum balance and no monthly service fees, I also have the Statement Savings that requires just $100.00 to avoid the monthly service charge which makes sense, why would you have a Savings account in the first place if you're going to keep that little in there? I have also compared the current CD rates at the time of this review and they are very competitive to many of the local banks in the area. I received paper statements in the mail at first but I have since switched them over to E-Statements so I can view them during my downtime. This bank offers many if not all of the modern features of the bigger banks. The Client Care Center is very helpful when I need to increase the ATM withdraw limits on the weekends, there are times that I have waited for a few minutes but that is expected with any call center support line. Over all my experience with Washington Federal has been very positive, many of the critical reviews I see here are just frustrated people that blame the online banking system for being difficult to login to , but in reality these measures are placed for the security of our accounts. I would highly recommend Washington Federal for anyone that enjoys banking with a local to medium sized bank with minimal fees, fair CD rates, excellent customer service, and good online and mobile banking tools.

Thank you for your feedback

Is this review helpful?