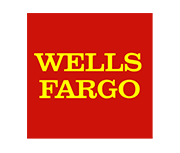 Wells Fargo Locations in Your Area
Wells Fargo Bank has 6,171 branches nationally across the country. This traditional brick and mortar bank is a national bank that serves the entire country, and has ATM locations, but we are not currently tracking them.
We found bank branches & ATMs within miles of . Here are the nearest locations:
We found bank branches & ATMs within miles of . Here are the nearest locations:
We could not find
Make sure your search is spelled correctly.
Try adding a city, state, or zip code.
Learn more about Wells Fargo
Wells Fargo Bank was established December 1869. That's more than 100 years ago! It holds assets of 1.75 trillion US dollars. That makes it a very large bank. The biggest of the national banks. A point to consider when choosing a bank is it's health. This bank appears to be healthy. It has a texas ratio of 10%. Lower is better!
Looking for an alternative to Wells Fargo?
If you're looking for higher interest rates and lower fees, but are willing to give up the "walk-in" experience of a local branch, you may want to browse our curated selection of best online banks.
Wells Fargo Branches Customer Reviews
Reviewed By ammu

May 26, 2017

A year ago, i went to buy furniture at BOBs and they applied for a preapproved loan, which ended up being Wells Fargo. At that point, i was under the assumption that i would be charged 28% on my outstanding balance, but what i did not know is that i would be charge 28% on the loan i took but, not on the outstanding balance a year after.

A year after, that is on May 2017, the outstanding balance was 300$. To my surprise, i ended up being charged 340$, way more than the outstanding balance. On reaching out to the customer care, I was forwarded to Michelle , supervisor at the wells fargo. She blamed me for not being cognizant of the 28% charge on the loan amount. On asking her if she could waive off the 340$ if i paid off the full 300$ right at the moment, she refused to do so, stating that i should have reached out to them 20days prior and they would have done something about it.

She waived off 50.99$ of the charge after i paid off the rest 340+300-50.99. I had her close my account immediately.

Stay away from anything to do with wells fargo. They definitely, will not put the customer's satisfaction or to offer a better service.

Thank you for your feedback

Is this review helpful?

Reviewed By bajangaamad

May 23, 2017

two days ago I've received my bob's furniture's statement through wells Fargo bank. i knew that my special term is going to end this month and I've been paying extra $$$$$$$ to end this account within one year. however, we returned the sofa after few months because of defect and exchanged with another pricey one with extra $$$$$$$ on my account. to my surprise bank charged me $348 as interest. I've called the customer service who dragged me through banking terms and banking rules as well as my singed contract. i kept asking that where they put how my monthly fee has been split into what accounts. finally, after 45 minutes long call manager informed me with strings that she would drop $87 only if i paid the whole amount of over $1500 within two days. it should be over the next year. i was very upset, not pleased for having the feeling of being ripped off by this bank.

Thank you for your feedback

Is this review helpful?

Reviewed By Kburns

May 17, 2017

The fact that there are so many bad reviews and nothing has been done is crazy. I am sitting in the drive thru waiting because the lady is too busy talking to someone else to let me get my deposit receipt and go back to work. When i ask how the teller how she is, she responds good and goes back to making me wait an extra ten minutes in the drive thru. I come here for a business account with my employer. I left wellsfargo because of this on my personal account. I am in shock that no one has fixed the many issues at this branch. I have never been happily helped. Where did customer service go? Why is this okay. I have been in the drive thru for 15 minutes and she just not finished talking to actually do my deposit. I work in retail. I will make sure to let everyone know not to come here. Get it together Wells Fargo

Thank you for your feedback

Is this review helpful?