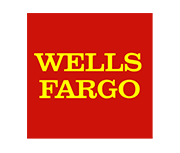 Wells Fargo Locations in Your Area
Wells Fargo Bank has 6,171 branches nationally across the country. This traditional brick and mortar bank is a national bank that serves the entire country, and has ATM locations, but we are not currently tracking them.
We found bank branches & ATMs within miles of . Here are the nearest locations:
We found bank branches & ATMs within miles of . Here are the nearest locations:
We could not find
Make sure your search is spelled correctly.
Try adding a city, state, or zip code.
Learn more about Wells Fargo
Wells Fargo Bank was established December 1869. That's more than 100 years ago! It holds assets of 1.73 trillion US dollars. That makes it a very large bank. The biggest of the national banks. A point to consider when choosing a bank is it's health. This bank appears to be healthy. It has a texas ratio of 10%. Lower is better!
Looking for an alternative to Wells Fargo?
If you're looking for higher interest rates and lower fees, but are willing to give up the "walk-in" experience of a local branch, you may want to browse our curated selection of best online banks.
Wells Fargo Branches Customer Reviews
Reviewed By Kburns

May 17, 2017

The fact that there are so many bad reviews and nothing has been done is crazy. I am sitting in the drive thru waiting because the lady is too busy talking to someone else to let me get my deposit receipt and go back to work. When i ask how the teller how she is, she responds good and goes back to making me wait an extra ten minutes in the drive thru. I come here for a business account with my employer. I left wellsfargo because of this on my personal account. I am in shock that no one has fixed the many issues at this branch. I have never been happily helped. Where did customer service go? Why is this okay. I have been in the drive thru for 15 minutes and she just not finished talking to actually do my deposit. I work in retail. I will make sure to let everyone know not to come here. Get it together Wells Fargo

Thank you for your feedback

Is this review helpful?

Reviewed By Rissakwilc

May 13, 2017

I applied for a credit card from Wells Fargo when I went to activate it there was a freeze on it I was told to go to the bank to activate it. The employee called to get my card activated and was transferred to several diffrent departments, each department gave excuses and transferred him to a diffrent department, including the fraud department. In the end I was told I had to go home and wait for a phone call back. Q: why was it frozen before it was even activated. Q: why the runaround. This has been one pain after another I've decided to cancel the card and NEVER deal with this company ever again. Oh I'm still waiting for that call back, good thing this is not an emergency.

Thank you for your feedback

Is this review helpful?

Reviewed By Wells_Fargo_Hater

May 5, 2017

The worse bank ever in the world. They don't know respect, customer service. They have cause elder abuse with elderly in my family. They have done fraud, description, emotional stress, depression, publicly humiliation, slander, depreciation of chacter, falsely calling in a police report, fee goughing, oberage fees, pulling a credit report without reason and more. They have done this over a period of all 5 months time just to one family member. The bank manager has no business even working there. She should be fired for all this. It isn't only 1 branch it is 3 branches in my city that had done this. Time to file a lawsuit against them for my family member who has Dementia which they refuse to believe she had it when with a doctors letter stating so. I want compensation for my mother and us for having to go through all this with this pos bank! I also wa by to make sure they are not doing this to anyone else who is, will, has currently going through it. To make it known we will not put up with this from any bank! Wells Fargo was founded in the early 1800's by bank, train robbers and thrives. They found away to steal money legally by opening up Wells Fargo. They must be stopped!

Thank you for your feedback

Is this review helpful?