Banks With No ATM Fees or ATM Fee Refunds
See which banks and checking accounts do not charge ATM fees or will reimburse you for any ATM fees that are charged for out-of-network ATM withdrawals.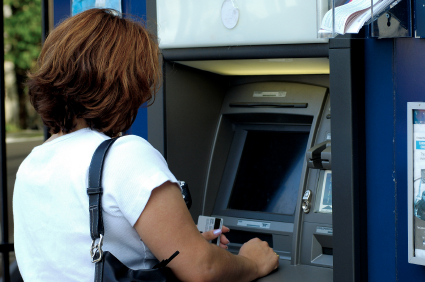 For many people, choosing a bank is usually based on how close a branch or ATM is to home and workplace. ATMs tend to be a major deciding factor because you're likely to use them more often than the branch. It's all about convenience. Generally, you'll want to avoid being hit with fees for using out-of-network ATMs.
Many banks, especially online banks, will offer to waive some or all ATM fees that customers incur when they use the ATMs operated by other financial institutions. This feature (commonly found with checking accounts) allows customers to visit any ATM -- the ultimate convenience in ATM access.
Here are the most recommended bank accounts that offer ATM reimbursements:
Banks offering unlimited reimbursements - Checking Accounts
Bank of Internet -- Rewards Checking
Charles Schwab Bank -- High Yield Investor Checking
ETRADE -- MaxRate Checking
EverBank -- Yield Pledge Checking
Fidelity Investments -- Cash Management Account
M&T Bank -- MyChoice Plus Checking
Banks offering limited reimbursements - Checking Accounts
Amegy Bank — Smart Yield Checking: Six rebates/month
Ally Bank – Interest Checking: $10/month
Bank5 Connect -- High Interest Checking: $15/month
KeyBank – Key Advantage Checking: $6/month
Banks offering reimbursement with restrictions - Savings & Money Market Accounts
Ally – Money Market Account: $10/month
First Internet Bank – Money Market Savings: $10/month
How ATM Fees Work
When you use an out-of-network ATM, the typical bank will charge a fee. Additionally, the operator of that ATM will also charge a fee. So, you could end up paying roughly $5 to withdraw money from another bank's ATM.
Some banks may not charge a fee to use out-of-network ATMs. The better banks will not charge this fee and also refund customers for any ATM fees charged by another bank.
Usually, you don't have to do anything to get the fee refund -- they are applied automatically to eligible ATM fees posted to your account. If you have an ATM reimbursement limit, however, you'll have to make sure that you don't exceed the limit. Otherwise, you're going to have to pay for the remaining fees.