BBVA Online Checking Account 2023 Review
Learn about the features and fees of the BBVA Online Checking Account, which is very similar to online checking accounts without the interest.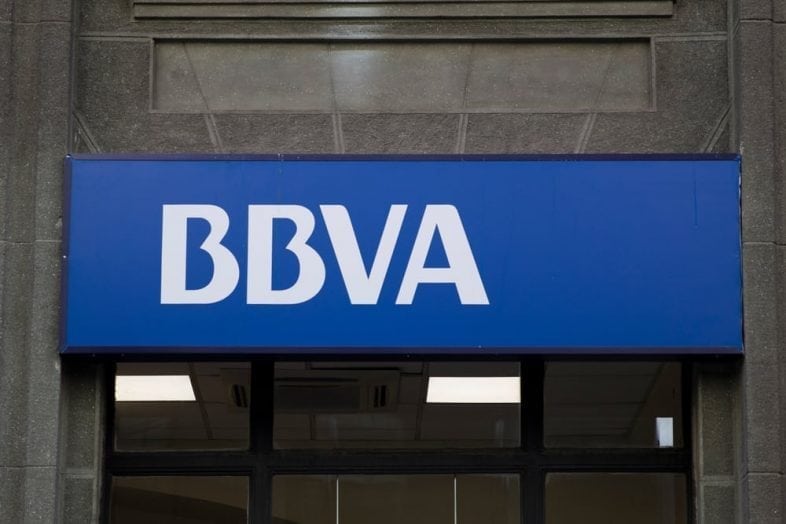 BBVA Bank
Your consideration of BBVA for your next checking account is understandable.
After all, it is one of the largest regional U.S. banks with a massive presence in Alabama, Arizona, California, Colorado, Florida, New Mexico, and Texas.
The BBVA Online Checking Account, which can only be opened online, is the bank's basic, fee-free, checking account option.
It's ideal for consumers who want a simple account that they don't have to pay for.
If you're looking to open a new checking account, in this review learn everything you need to know about the Online Checking Account.
Track Your Purchases and Get Alerts with BBVA Wallet
BBVA Compass ClearConnect Checking Account Pros & Cons
Pros
Cons

No monthly fee
Free access to Allpoint ATMs
Debit card rewards program
Mobile banking apps available

Paper statement fee (can be waived)
Service fees on the higher end
Doesn't earn interest
BBVA offers a standalone app called BBVA Wallet.
This app acts as a hub that lets you track all of your purchases and get alerts about your account.
Staying on budget
The best way to save money is to build a budget and stick to it.
Commit to spending no more than a certain amount each month and earmark the rest of your income for savings.
We all know that saying that you're going to stick to a budget is harder than actually sticking to that budget.
It's easy to be tempted to overspend. It's also easy to simply lose track of how much you're spending. You could far outspend your budget without even realizing it.
BBVA Wallet makes it easier to stick to your budget by tracking your purchases and spending. The app will be updated in real-time as you use your debit card to make purchases.
You can also link your BBVA credit card to track credit purchases.
The app will categorize your transactions so you know where you're spending your money, and let you know how much you've spent in the past day, week, or month.
Control over your debit card
You can also use the app to manage aspects of your BBVA account.
You can activate your debit or credit card, change the PIN on your debit card, temporarily disable your card, and more.
BBVA Wallet can send alerts to your phone when certain triggers are met. You can be notified when a large transaction post or if your balance falls below a certain threshold.
These alerts make it easier to keep track of your money.
Earn Cash Back on Debit Card Purchases
One of the biggest downsides of using a debit card rather than a credit card to make purchases is the lack of rewards.
Many credit cards offer cash back, airline miles, or points for every purchase. Sometimes you can get as much as 5% of the money you spend back as rewards.
Usually, using a debit card means passing up on these rewards.
The BBA Checking Account gives you access to BBVA Simple Cash Back.
This program lets you earn rewards when you use your debit card.
The Simple Cash Back program doesn't give you rewards for every purchase. Instead, it will automatically tailor special offers towards your spending habits.
When you log in to your online account, you'll see these offers listed. All you have to do is activate the offers to add them to your card.
Usually, these offers will take the format of "Spend $X at a specific retailer to get $Y back."
For example, you might get an offer of "Spend $100 at Amazon.com to get $10 back."
Once you've added an offer to your debit card, all you need to do is use your debit card to make purchases.
If you meet the requirements for any of the offers you've activated, the rewards will be automatically deposited to your checking account.
Identity Theft Insurance, Cell Phone Protection, and Other Benefits
BBVA offers all account holders the option to sign up for ClearBenefits.
This service provides a number of benefits, at a cost of $4 per month.
By signing up for the service, you'll receive:
$10,000 in accidental death and dismemberment insurance
$200 in cell phone insurance on up to three phone lines
Identity theft restoration service
$1 million in identity theft insurance
24/7 roadside assistance
The most compelling benefits are the cell phone insurance and identity theft benefits.
Cell phone insurance
If your phone is ever lost, damaged, or stolen, you will receive up to $200 (minus a $50 co-payment) towards a replacement.
The only requirement is:
You pay your monthly phone bill from your checking account.
ID theft protection
The identity theft benefits offer protection in the event that your identity is ever stolen.
As people's lives become more digital, identity theft has become a more common problem, having the additional protection is a good way to buy some peace of mind.
If your identity is ever stolen, these benefits will work on your behalf to help resolve the case and get fraudulent accounts removed from your credit report.
The $1 million in insurance can be used to cover lost wages and legal expenses related to the identity theft.
Free ATM Access on the Allpoint Network
One of the best perks:
BBVA is a member of the Allpoint ATM network, which operates more than 55,000 ATMs across the United States.
This means, you will have a much better time getting surcharge-free access to ATMs.
If it's at all possible, you'll want to make sure to use an Allpoint ATM to make withdrawals.
However:
If you don't, you will have to pay a fee for each transaction.
BBVA will charge a $3 fee each time you use a non-Allpoint ATM.
This fee is on top of the fee charged by the ATM's owner, so you could wind up paying a lot for each transaction.
No Monthly Fee with Electronic Statements
The BBVA Online Checking Account does not charge a monthly maintenance fee but does have a paper statement fee.
This fee will apply to each statement period where you receive a paper statement. The fee is $3.
Avoiding the fee is easy.
Simply sign up for electronic statements through your online banking account and you'll pay no monthly fees whatsoever.
Other Fees
Monthly maintenance fees are some of the most common fees that you'll face with a checking account.
However, they aren't the only fee that you may be charged.
Overdraft and other fees may apply to your checking account depending on what services you use.
The fees that can be charged on the Online Checking Account are listed below:
BBVA Compass ClearConnect Checking Account Fees
| Type | Fee |
| --- | --- |
| Monthly Maintenance Fee | $0 |
| Non-BBVA ATM | $3 |
| Overdraft Fee | $38 |
| Overdraft Protection Transfer Fee | $12 |
| Returned Item | $38 |
| Stop Payment | $32 |
| Deposited Item Returned | $15 |
| Domestic Wire Transfer (incoming) | $15 |
| International Wire Transfer (incoming) | $15 |
| Cashiers Check | $10 |
Other BBVA Checking Options
If you're interested in becoming a BBVA banking customer, but aren't sold on this checking account, check out the additional checking account options also offered by this bank:
BBVA Free Checking
BBVA's Free Checking account is one of the best free checking account options, if you live in Alabama, Arizona, Colorado, California, Florida, New Mexico, or Texas.
If you don't live in any of these states, then you're better off considering the checking account above.
Although this account is free, it is not lacking in features. This bank account includes, free, unlimited check writing, participation in BBVA's cash back program, free paper statements, and free personalized alerts to help you stay on top of your money.
In addition to those perks, BBVA also offers their customers optional custom features that you can add on for a low fee:
$5 ATM Transactions: Pay no BBVA fee for using another bank's ATM and receive up to four (4) rebates per statement cycle for ATM fees charged by other banks
$2 Check Supply: Unlimited supply of standard checks and 50% off other styles
$2 Cashier's Checks: Unlimited cashier's checks
$3 Safe Deposit Box: Free 3 x 5 safe deposit box
Here's some of the account's main fees:
BBVA Compass ClearChoice Free Checking Account
| Type | Fee |
| --- | --- |
| Monthly Maintenance Fee | $0 |
| Minimum Opening Deposit | $25 |
| Stop Payment Fee | $32 if made by phone, $25 if made online |
| Overdraft Fee | $38 |
| Non-Regions ATM | $3 |
| Cashier's Check | $10 |
| Paper Statement Fee | $0 |
| Early Account Closing Fee (within 180 days) | $0 |
| Non-Sufficient Funds Fee | $38 |
| Overdraft Transfer Fee | $12 |
Convenience
When you open a checking account, after making sure you can avoid fees, the one thing you should look for is convenience.
Your checking account will be the hub of your financial life. Your paychecks arrive in your account and your bills are paid out of the account. If your account is hard to use, handling even the most basic transactions will be a headache.
BBVA offers a variety of convenience features to make the account easy to use.
Because you can only open the Online Checking Account through the bank's website, it's reasonable to assume that there is a good online interface for the account.
BBVA offers a fully-featured banking website and app that makes it easy to manage your account from anywhere.
Once you've logged into your online account, you can view your account balances, transaction history, and any scheduled transactions that are coming up.
You can make mobile check deposits, instant transfers, or schedule recurring transfers from the website or app.
Another useful feature is the online bill pay service. This saves you the effort of writing and mailing checks each month.
Just tell BBVA which companies you have to make payments to, and how much money you need to send.
The bank will handle making the payments for you.
How It Compares Nationally
The checking account is the most common type of bank account in the United States.
It's easy to understand why: everyone needs one. They make handling basic financial transactions much easier to do.
Because they are so popular, almost every bank offers one or more kind of checking account. This gives you a lot of options to choose from. Taking the time to choose the right one can help you get a great deal.
When you're comparing accounts, always look at the fees first. You want to choose a checking account that doesn't charge monthly fees.
At worst, choose an account with fee waiver requirements that you know you can meet easily.
Other things to consider when comparing accounts are:
Minimum deposit requirements
Fee waiver requirements
Interest rates
ATM access
Convenience features
The Final Verdict
The BBVA Online Checking Account offers a number of benefits that make it an attractive choice for many consumers.
Consider how useful each feature will be to you before opening the account.
You might be able to get a better deal by using an online checking account that never charges monthly fees or pays interest on your deposits.