U.S. Bank Vs. Capital One Checking: Which Is Right for You?
U.S. Bank or Capital One checking? Figure out which is better for you based on a checking account comparison of these two banks.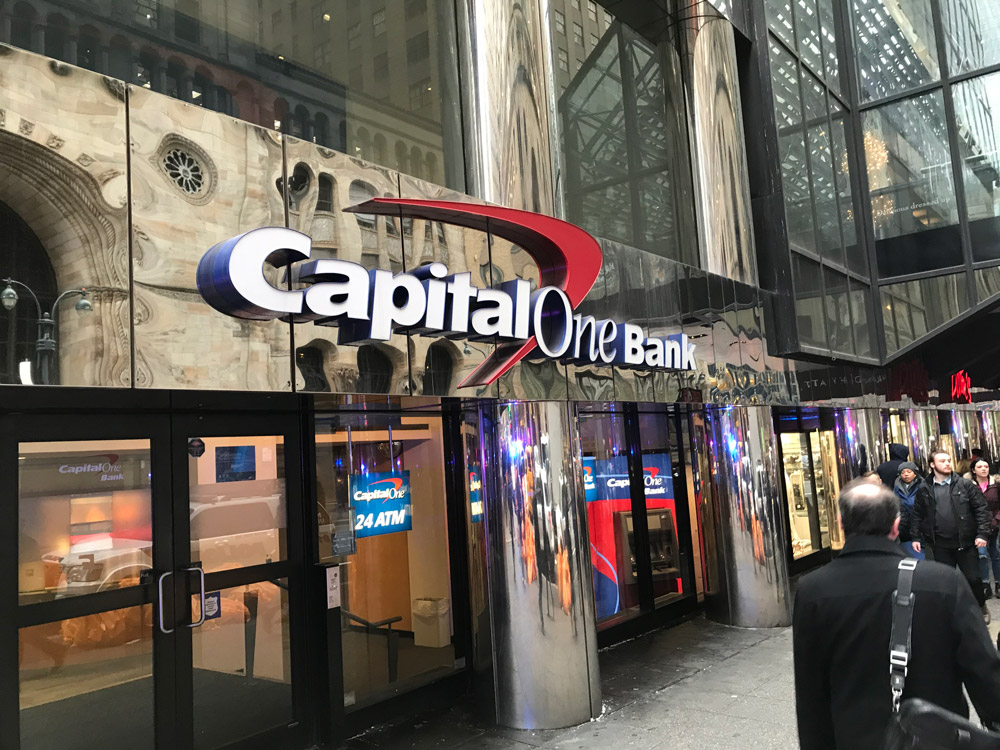 If you're in the market for a new checking account, or are shopping around for a loved one, you've probably considered any of the top 10 banks in America, including Capital One Bank and U.S. Bank.
While banks may promote enticing offers to sway you to become a customer, how do you really differentiate one bank's checking account from another?
What factors should you consider in order to best suit your banking and financial needs?
Consumers will more likely read online reviews about restaurants than for banks.
While it's understandable that no one wants to eat a disappointing meal, it's also quite surprising that people don't take the time to fully research the institution that will house their money.
This lack of groundwork means many customers don't know what types of fee policies and account requirements are in place.
MyBankTracker reviewers often convey shock, disappointment and distrust after being hit with fees they were not prepared for.
Don't let this happen to you -- if you are thinking about changing banks, find out more about checking accounts at Capital One and U.S. Bank, along with fee waiver requirements, perks that come with each type of account, and other factors that will make the decision easier for you.
Types of U.S. Bank Checking Accounts to Consider
U.S. Bancorp ("USB") operates more than 2,700 banking offices across the United States.
U.S Bank has six different checking accounts.
Take a look at the following features from each type of checking account to get an idea of what may work for you.
Easy Checking Account
Easy Checking Account is a bare bones checking account that offers you a place to keep your money for a total of $6.95 a month if you receive online statements, or $8.95 a month if you receive paper statements.
By maintaining an account balance of $1,500 or above, or have direct deposits totaling $1,000 or more, you can avoid monthly fees.
Having a balance of $1,500 might be challenging for those who want a cheaper checking account.
It might be more realistic to simply shell out the $7 each month -- it only comes out to $84 a year, which is way cheaper than getting hit with fees because you failed to maintain a $1,500 balance.
Also, there's no reason why you would need to pay $2 more for paper statements, in this day and age.
Your best bet to avoid fees would be to have a direct deposit, but for recent graduates or students, this might be difficult.
Remember, money transfers through PayPal are sometimes viewed as a direct deposit.
In other words, if Mom makes monthly transfers of $1,000 to Jimmy, her college kid, Jimmy won't get charged the monthly service fee.
You'd have to check your statements to see if the transaction was recognized as a PPD, prearranged payment and deposits.
If so, you can "hack" the direct deposits this way and avoid paying the fee.
Silver Checking Account
Silver Checking Account is the best option for those that want a savings and a basic checking account.
This is basically the same as an easy checking account, except it is linked to a standard savings account.
This account works best for first-time savers who aren't quite yet ready to invest.
Student Checking Account
Student Checking Account has no monthly maintenance fee as long as you are a student enrolled in high school, a technical college, trade school, community college, or university.
The account also offers students four free non-U.S. Bank ATM transactions per statement period, free online statements, and their first order of U.S.
Bank logo checks for free, all things essential for the financial life of a student.
Students who have never opened a bank account before, and who would like to practice the traditional form of banking should consider opening this account.
Gold Checking Account
Gold Checking Account has features that are the same as the Easy Checking Account, except this version has preferred rates for new loans or lines of credit.
A maintenance fee of $10.95 is applied to account holders who receive online statements, while a fee of $12.95 is applied for those customers who want paper statements.
The monthly maintenance fee can be avoided when a personal loan or any line of credit is opened with U.S. Bank.
This type of account would be ideal for someone who needs a new credit card, someone who is starting a new business (personal loan), or wants to buy a house (mortgage) or car (auto loan).
Those who have a family would also find Gold Checking to be useful, as it offers discounts on overdraft protection and two free non-U.S. Bank ATM transactions per statement period.
Premium Checking Account 
Premium Checking Account is an interest-bearing checking account.
If you are a senior, or have an account balance of $5,000 or more, you do not have to pay any monthly service fees.
Otherwise, you must pay $10.95 per month if you choose to receive online statements, or $12.95 if you opt for paper statements.
The benefits for having this interest-bearing checking account include unlimited transactions at non-U.S. Bank ATMs for free (as long as they participate in the MoneyPass Network), 50 percent off safe deposit boxes annually, free cashier's checks, travelers checks and money orders, along with free U.S. Bank logo checks or 50 percent off personally styled checks.
The Premium account costs the same as the Gold, but is targeted for those who don't need a line of credit or loan.
If this is the case for you, this is the obvious one to choose, as free unlimited ATM transactions at outside banks are extremely convenient.
Having a $5,000 minimum balance could be difficult, so shelling out the yearly $132 would probably be more realistic for many.
Not only that, if you had $5,000 sitting in your checking, why wouldn't you put that in a CD or online savings account?
U.S. Bank's Premium Checking Account is a good fit for customers who'd like traditional banking needs met, while enjoying certain discounts for banking products.
Consider this checking account if you want to get more out of your bank than simply leaving your money in an account to collect a small amount of interest (i.e. Capital One).
Platinum Checking Account
Platinum Checking Account from U.S. Bank offers all of the same features as the premium account, and more.
The cost to maintain this account is $17.95 a month for online statements, and $19.95 a month for paper statements.
To waive the monthly maintenance fee you either need to have a relationship with U.S. Bank trust services, or maintain a total of $25,000 combined in deposits, credit balances or investments.
The perks include: unlimited free transactions at non-U.S. Bank ATMs, up to a $1,000 discount on a home mortgage, no annual fee for a home equity line of credit, up to 25 free trades with a new self-directed brokerage account through U.S. Bankcorp Investments, an affiliate of the bank, free DepositPoint transactions, and a new account bonus when you open a select U.S. Bank or FlexPerks credit card.
For all the perks offered, someone who pays close attention to their money and who invests into their retirement and financial future is going to find true value in the platinum account.
Types of Capital One Checking Accounts to Consider
As of the publishing date of this article, Capital One has over 900 branch locations in America, which means U.S. Bank may be a better choice for someone who prefers more traditional banking practices, as they have more branch locations in the U.S.
Since Capital One asks users to input their local zip code in order to view checking accounts in their area, your search will be geographically-based.
Here are four different checking accounts local to New York City, the headquarters of MyBankTracker, each with their own benefits that may work for you.
Capital One 360 Checking Account
Capital One has their popular 360 Checking account, which is a fee-free, online account that may be ideal for people who want deposit checks via smartphone while having the perks of an interest-bearing account.
There are no hidden fees and no minimums. In addition, Capital One customers receive one free checkbook.
Account holders can complete transactions at 38,000 Allpoint ATMs without worrying about fees, as well as 2,000 Capital One ATMs.
This account is ideal for someone who is interested in completing basic banking transactions and may suit the life of a college student, someone who travels frequently, or never needs to really step foot into a branch location.
Capital One High Yield Checking Account has a couple of commonalities with Capital One's 360 Checking account, such as no monthly fee -- but don't be fooled -- this account is for those with a significant amount of money, and who intend on using Capital One for direct deposit and the majority of their financial needs.
If you plan on keeping this account, you need a minimum of balance of $5,000 at all times. Also, customers are required to put down a minimum of $500 in order to qualify to open the account, which can be done online or in-person at a branch.
So what are the perks?
Customers will also receive service at branches, can utilize mobile deposits, and have access to free Capital One Bank ATMs.
In addition to that, Capital One reimburses High Yield Checking Account holders up to $15 per month in fees charged by other banks -- this is the only account by Capital One that offers this perk.
Customers get free electronic checks, free online and mobile banking accessibility, Also, it's the only account that doesn't enforce an overdraft fee.
Premier Rewards Checking Account requires at least $50 to open. Premier Rewards Checking owners are charged a $14.95 a month fee which can be waived if the following are met:
$1,500 average monthly balance
$3,000 combined average monthly account balances
A single monthly direct deposit of $1,000 or more
Expect overdraft fees of $35 per item.
Perks include free electronic checks, free online and mobile banking, free Capital One Bank ATMs, and service at a branch.
Premier Rewards Checking is for big spenders, allowing them to stack twice the rewards when using their Capital One debit card, writing checks, withdrawing cash from the ATM, and paying bills online.
Additionally, customers receive 10,000 points for opening an account and setting up direct deposit, in addition to 2,000 more on their first checking account anniversary.
Customers can take their pick of cash, travel, or merchandise when it comes to what their rewards can redeem.
According to Capital One's Premier Rewards Checking Rewards page, "The more you bank, the more reward miles you earn." Cash and merchandise can be redeemed at 5,000 points and up, while travel starts at 10,000 points and up.
Capital One Rewards Checking Account
Capital One Rewards Checking Account requires a $50 minimum to open, comes with an $9.95 monthly fee, which can be waived with a $300 minimum daily balance or a single monthly direct deposit of $250 or more, and all the standard features that Capital One's Premier Rewards Checking Account comes with.
Rewards Checking is a pared down version of Capital One's Premier Rewards Checking Account, offering the same rewards system, but with less generosity in points.
Customers who open an account and set up direct deposit for Rewards Checking receive 5,000 points, and an additional 1,000 points on the first checking account anniversary.